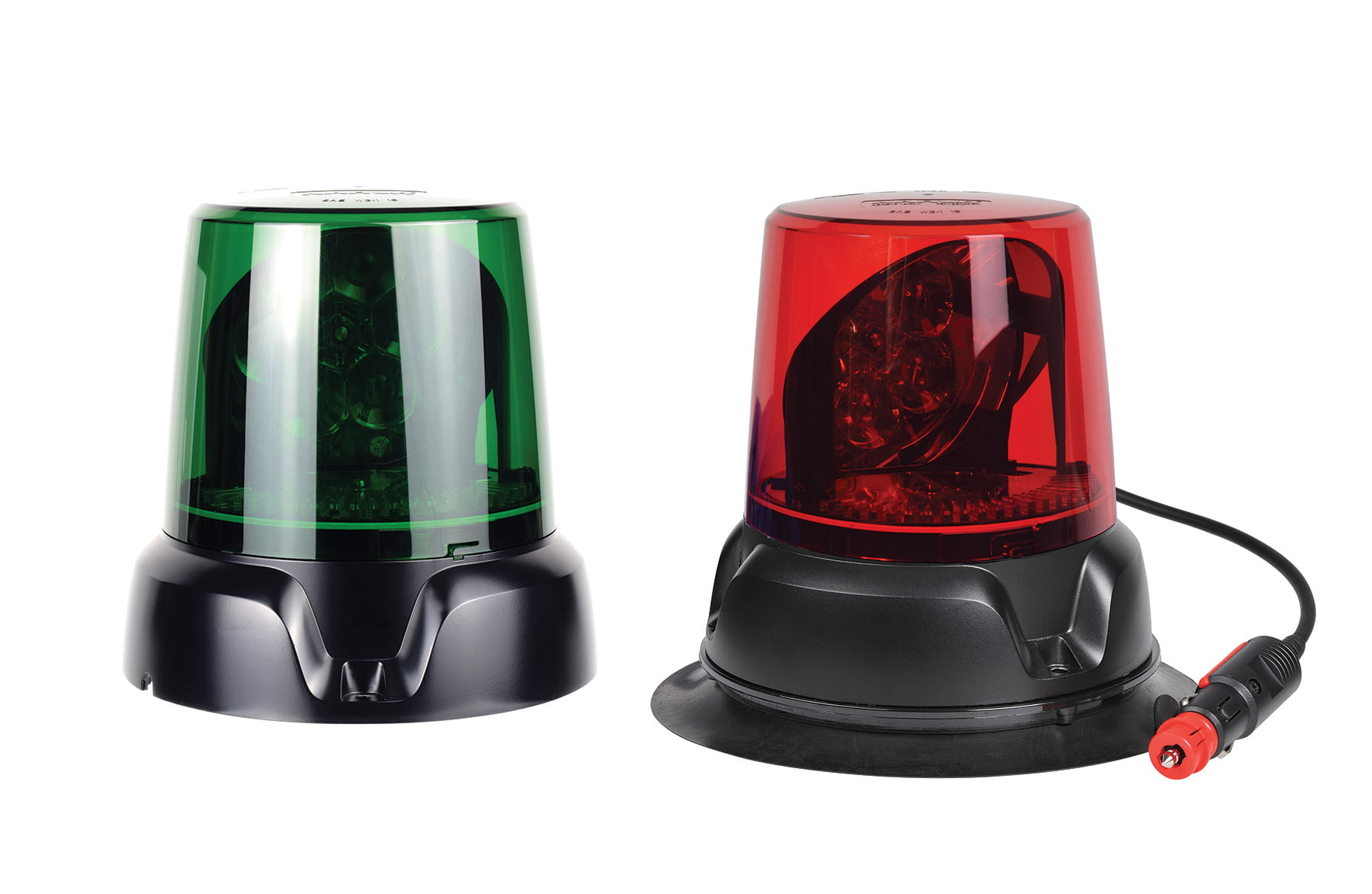 Having launched the first of its new Aeromax L.E.D Rotating Beacon lights earlier this year, Narva has now completed the range by providing additional lens colour options and a branch guard, making this exciting product line-up suitable for a wider selection of applications.
The new lens colour choices include red, blue and green to go with the existing amber variants, while a new branch guard provides additional protection particularly in demanding forestry and emergency service applications, where vehicles may travel off-road and come into contact with low hanging branches.
All beacons feature powerful Class 1 SAE light output, rugged construction, quiet operation and CISPR25 Class 2 rating for Radio Frequency Interference (RFI) suppression. They are also rated to IP67 and IP69K for superior dust and water ingress suppression. With the advantage of being a fully sealed design, the beacons can even be cleaned using a heated pressure washer (up to 80°C).
To deliver a strong light output, the Aeromax beacons feature 6 x 1W L.E.Ds and are paired with engineered reflectors designed to promote a concentrated light pattern that can be easily seen on a work site.  Despite their impressive light output, the new beacons boast a low current draw of only 1.5A at 12V, applying minimal pressure to the vehicle battery.
To provide consistent, stable and quiet rotation no matter what the conditions, the reflector is driven by a software-controlled stepper motor and for added durability the entire reflector also rotates as a single piece thereby reducing moving parts. A non-reflective black back also ensures that any reflection from the sun or other light sources doesn't interfere with the beacons' performance.
Further adding to the lights' longevity is their heavy duty die-cast aluminium base which dissipates heat and resists vibration, along with virtually unbreakable polycarbonate lenses.
Mounting the beacons to vehicles and equipment is easy. For permanent mounting and hardwiring, selected models come complete with a flange base and three bolt mounting system.
Alternatively, several vacuum magnetic base variants are also available using a high-strength rubber suction pad to provide a sturdy but more temporary mounting, allowing the beacons to be moved among vehicles if required. These models include a three metre cable, allowing a direct plug-in to the vehicle's accessory socket.
For even greater versatility, the new beacons are also compatible with Narva's range of utility bars, allowing them to be effectively used in conjunction with work lamps, sirens and other equipment.
Available in both 12 and 24V the now complete  range of new Narva Aeromax Rotating L.E.D Beacons can be purchased from leading automotive, transport and construction outlets throughout Australia and are covered by a full 5-year L.E.D warranty.\