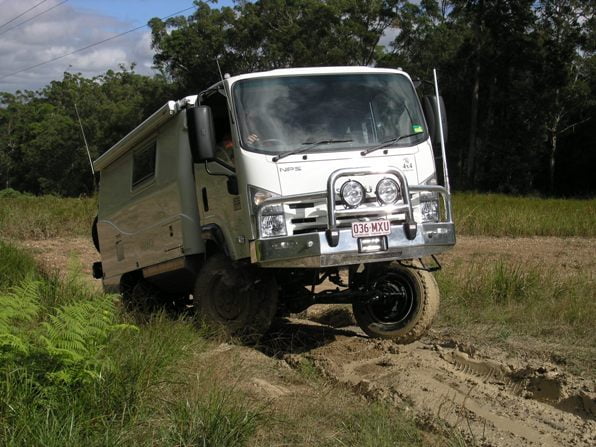 All Terrain Warrior Motorhomes, a specialised 4 X 4 manufacturer has selected Narva 'Extreme' auxiliary driving lights as standard.
The move follows successful trials to find a driving lamp that would stand up to the rugged off-road rough terrain the vehicles work in.
With over twenty years experience All Terrain Vehicles produces a range of rugged off-road vehicles for companies involved in Mining; Outback Tourist Operations; Exploration, Drilling; Go Anywhere Motor Homes and Tray Backs. These 4 X 4 specialised vehicles are operating in the most rugged parts of Australia plus some of the more remote parts of the world, demanding the ultimate in reliability and performance.
"The three bolt mounting system of the Narva 'Extreme' plus the triple point mounting frame suspending the lamp along with a host of other rugged features including sealing against dust and water, combine to make this one of the most robust driving lamps on the world market and one ideally suited to our type of vehicle," said Mark Prosser of All Terrain Vehicles. "We have had excellent feedback from customers who have said they hold on really well where alternative lamps go out of alignment and simply don't stand up to the punishment handed out," he said.
Vehicle fit-outs produced by the company range from basic commercial standard to five star luxury to meet customers specifications with one overriding requirement being that of total reliability. Something easily met in the Narva 'Extreme with its entirely new concept of driving lamp construction.
Available in long range, broad beam and combination kits with black or chrome mounting rings, the lamps come in Halogen or the ultimate Xenon H.I.D lighting system.
'Extreme' Driving Lamp kits are available from leading Automotive, Transport and 4WD outlets at prices commencing from approximately $520.00.