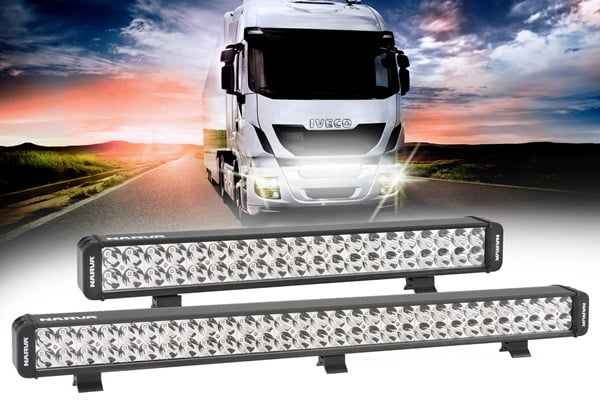 If  having a powerful, no compromise L.E.D driving light bar is a prime  consideration, it's difficult to go past Narva's latest release which combines  a powerful light output with the brand's renowned durability.
The latest additions to  Narva's premium L.E.D driving light bars range feature a double bank of high  quality 'Cree' L.E.Ds, significantly increasing visibility at night time for  improved safety.
The two new model entrants  are 9-33V multi-volt and comprise a 200W bar producing an impressive 18,000  lumen of light output and an even more powerful 300W variant shining an  enormous 27,000 lumen.
Packing 40 x 5W high  output 'Cree' L.E.Ds, the smaller of the two bars measures just 557mm in  length, making it suitable for fitment to a wide array of vehicles, even  smaller ones. The larger unit makes use of 60 x 5W high output 'Cree' L.E.Ds  and measures 811mm long.
Due to their impressive  output and a unique beam pattern that projects a bright, white light both to  the sides of the vehicle and far down the road, the latest bars are suitable as  standalone lighting or to supplement traditional driving lamps.
Despite the high output  performance and double row L.E.D configuration, the bars offer an unobtrusive,  low profile design and measure only 70mm high, ensuring strong airflow to  radiators if nudge bar or bull bar-mounted.
For outstanding longevity  and durability, the new light bars are encased in a tough, extruded aluminium  housing, feature a virtually unbreakable polycarbonate lens and are sealed to  IP68 standard.  As an added benefit, the  bars are also EMC-compliant, so will not interfere with communications  equipment.
The 200W bar comes  standard with a Deutsch connector for easy 'plug and play' installation, whilst  the 300W is prewired and comes with 1 metre of sheathed cable for hardwiring.
Mounting the lamps is also  a simple exercise courtesy of heavy duty cross-slider mounting brackets which  provide a multitude of flexible mounting options.   Both lamps are backed by a  5-year warranty but owners are unlikely to call on this support as Narva's  light bars boast close to zero claims history.
Narva's new high  performance L.E.D driving light bars are the perfect option for users wanting  serious auxiliary lighting for their 4×4, commercial vehicle or passenger car.