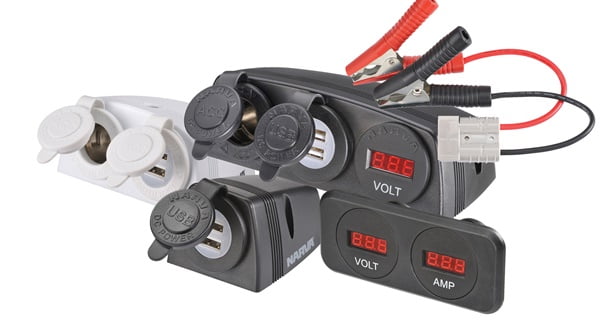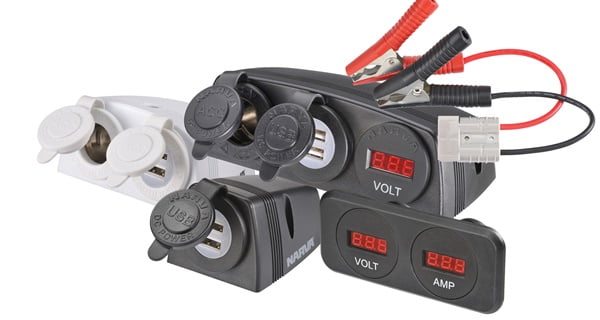 Narva has added to its already large range of Heavy-Duty Recreational Vehicle (HDRV) powering accessories with the introduction of several new products to the line-up, while further improving the performance and quality of existing items.
The increasing array of electrical devices combined with the popularity of Australia's four-wheel-drive, camping and marine lifestyle, prompted Narva to bolster its range of these accessories.
Among the new additions is a Thermoplastic Right Angle Merit Plug, featuring right angle housing to allow easier fitment into tight spaces.
Also new are new Heavy-Duty Adaptors. These adaptors provide connection from a cigarette light plug, accessory socket, merit plug, battery clips, battery connector and hard wired with 8mm ring terminals to a battery connector making them ideal for powering accessories with a 50A battery connector from the vehicle. They provide the user the flexibility to connect it however way they desire.
Other exciting releases are Digital L.E.D Volt and Amp Meters which are available in all housing styles. The meters can be used in combination with any of the existing accessory, USB, Merit or Engel sockets. A further benefit is that they can be purchased in single, double, or new triple housings and the user can select from a flush-mounted or surface-mounted version.
Available in 6-33V DC for the Volt Meter and 12/24V DC for the AMP Meter, both feature easy-to-read displays for easy reference and can be installed with or without the mounting panel (mounting opening measures 29mm in diameter).
Rounding out the new HDRV additions are two and three way module options – with a choice of six sockets and meters and six different housings that can be 'pick and mixed' by customers to build their own unit to cater to their specific requirements. Popular Twin and Triple products will still be available in blister pack form.
All accessories that carry the 'HDRV' logo are constructed for constant, daily operation and in most cases carry a 20A load with thicker cable and a more robust construction than traditional retail accessories.
Narva's full range of HDRV power accessories can be seen in the 2016/17 Product Catalogue, available for viewing and download at www.narva.com.au
The new range can be purchased from leading automotive, transport and four wheel drive outlets nation-wide.