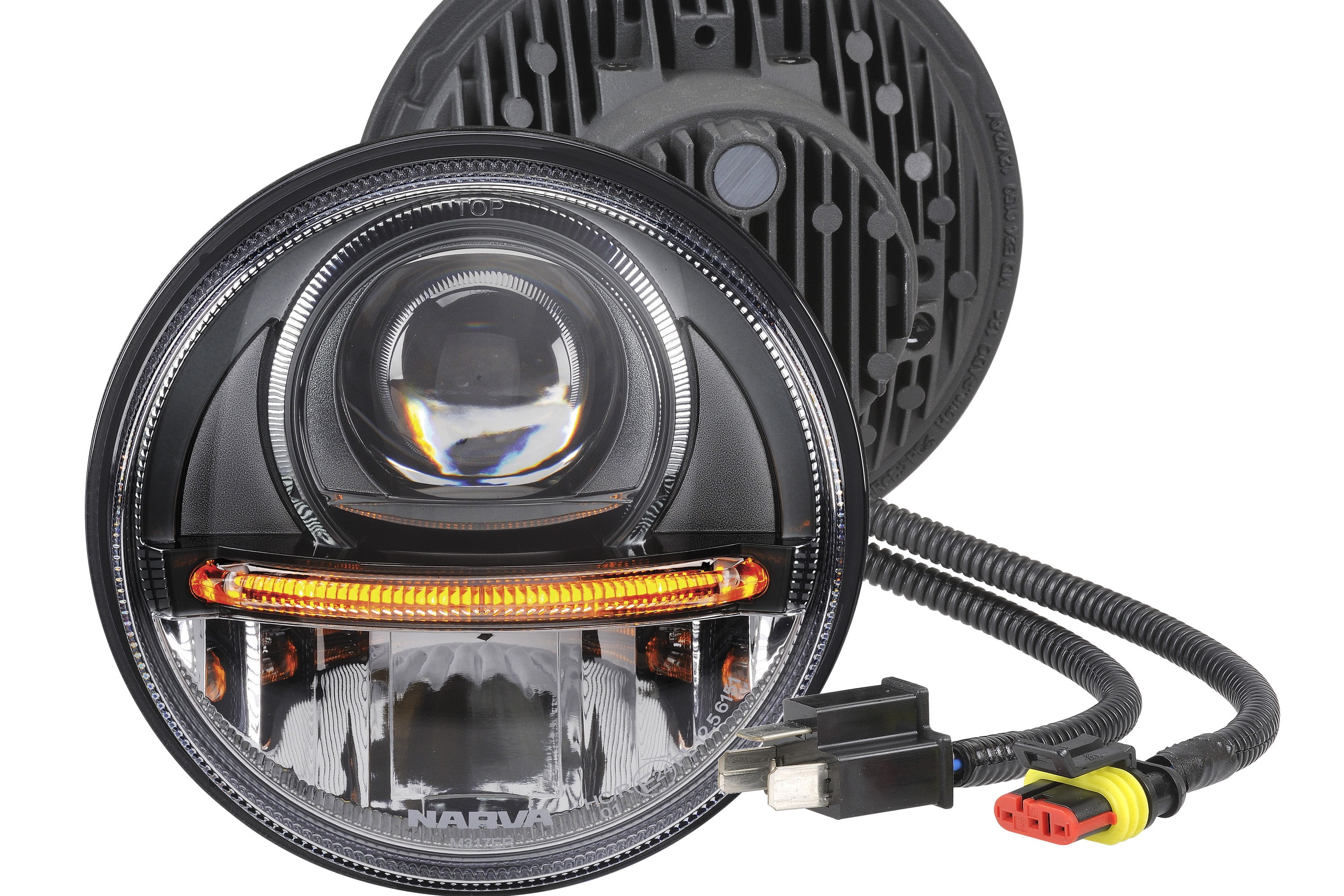 Narva is giving owners of older vehicles a way of dramatically increasing their light output, while also lifting vehicle appearance with the release of new 5 ¾" L.E.D Headlamp Inserts.
The inserts are a direct replacement for halogen inserts and come with a H4 connector, making them easy to retrofit to a wide range of passenger and commercial vehicles.
Styled with a black chrome finish and featuring the latest L.E.D technology including precision free-form optics, the L.E.D inserts produce a brilliant white light (6000°K) that closely resembles natural daytime conditions for reduced eye fatigue.
Available in two variants, the 72110 model includes high/low beam, Daylight Running Light (DRL) and position light pipe functions, while the 72144 variant features high beam and directional indicator functions.
Both models are fully sealed and weatherproof (IP68 and IP69K) and benefit from heavy duty construction incorporating impact-resistant polycarbonate lenses to protect against damage from deflecting rocks and roadside debris.
Also ensuring longevity in harsh Australian conditions is a specially-designed housing made of die-cast aluminium that is corrosion and impact resistant, while solid state L.E.D construction means there are no filaments or bulb tubes to worry about.
Further protection is provided by the lamps' built-in reverse polarity, over-voltage protection and an active thermal management system that delivers superior reliability.
For added versatility, the lamps' multi-volt design (9-33V) makes them compatible with both 12 and 24 volt electrical systems.
Narva's new 5 ¾" L.E.D Headlamp Inserts are also EMR-R10 and CISPR 25-approved and backed by a 5 year L.E.D warranty.
For vehicle owners with 7" headlamp inserts, Narva also offers this larger diameter L.E.D headlamp insert (model number 72104 and 72106), featuring the same benefits as the 5 ¾" inserts.
All four models are available from leading automotive, transport and four wheel drive outlets throughout Australia.