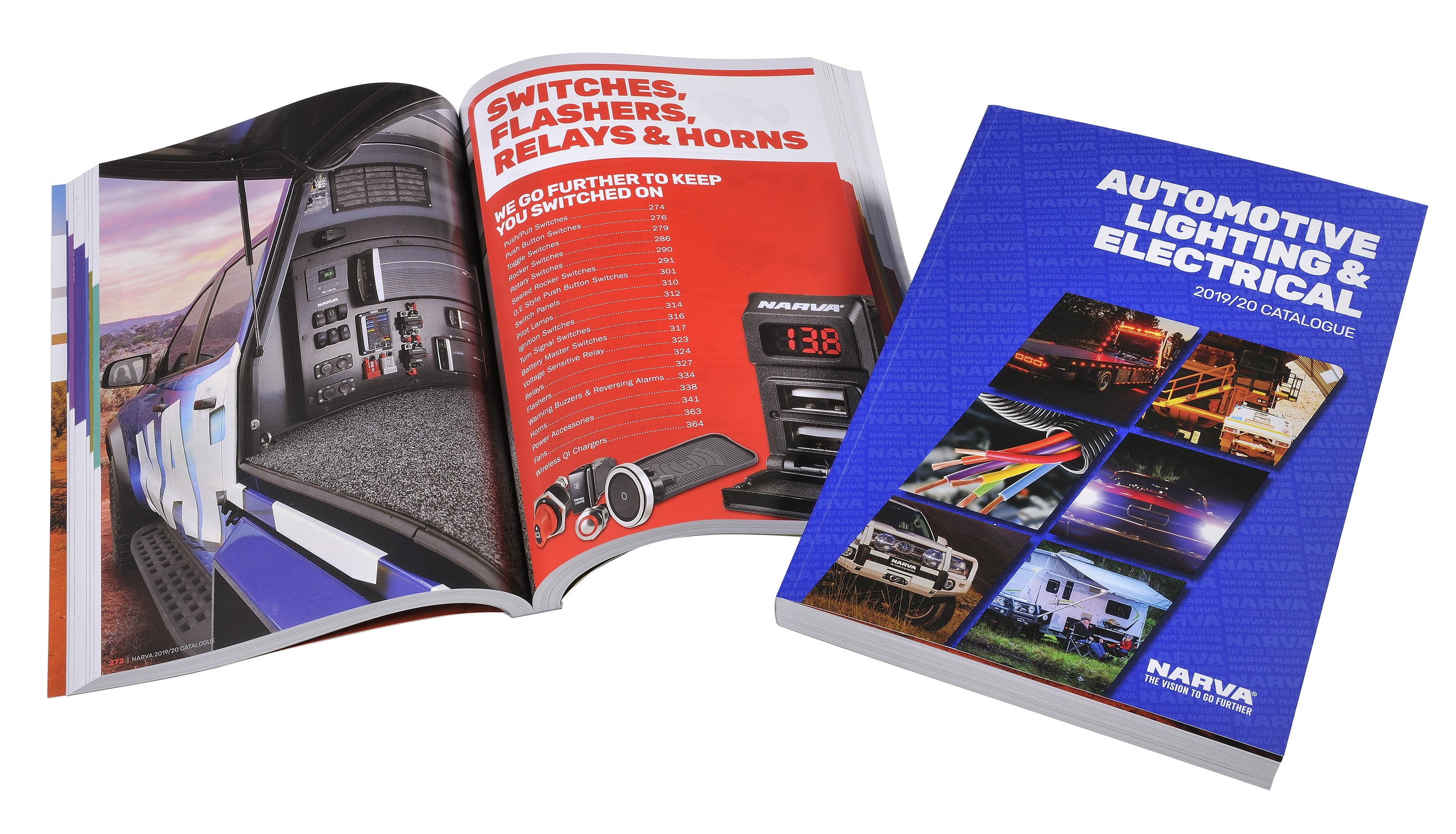 The 2019-20 edition of Narva's hotly anticipated product catalogue is now available, introducing an amazing 720 new products to the Narva line-up and pushing out the page count to almost 600 pages – over 10 per cent larger than its predecessor.
Along with the additional product lines, the catalogue also showcases a broad range of Narva products that has been significantly enhanced since the previous edition, in keeping with Narva's philosophy of continuous product improvement and innovation.
For the first time, this Narva catalogue also includes a standalone 'Marine' section, reflecting the growth of Narva lighting products designed specifically for boating applications.
In the expanded Marine Lighting category, Narva has included soon to be released L.E.D Port and Starboard Navigation Lamps, L.E.D Anchor Lights, Deck Lights and the all new 'Navigata' L.E.D Light Bars, which are fully sealed and submersible (to IP68 and IP69) and feature marine grade (SUS316) stainless steel mounting hardware.
Following extremely positive feedback from the last catalogue, this latest edition also features a larger selection of interactive videos developed with both retail stockists and end users in mind. These include product feature and instructional videos, as well as beacon and strobe flash pattern clips, product comparisons and other demonstrations that are easily accessed by scanning QR codes on the relevant pages with a mobile device and QR reading app.
Included in the new catalogue is detailed information covering Narva's wide range of exciting products, such as the compact yet powerful new 'Explora' L.E.D light bars and driving lamps, 'Ultima' Free Form and High Powered L.E.D Driving lights, and L.E.D Headlamp assemblies in 90mm and larger inserts of 5 ¾ and 7".
Across Narva's Work Light and Emergency Lighting ranges, the latest catalogue sees the introduction of several new L.E.D Work/Reverse lamps, scene lights and safety lights, advanced mining lights and a broadening of the trusted 'See Ezy' inspection lamp model line-up. Also on offer are the innovative new ALS (Advanced Lighting Systems) inspection lamps and premium workshop lighting, along with a range of warning and emergency lights including 'Geomax L.E.D mining beacons, 'Sentry Pro' rechargeable/portable strobe, 'Aeromax' dual colour L.E.D lightboxes and a new range of multi-function auxiliary light bars.
Within its extensive Globe range, Narva has introduced several new lines including European-made 'Premium' and 'Heavy Duty' globes, plus all new performance globes including the long lasting 'Everlife', extreme light output 'Plus 150' and white light 'Sapphire Plus 50'. The L.E.D globe line-up has also been bolstered with the addition of new L.E.D Signaling lines plus upgraded Gen II L.E.D Performance Headlight globes offering 20% more light over previous generation with more than 50,000 hours life.
There's also now a greater selection of Narva fuses on offer along with more terminals, connectors, cable and associated hand tools, allowing for easier and more efficient installation of lighting and electrical products.
Narva has always produced a wide array of quality switches, flashers, replays and horns and the latest catalogue showcases some exciting new options including O.E Style Switches for factory fitment, Stainless Steel Switches, Sealed Switch Panels, Battery Master Switches, Horns, HDRV and a host of other Power Accessories including Wireless QI Phone Chargers.
Across the RV and Interior Lighting product categories, the latest catalogue sees new Dual Colour L.E.D Strip Lamps, Saturn Ultra Slim L.E.D Interior Lamps, Dimmable L.E.D Interior Lamps, L.E.D Pendant Lights and Dual Colour Awning Lights.
Narva's L.E.D Truck and Trailer Lighting offering has also grown with the release of new Plug and Play Patch Leads, Model 21 Marker Lamps, Plug and Play Trailer Lamp kits (Model 35 and 37), along with Model 39 and Model 55 lamps.
Narva will release full details of its most exciting new products in the coming weeks. In the meantime, copies of their new 2019/20 product catalogue can be ordered through your local Narva distributor or view the catalogue online at www.narva.com.au/catalogue