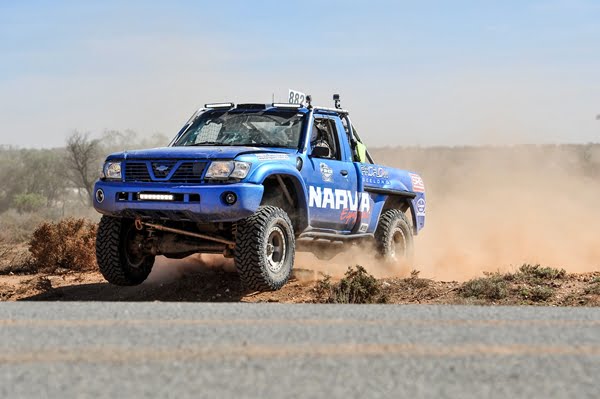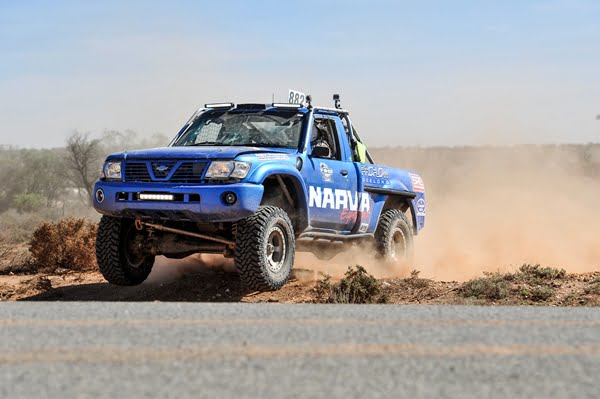 The new kid on the block, the ARB Paringa 400 held at Broken Hill proved it was a force to be reckoned with on the weekend. Serving up a challenging mix of flowing station tracks, creek crossings, washouts and bull dust that claimed many of Australia's top off-road racing teams as victims, including the #882 Narva Racing Extreme 4WD of Mick Magher and Daniel Hose.
After prologuing down the field and battling with the dust as they attempted to improve their position on the first lap on Saturday afternoon, the team were forced to retire the V8 powered GU Patrol on completion of Sunday morning's first lap with major over heating issues and a badly smashed windscreen. This left Magher and Hose with third in the Extreme 4WD Class, behind Reg Owen (3 laps) and the class winner, Broken Hill local, Kerry Turley.
"The long stretches of bull dust were relentless and just too much for our cooling system, we were having to stop and let the temps drop before we could continue, which put us back in the pack and amongst the thick dust of the front running buggies. When the windscreen broke and our visibility was reduced to almost zero, that was the straw that broke the camels back as it was impossible to pick your way through the dust and with so many wash outs there was no margin for error."
"We had switched to Cooper Tyres for the 2014 season and we were extremely happy with their performance at Paringa. Lurking under the bull dust were many sharp edged rocks and ruts and the new tyres took them all in their stride."
"However the same can't be said for our windscreen, which was pepper with rocks like a machine gun going off when a V8 pro-buggy blasted by us. I'm glad there was a windscreen there as a layer of defence. Every light on the truck was decimated in the rock shower, except for our Narva's. How's that for extreme product testing!"
"In all the years we have been competing in both 4WD competitions such as the Outback Challenge and Offroad events, this was the most challenging track we have faced to date. It was a tough track, very tough track but we have learnt a lot from it and we live to fight another day," said Mick Magher.
The Narva Racing transporter is now fully loaded and is on its way back to the teams Geelong base. Sorting the overheating issue will be their number one priority as they prepare for the second round of the ARB Off Road Racing Series, the MBL Sea Lake Mallee Rally on the Queen's Birthday long weekend in June.