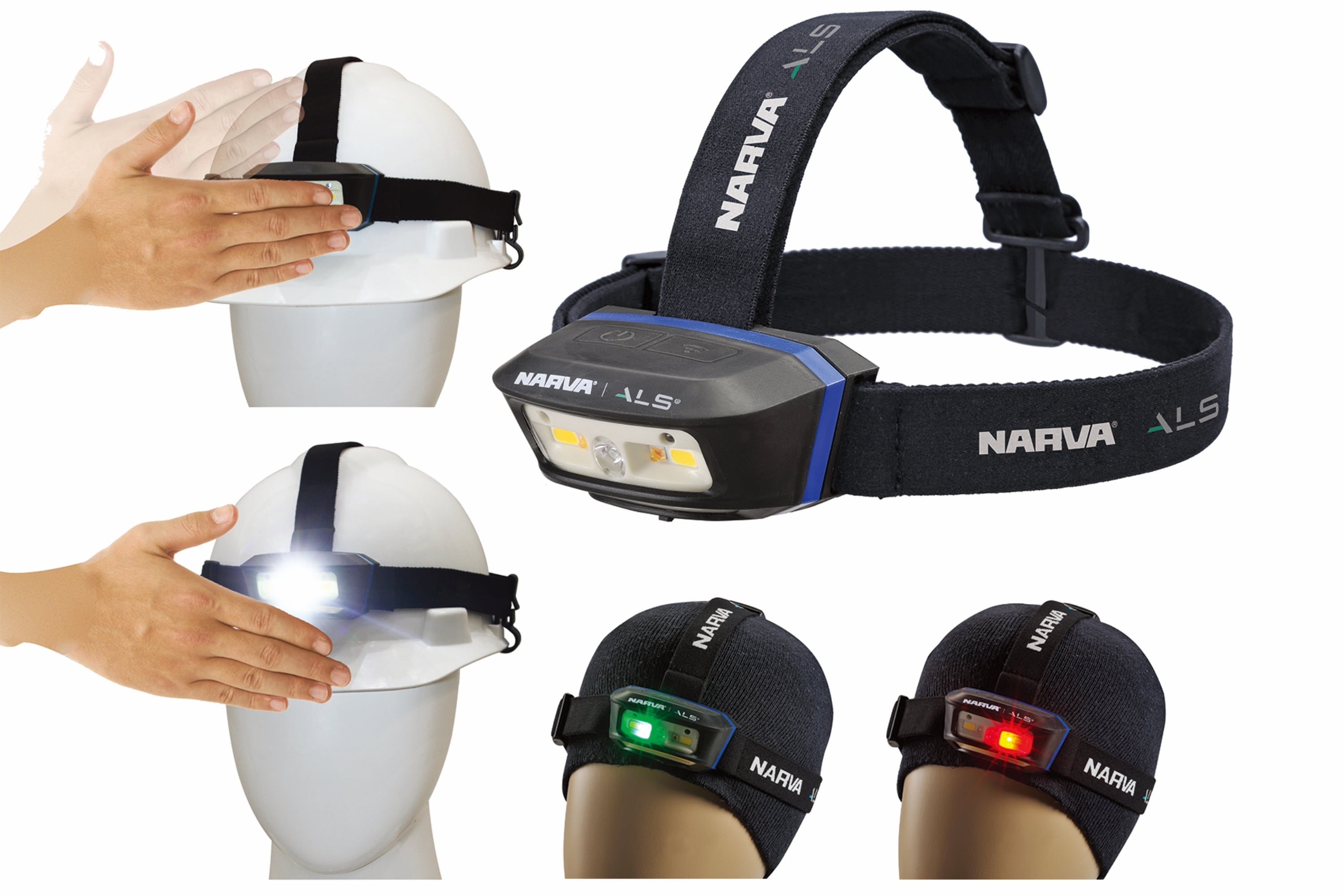 As part of its popular and fast-growing ALS (Advanced Lighting Systems) range, Narva has released a new multi-function, rechargeable head torch with powerful white, green and red L.E.D light outputs, making it ideal for leisure activities including boating, plus DIY and workshop applications where it's convenient to keep both hands free.
Courtesy of two x COB L.E.D's, the head torch produces a 180 Lumens flood beam light that provides 120 degrees beam angle. A secondary arc shaped COB L.E.D also provides the option of a lower intensity (120 Lumens) flood beam for when less light is required.
Additionally, the head torch is equipped with a spotlight function which provides 150 Lumens of output, delivering strong illumination up to 60 metres away.
Other benefits of this new light include red (620nm) and green (520nm) light functions for added versatility.
Green light at 520nm is an ideal wavelength for the human eye as our eyes are most sensitive to green light, making it perfect for navigating and map reading in the dark. Green light also provides a high illumination value without causing the user to lose their night vision.
For hunting activities, green light is also preferable because most animals are not sensitive to it, allowing the wearer to light up a field without disturbing game as a white light would and the same holds true for fishing pursuits.
Other benefits include better cut-through in foggy conditions, greater penetration (compared to red beam) and attracting fewer insects.
For the crash repair industry, green L.E.D lighting is ideal for detecting paint imperfections, making the lamp useful in some workshop applications.
Some of the benefits of green light are applicable to the red light as well, including for hunting and navigation. Red light is also widely used for night time marine, signage, and photography
The red light is ideal for close quarters camping as well, as it isn't as bright as white light and less likely to disturb neighbouring campers. Additionally red L.E.D's emit less heat than their white counterparts, making them more efficient and providing up to two or three times longer run time. Of course, red light is the universal signal for attention, so in the case of an emergency, the SOS function on the head torch can flash on and off making it more noticeable to rescuers.
Other clever features of the Head Torch are the actual lamp component is magnetised and can be easily removed from the comfortable, fully-adjustable helmet clip head band to provide extra versatility for the lamp to be used separately.
The lamp is also motion activated, making it more convenient for the wearer to operate it on the move or if they have their hands full. There is no need to physically touch the lamp and finding the unit when it's turned off is easy as it features a glow in the dark locator and there is also a brightness memory function.
For added performance indoors or outdoors, the head torch is dust and water resistance to IP65 and charging is fast and efficient with the included 240V USB charging lead.
The new Narva ALS Rechargeable Head Torch is covered by a 2-year warranty and available from leading automotive, recreational and trade outlets.