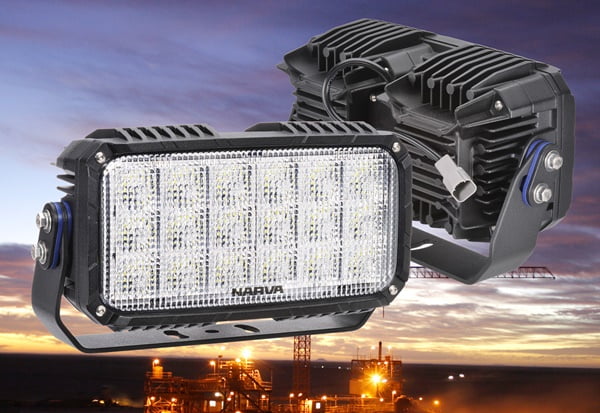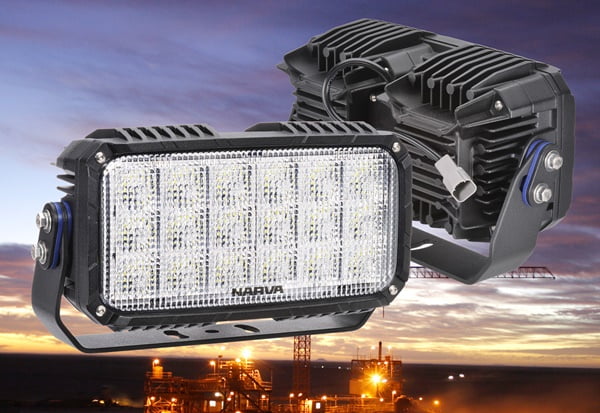 Tough industrial applications provide the biggest challenges for work lamps, but Narva has further cemented its reputation for offering high quality in this space with the release of two new 9-32V heavy-duty L.E.D work lamps.
The new entrants include the wide flood beam 72728 model, which provides a brilliant 8100 Lumens of output via 9 x 10 watt, high-powered 'Cree' L.E.Ds, ensuring a bright even light coupled with modest current draw of 5.4A at 12V and 2.7A at 24V.
The other newcomer to the line-up is the 72729 and is even more powerful, emitting an impressive 16000 Lumens in a wide flood beam trajectory.
This performance again comes courtesy of high-powered Cree L.E.Ds, but in 18 x 10 watt configuration to achieve the extra output, yet current draw is only 10.8A at 12V and 5.4A at 24V.
Common features to both the latest lamps is a fully sealed (IP68) construction using die-cast alloy housing and virtually unbreakable polycarbonate lens.  The rear of the housing also features fins for efficient dissipation of heat, allowing cooler operation in even the hottest of environments.
Also standard is an industrial strength, 5mm thick powder coated bracket – tested to a G force of 8.6 – that is not only strong but allows multi position lamp mounting, making it suitable for a wide range of demanding applications.
For faster mounting, the new lamps also come standard with a 250mm pre-wired lead with Deutsch connector.
The latest additions to the industrial work lamp range, now sees Narva offering lamps ranging from 1800 to 16000 Lumens of light output across a variety of beam options, shapes and sizes, ensuring that there is a Narva heavy-duty / industrial strength L.E.D work lamp to suit just about every demanding application.
Other range-wide features include a market-leading, 7-year L.E.D warranty, providing peace of mind for over 50,000 hours of operational life.
Narva's range of industrial strength L.E.D work lamps is available from all leading transport, automotive and four wheel drive outlets throughout Australia.