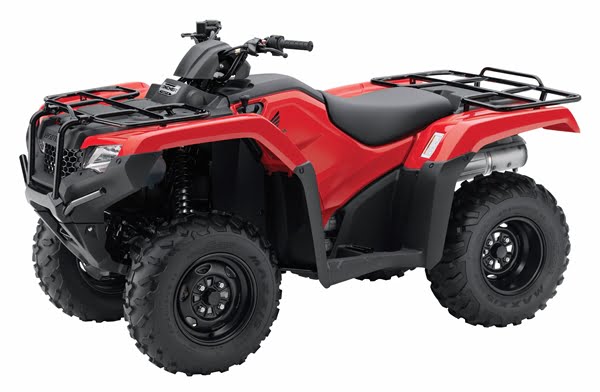 With only the toughest work in their sights, Honda's 2014 TRX420 line-up will impress loyal fans with their completely new frames, updated suspension, re-designed styling and most importantly, elevated levels of performance.
Honda's mid-sized 420cc workhorses have carved out an impeccable reputation as the hardest working partners in rural Australia and the next generation of Honda's TRX range will only strengthen this status.
Sporting new product codes for 2014, the TRX420FM1 and TRX420FM2 will be the first to arrive in December 2013 with the TRX420TM1 and TRX420FA2 to follow in January 2014*.
The TRX420's powerful, longitudinally mounted liquid-cooled engine has been taken a step further for 2014. New fuel injection settings lead to improved fuel efficiency, reduced emissions and ensure dependable crisp performance in all situations.
Featuring an all-new chassis with a redesigned frame, the TRX420s now have longer-travel suspension with outstanding performance over rugged terrain and class-leading handling. A brand new enclosed axle swingarm has been developed to balance and optimise strength and rigidity, while improving rider comfort.
A new plush seat made from thicker, softer foam teams up with superior ergonomics making long hours in the saddle an easy task. Small yet influential updates such as more powerful headlights and new electronic instrumentation ensure the TRX420 range offer even greater practicality and value than ever before.
With a Honda TRX420 to suit every situation, choose from semi-automatic foot-shift manual transmission or easy to use fully automatic transmission and if easier, more responsive handling will lighten your workload, choose Honda's Electric Power Steering (EPS).
Further information regarding specifications, prices and exact arrival dates will follow in the coming months.