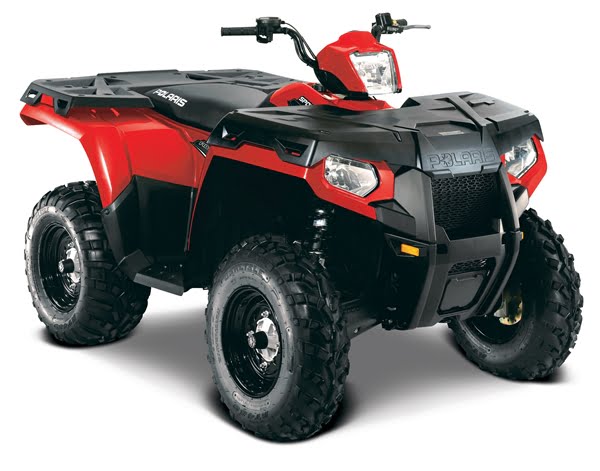 For years, the Polaris Sportsman 500 H.O. has been one of the pillars of the Polaris range, with its legendary reliability, ride quality and capabilities combining with outstanding value to deliver it the mantle of the world's number one selling automatic 4×4 ATV.
The H.O. will now become H.D. with a Heavy Duty specification of the Sportsman 500 just released to the Australian market, designed specifically for Australian conditions. As a direct result of a visit by Polaris Industries USA management and engineers to Australia and New Zealand during the latter stages of 2012 – in which they spent countless hours with dealers and end users researching the usage of ATVs in the unique Australian conditions – a number of product improvements have been put in place specifically to better suit our conditions and usage.
The Sportsman 500 H.D. will now come complete with greasable/sealed ball joints, sealed driveshaft splines and sealed suspension bushings to not only provide increased durability in the harsh Australian conditions, but also provide easier ongoing maintenance.
"The visit by senior Polaris managers and engineers shows not only their commitment to understanding our market, but also to delivering products that are specifically designed for our quite unique conditions, climate and usage," said Polaris Industries Australia & New Zealand Country Manager, Brad Wolstenholme.
"As our American parent company, Polaris takes the Australian market very seriously and has demonstrated a willingness to make the necessary investments in research and development to make a great product even better suited to the Australian market."
All the character and features of the traditional Sportsman 500 will remain, including the tried-and-true 498cc high output, liquid cooled engine, On Demand True All Wheel Drive, 28.6cm ground clearance, a combined front/rear rack capacity of over 120kg and a towing capacity of 555kg. The radiator is also mounted 3″ higher in the chassis and angled rearward to provide greater protection from mud and debris.
"Our conditions are known to be some of the harshest in the world, whether that be hilly, wet, dry, hot or simply rough," said Wolstenholme. "These changes will enable this legendary model to again up the ante to remain one of the most suitable models for Australian farms on a number of levels, including its versatility across a variety of applications whilst also offering user friendly servicing and maintenance."
Polaris is a recognized leader in the powersports industry with annual sales exceeding $3 billion. Polaris designs, engineers, manufactures and markets innovative, high quality off-road vehicles (ORVs), including all-terrain vehicles (ATVs) and the Polaris RANGER ® side-by-side vehicles, snowmobiles, motorcycles and on-road electric/hybrid powered vehicles.