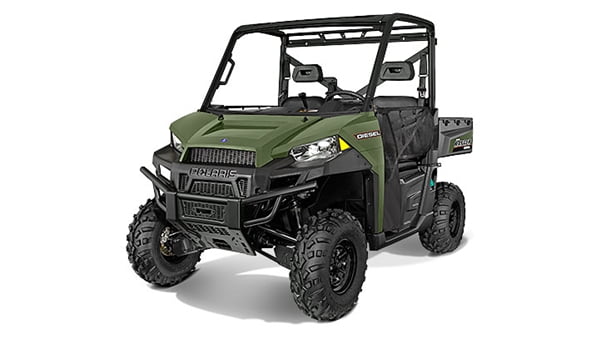 Polaris has just released the 2015 Ranger Diesel 1000 HD EPS into the Australian market becoming the marques 20th model available for sale with a Roll Over Protection Structure (ROPS). The Ranger Diesel 1000 HD EPS is built specifically for the Australian market with the inclusion of heavy duty upgrades, Electronic Power Steering and engine braking with 4-Wheel Descent Control (4WDC) to manage undulating terrain.
The 2015 Ranger Diesel 1000 HD EPS receives a number of upgrades over the 2014 Ranger Diesel 900 HD including being built on the Ranger XP platform with updated styling, a brand new 1028cc Diesel Engine, Electronic Power Steering, 4-Wheel Descent Control, a massive 110 Amp Alternator and a new ROPS cab frame designed for the enormous range of Polaris Lock & Ride Pro-Fit accessories such as a full cab system.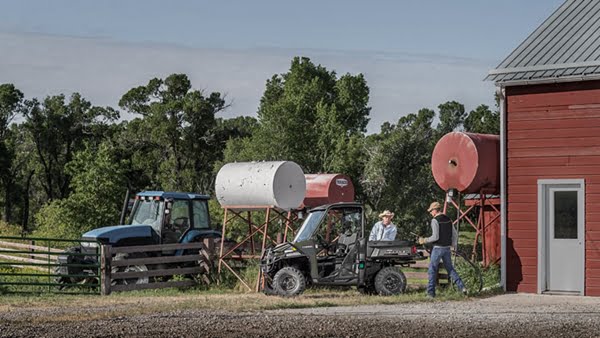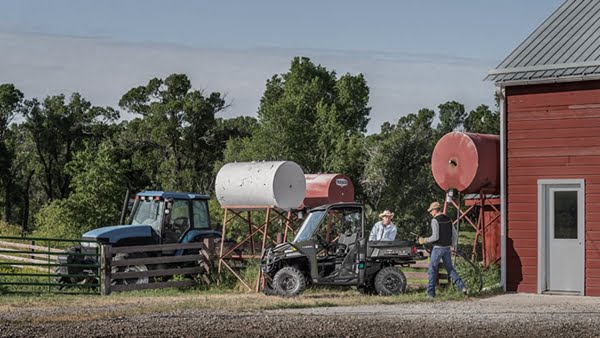 With upgrades to the chassis, the Ranger Diesel 1000 HD EPS now shares the same attributes and chassis that have made the Ranger XP 900 the premium choice for farmers. This new model also boasts innovations such as a restyled cockpit, Dual A-Arm front suspension, new flip-up seat storage, new Lock & Ride Pro-Fit cab accessories, larger 37.6 Litre fuel tank, easier serviceability and a quieter ride due to engine repositioning rearward. The Ranger Diesel 1000 HD EPS also receives new intake openings, on the pillars behind the driver and passenger, allowing for improved airflow for the engine and clutch air intake systems.
The Ranger Diesel 1000 HD EPS has been fitted with a new and modern 3 cylinder, Kohler Diesel engine. The 1028cc Kohler Diesel is a 3 cylinder overhead cam liquid cooled engine. This proven, high performance diesel engine utilises indirect injection that delivers smooth power and reduced combustion noise. The engine boasts double the alternator output of the outgoing model, with a monstrous 110 amps, to power more accessories.
The Kohler engine boasts a compact, heavy-duty design with a cast iron crankcase for durability and an aluminum cylinder head for weight reduction and fast warm-up. Full pressure lubrication provides superior protection and engine life. The automotive overhead camshaft design also reduces mechanical drivetrain noise and with the engine being repositioned rearward in the chassis the new Ranger Diesel promises to be even harder working and smoother riding.
The Ranger Diesel 1000 HD EPS continues to deliver a monstrous, class-leading 907kg towing capacity, 680kg payload capacity and a rear dump box with gas-assist dumping operation that can carry up to 454kg of materials and a full-sized pallet.
For demanding Australian conditions, the Ranger Diesel 1000 HD EPS will come as a "HD" (Heavy Duty) spec model complete with an upgraded rear driveshaft, grease fittings, HD sway bar, driveshaft seals, sealed a-arm bushes and sealed ball joints, all designed to stand up to our unique tough conditions such as dairy.
The "Heavy Duty" spec is a direct result of visits by Polaris Industries engineers to Australia during which they spent countless hours with dealers and end users researching the usage of ATVs and side x sides in the tough Australian conditions.
Other standard features of the Ranger Diesel 1000 HD EPS include 25.4cm of steering adjustment, 30.5cm of ground clearance, room and seat belts for three adults and 25.4cm of Dual A-Arm suspension travel up front and 25.4cm of Independent Rear Suspension travel to keep the ride smooth when towing and hauling up to a ton.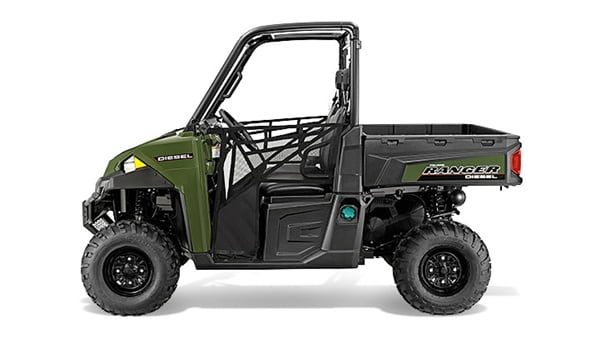 Polaris offers a full line of accessories including cabs, boxes and specialised products. The Ranger Diesel 1000 HD EPS offers a new standard in accessory integration, quality and fit and finish with the industry-exclusive Pro-Fit cab system. The highly modular cab frame system offers cab options from robust canvas doors featuring a poly windshield to premium automotive glass tip-out windshields and power window molded doors. Even better, the purpose built chassis features dedicated component attachment points to allow for extremely efficient cab installation or removal. To further assist with accessory integration, the Ranger Diesel 1000 HD EPS is fitted standard with a built in winch mount and buss bar under the hood for easy access and convenient dash access, wire routing to install accessories is extremely user friendly.
Matched to Polaris' Variable Transmission system, the Ranger Diesel 1000 HD EPS is underpinned by the Polaris on-demand true All-Wheel-Drive (AWD) system which operates "on the fly" without the need to stop the vehicle. The AWD system is complete with an unlocking rear diff function "turf mode" designed to enable tighter turns without tearing up grass.
The 2015 Ranger Diesel 1000 HD EPS is available in Australia now. RRP is $19,995.