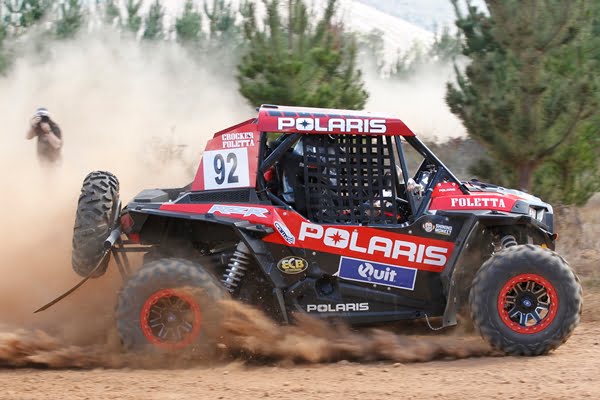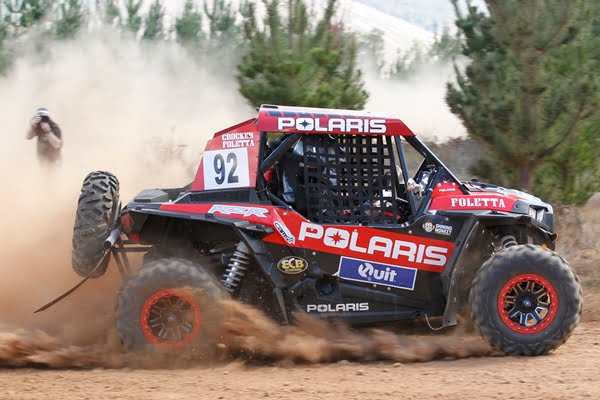 The Polaris Racing Team has begun the 2014 Australian Rally Championship (ARC) SXS (Side by Side) Challenge season with a win at the Western Australian round being the Quit Forest Rally.
The Polaris Racing Team with driver four time Asia-Pacific Rally Champion, Cody Crocker and Co-Driver Greg Foletta took the teams new RZR XP 1000 through 200km of forest stages faultlessly near the town of Nannup WA to win 15 out of 15 stages over Saturday and Sunday.
"The new RZR didn't put a foot wrong all weekend, it's just awesome. The past two years we have run a RZR XP 900 which was very dependable and great fun. The best thing about the new RZR XP 1000 is that it does everything the 900 did just that bit better, it is wider, it is longer and it is faster!" said Cody Crocker.
"By comparison on the last stage on Saturday which is only 800m long the new Polaris RZR XP 1000 performed a stage time of 44.8 seconds vs last year on the exact same stage our RZR XP 900 got a time of 47.5 seconds, 3 seconds over such a small distance is quite substantial and the performance of the new RZR was proved this weekend" continued Crocker.
"We are always a bit nervous running a new machine for the first time in a Rally but after this weekend's performance the RZR XP 1000 has proved itself to be just as reliable as last year's RZR XP 900 and we are looking forward to the rest of the season" said Greg Foletta.
On Saturday's Heat 1 Polaris placed first in 7 out of 7 stages with an overall time of 50:17.7, Michael Guest in his Can-Am placed second with 52:49.0 (+2:31.3) and Nathan Chivers in his Can-Am placed third with 53:17.9 (+3:00.2)
On Sunday's Heat 2 Polaris placed first in 8 out of 8 stages with an overall time of 1:10:29.8, Michael Guest in his Can-Am placed second with 1:13:31.9 (+3:02.1) and Nathan Chivers in his Can-Am placed third with 1:24:12.9 (+13:43.1)
"Unfortunately Michael Guest broke a drive shaft on Saturday and we caught up to him and spent a bit of time in his dust! It is great fun to race against the Can-Am guys; we have a very close competition and it is always great to catch up with their team at each Rally. I am looking forward to our next battle in South Australia in August" said Cody Crocker.
It was also great to see local WA Polaris RZR owners Alan Grier and Dylan Minear enter the Rally as "invitational." Their RZR's didn't meet ARC specifications but they did have the required safety equipment and were therefore allowed to run and enjoy the stages in the event.
The ARC SXS Challenge is designed to avoid "cheque book" racing, anyone can enter the SXS class of the ARC with a Polaris RZR or a Can-Am Maverick and all they need to add is the required CAMS safety cage and equipment. This puts everyone on a level playing field and makes motorsport very accessible with low costs involved compared to that of a properly set up Rally Car. Anyone interested in Racing in the ARC in a SXS is encouraged to contact their local Polaris or Can-Am dealer.
The ARC SXS Challenge will continue in August at the Scouts Rally, South Australia.