Nissan Patrol has a long and excellent history with in 4WD fraternity with many an argument between enthusiasts about the various virtues and abilities of either the Patrol or LandCruiser.
However, while the latest Patrol retains its 4WD ability its sales haven't matched its long term rival.
We have reviewed the Patrol on a number of occasions
So this time we are focusing on a few key areas that we like and perhaps not like so much.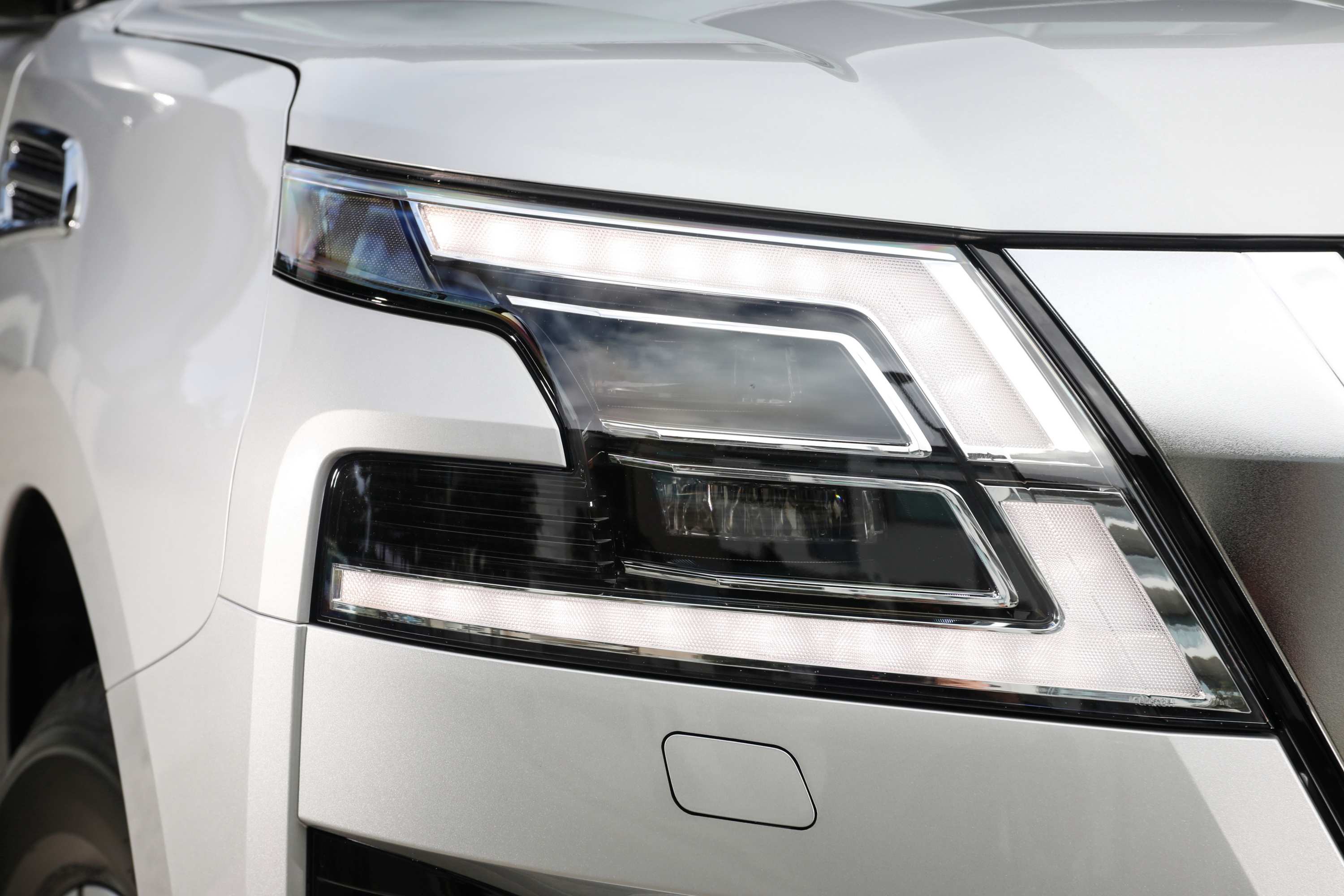 What presence does the Patrol TI-L have?
Let's start with the obvious. The Patrol is huge. It's nearly 5.2 m long and with a wheel base of 3075 mm it's the same as many Utes. At a kerb weight of 2861 kg it's also a hefty beast that imposes itself on the road wherever it goes. The upright grill with LED lights and fog lights helps that look.
The sheer size means that it's tight in suburban carparks, roads and on tight winding off road tracks.
The flip side is that inside its cavernous. Front occupants have plenty of room, however taller drivers may find seat travel restricted a touch. There is oodles of head room, you won't have to take your hat off.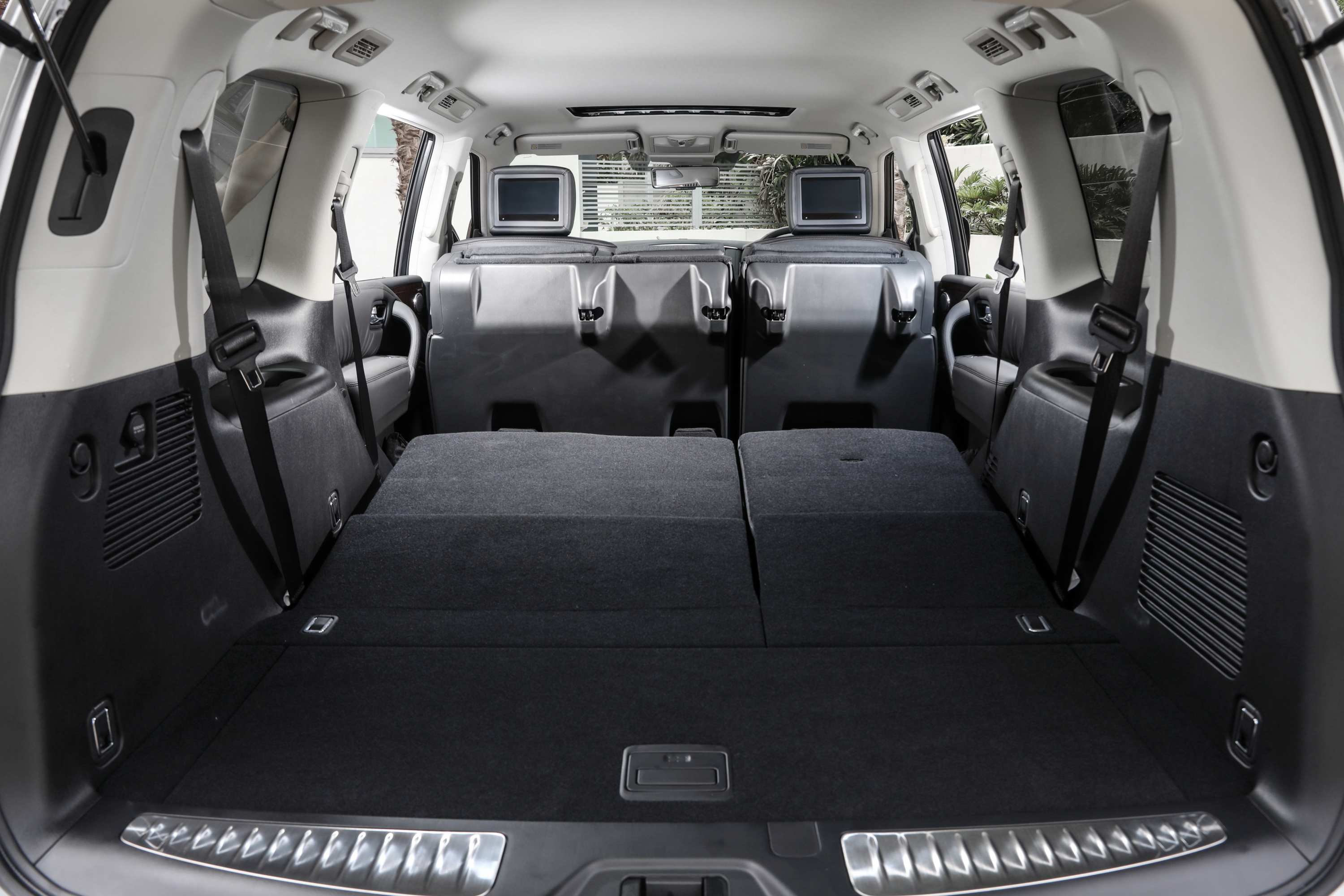 Rear occupants have plenty of room for three and they are reasonably well accommodated with twin 8 inch seat back screens, USB ports and controls for the tri zone A/C. Third row seats are ok, designed for two, but you won't find me back there. The take up a bit of room in terms of luggage space. Ideally I would love the option of a five seat top spec version. The fold down flip forward facility is a little awkward and needs a redesign for better use of the space.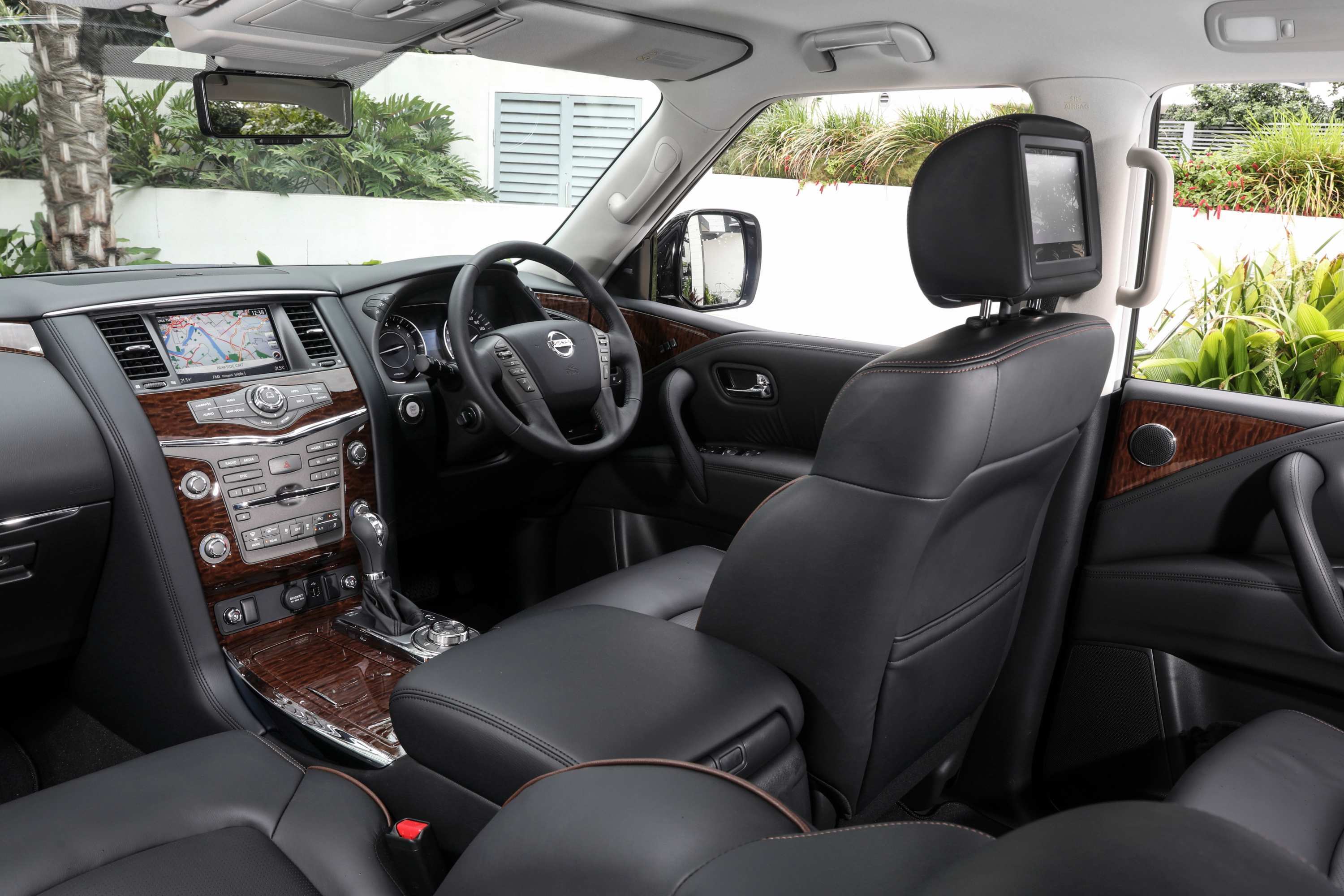 Whats the Patrol TI-L like inside?
Inside, even though the design could use a real freshen up, the Patrol TI-L wants for very little. From electrically adjusted steering wheel and air conditioned front seats with additional lumbar support, to rear twin screen for the back seats. The dash is large and easy to read. The controls for the MFD are a little awkward to use, being buttons on top of the instrument shroud.
There is an 8 inch central touch screen that allows the expected connectivity and houses the infotainment system. This is a little small by current standards in the market its competing with and it would be great if it had Bluetooth connectivity for Apple CarPlay and Android Auto. The functionality is easy to use though. The Bose stereo provides pretty good sound and you can crank up the six speakers if you're inclined.
One thing that's important is that the clarity of Bluetooth connection for phone calls is excellent, even while travelling at speed on the freeway. A function of the quality connection and how quiet the Patrol is while driving.
While the Patrol has the little luxuries like heated external mirrors and auto headlights and wipers, it doesn't have auto high beam. The LED headlights and foglights are excellent as are the DLR's and high beam lights.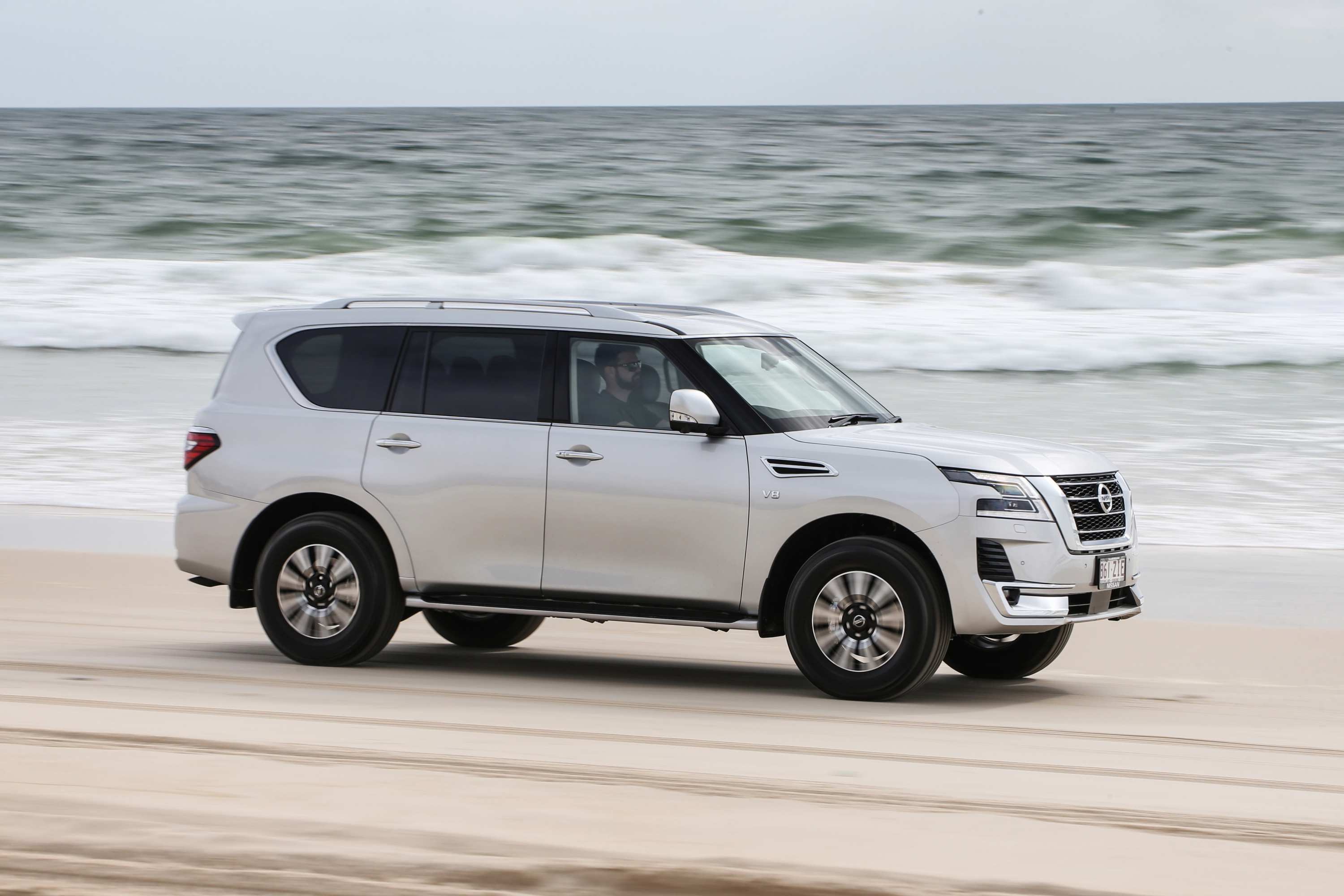 So what is the Patrol TI-L like to drive?
Well it's like taking a Moran recliner lounge for a drive. The seats are soft yet supportive and the weight of the car along with well-tuned HBMC suspension, means not much gets through to the occupants. It absorbs almost everything you throw at it without fuss and cocoons the occupants. The ride is really quite supple and relaxed.
The steering is a little light, but the advantage is that tight parking spots are easily managed. At speed the lightness seems to tighten a touch. For a big SUV the visibility is good, but the 'A' pillar does hide cars in roundabouts if you're not careful.
The big 5.6L V8 provides more than adequate power and torque for the bulk and the Patrol will lift its skirt and run hard when pushed. Of course you feel that at the fuel pump. Around town, with a heavy right foot, the fuel use is quite honestly frightening. Expect up to 25L/100K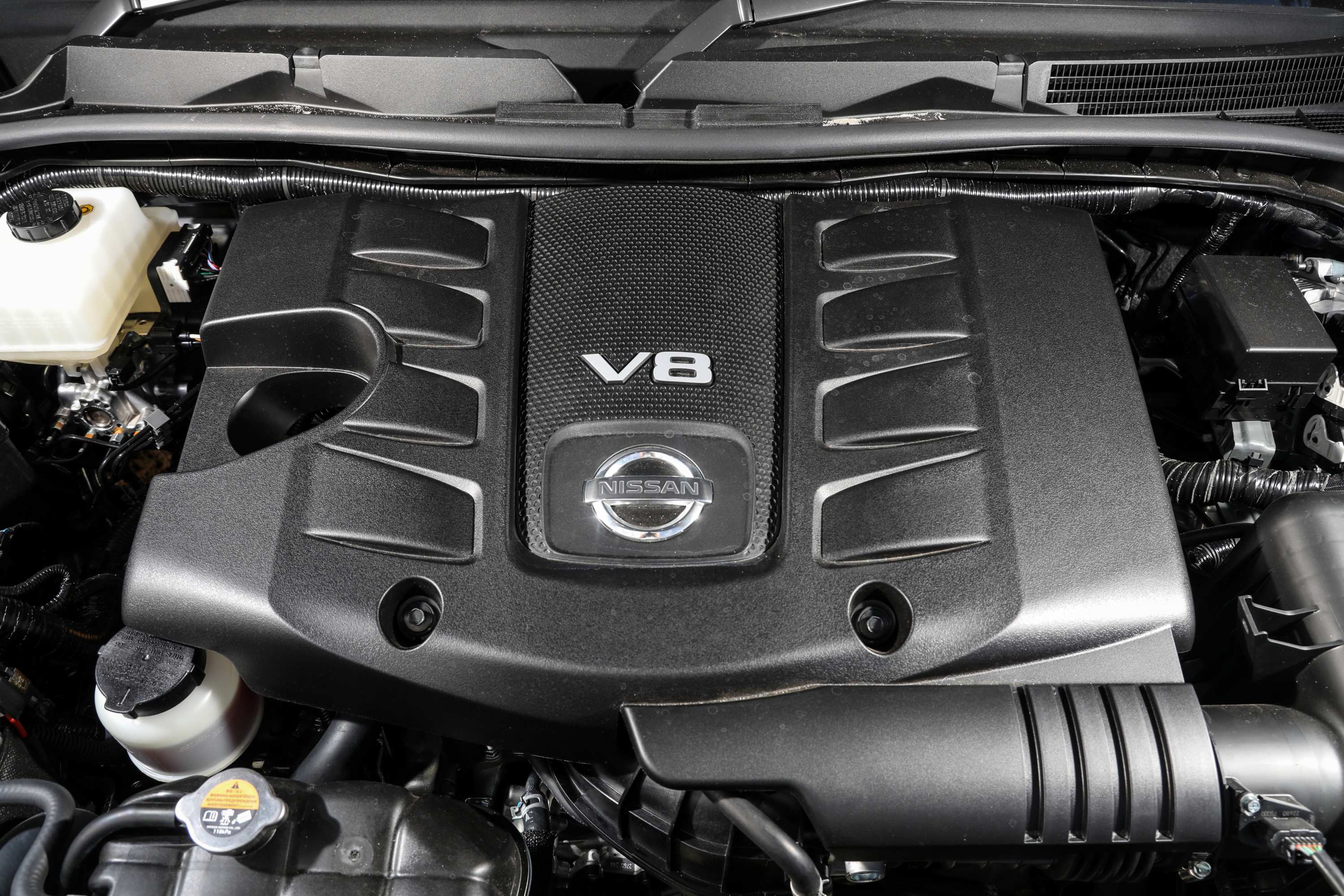 You can get that down to around 20L/100K but to achieve anything lower in traffic you would have to glue thumb tacks to the accelerator and drive in bare feet. On the freeway I got the fuel economy down to 16.1L/100K after about 230km of freeway driving. On sand that rises exponentially and becomes truly terrifying.
Speaking about sand driving, it is effortless in the Patrol. I took it for a leisurely spin on the beach and it truly was like driving on the road.
I haven't towed with it but again I wouldn't like to be paying the fuel bill. Note that it isn't any different to any other big V8 petrol engine in a 4WD though. And in reality the difference between this and the V8 diesel in the LandCruisers isn't as much in real world conditions as you might imagine.
As a 4WD the Patrol is as good as ever. A 7-speed automatic transmission with manual mode complements the intelligent 4X4 shift switch (Auto, 4-high and 4-low capabilities) making driving, whether on road, snow, sand or rock, convenient. There is also an electronic rear diff lock. Hydraulic Body Motion Control (HBMC) suspension system along with the off road monitor assists with control of all driving situations.
The reality is though that few if any of these new versions of Patrols will ever see anything more than some beach driving, trips to the ski fields or some dirt roads. Like the Range Rovers, the Patrol has capabilities that provide aspiration more than reality.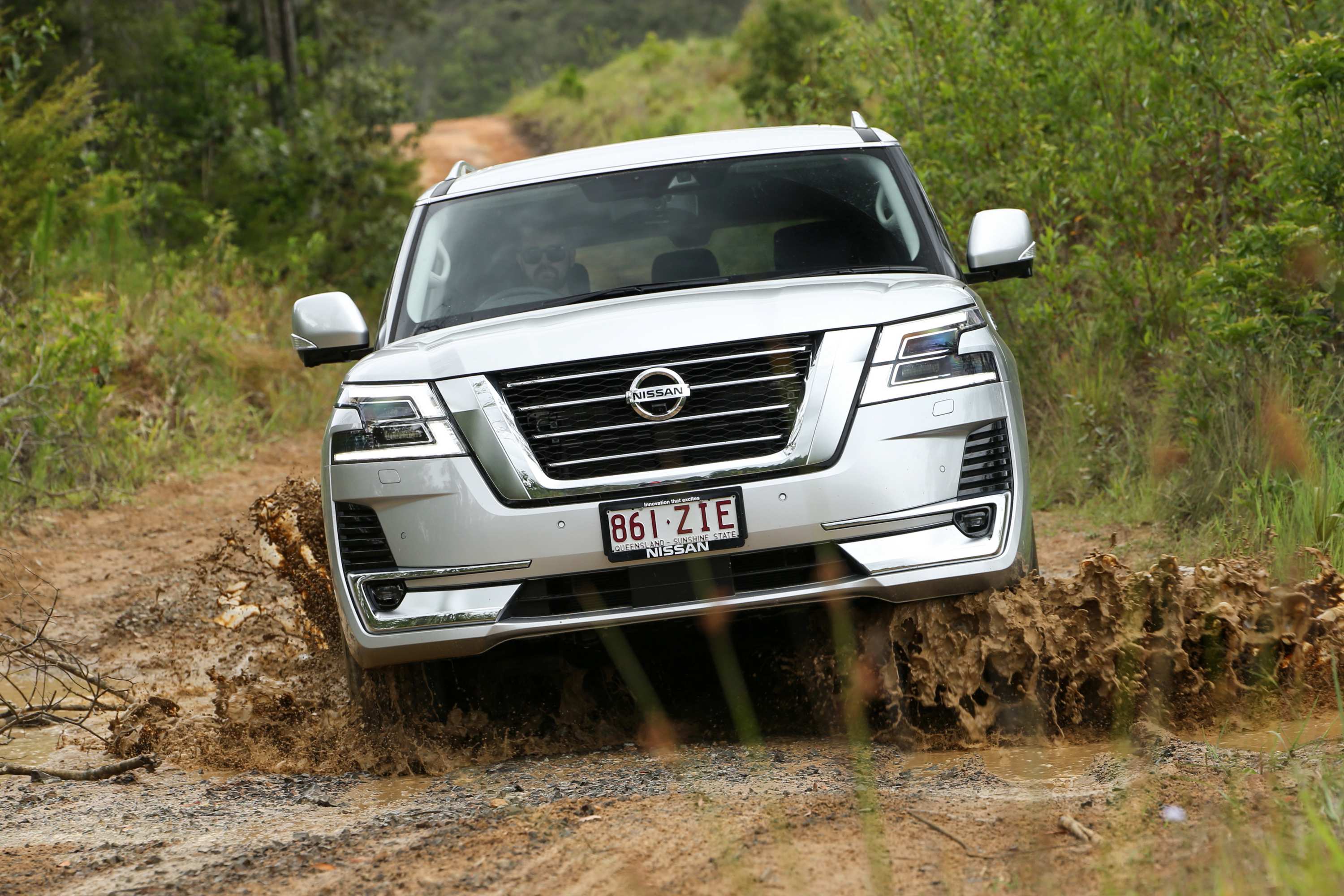 Is the Patrol TI-L safe?
Although it doesn't have an ANCAP safety rating, the Patrol is packed with the good stuff as far as safety goes. Highlights include the intelligent rear view monitor, surround moving object detection, emergency braking and lane departure warning and intervention, vehicle dynamic control and associated traction control and braking systems and a whole heap more. It doesn't have AEB as yet but soon hopefully.
Patrol TI-L final thoughts
Patrol TI-L is ideal for a family of seven in comfort and luxury. If being able to go off road or tow a horse float or boat for the family holiday is what you're after the Patrol fits the bill perfectly. Just don't look at the price of fuel.
A couple of things stuck with me after the drives I had. Firstly the smoothness and quietness of the big beast. Its prestige sedan like quiet. Secondly is just how effortless everything seemed to be. Obviously it isn't a sports SUV and so isn't to be pushed hard into corners as say a F-PACE SVR, but when pushed in normal driving conditions, in normal off road situations and on sand etc. the Patrol simply isn't fazed at all. Thirdly, the overall impression is that the Patrol is simply very comfortable to drive and sit in.
Now that the Patrol is back will the old rivalry with LandCruiser resurface? Well there are obviously similarities but the Patrol represents excellent value compared to the Toyotas. The direct price comparison to the TI-L is the LandCruiser GXL and there is a world of difference in them with features. We are doing a direct comparison soon.
No the Patrol is designed for the luxury SUV market now. Probably more at home in the Middle East or the USA where the price of petrol is inconsequential.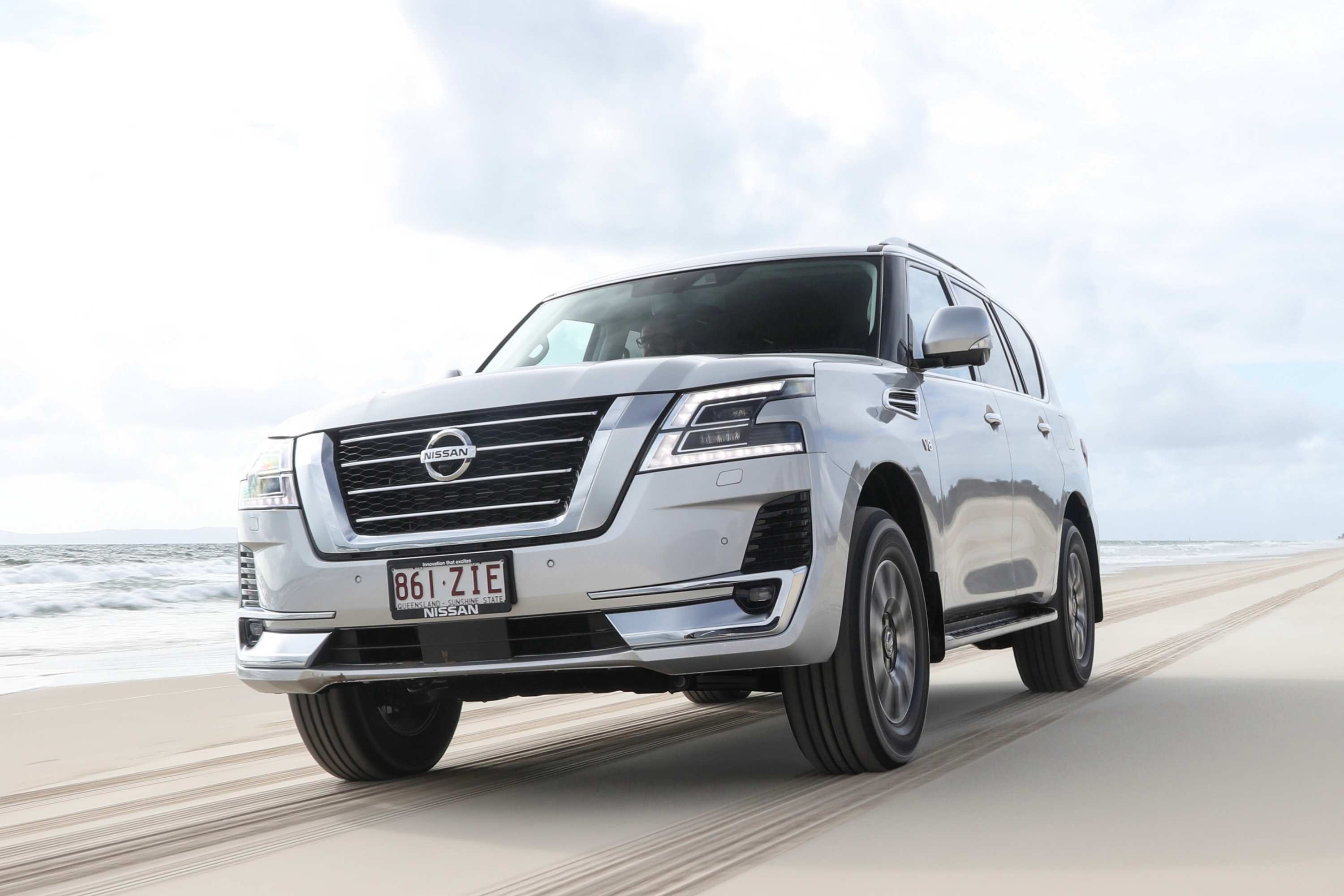 What's Good:
Driving presence
Smooth engine/transmission
4WD and towing ability
What's Not:
Poor fuel economy
Footbrake, really?
Sheer size in urban environment

Model  Nissan Patrol TI-L
Model Price $92,790 MLP*
Engine 6 L V8 Petrol
Drivetrain 4WD  7 speed Auto
Power 298 kW @ 5800 rpm
Torque 560 Nm @ 4000 rpm
Safety TBA Star ANCAP
CO2 Emissions 334 g/km
Economy ADR 5 L/100km
Tow Capacity 3500 kg
Tow Ball Rating 350 kg
Servicing 1             TBA
Warranty 5 yr/Unlimited km/5 yr roadside assist
 *MLP – Manufacturers List Price includes GST and LCT but excluding statutory charges, dealer costs and dealer delivery. See your dealer for RDAP. Does not include price of any options.
Overall Rating: 88/100
Behind the Wheel 9
Comfort 9
Equipment 8
Performance 9
Ride & Handling 8
Practicality 8
Fit for Purpose 9
Towing Ability 10
Off Road Ability 10
Value for Money 8
 Also look at;