Once the peak 4WD category, it has sadly dwindled in market presence and model availability, but not capability thankfully.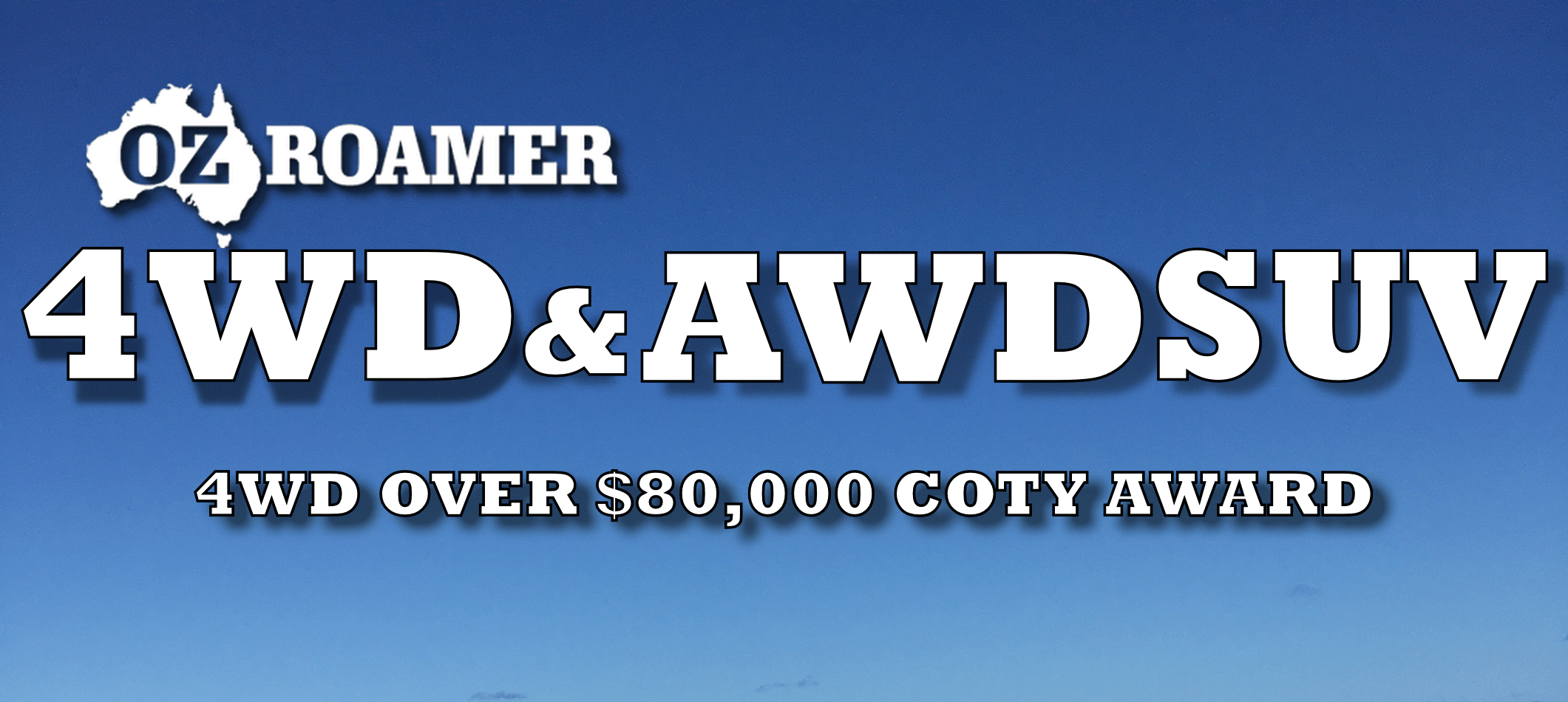 Dual range 4WDs only need apply and it boils down to a staunch few remaining. However the final winner is anything but!
We have waited for many years for the new 300 series LandCruiser. How does it stack up against the others? Is it good enough to take the award?
Possible nominees include: LandCruiser Prado Kakadu, Land Rover Discovery and Jeep Grand Cherokee
Our final three nominees are:
Toyota LandCruiser 300 series
Land Rover Defender
Nissan Patrol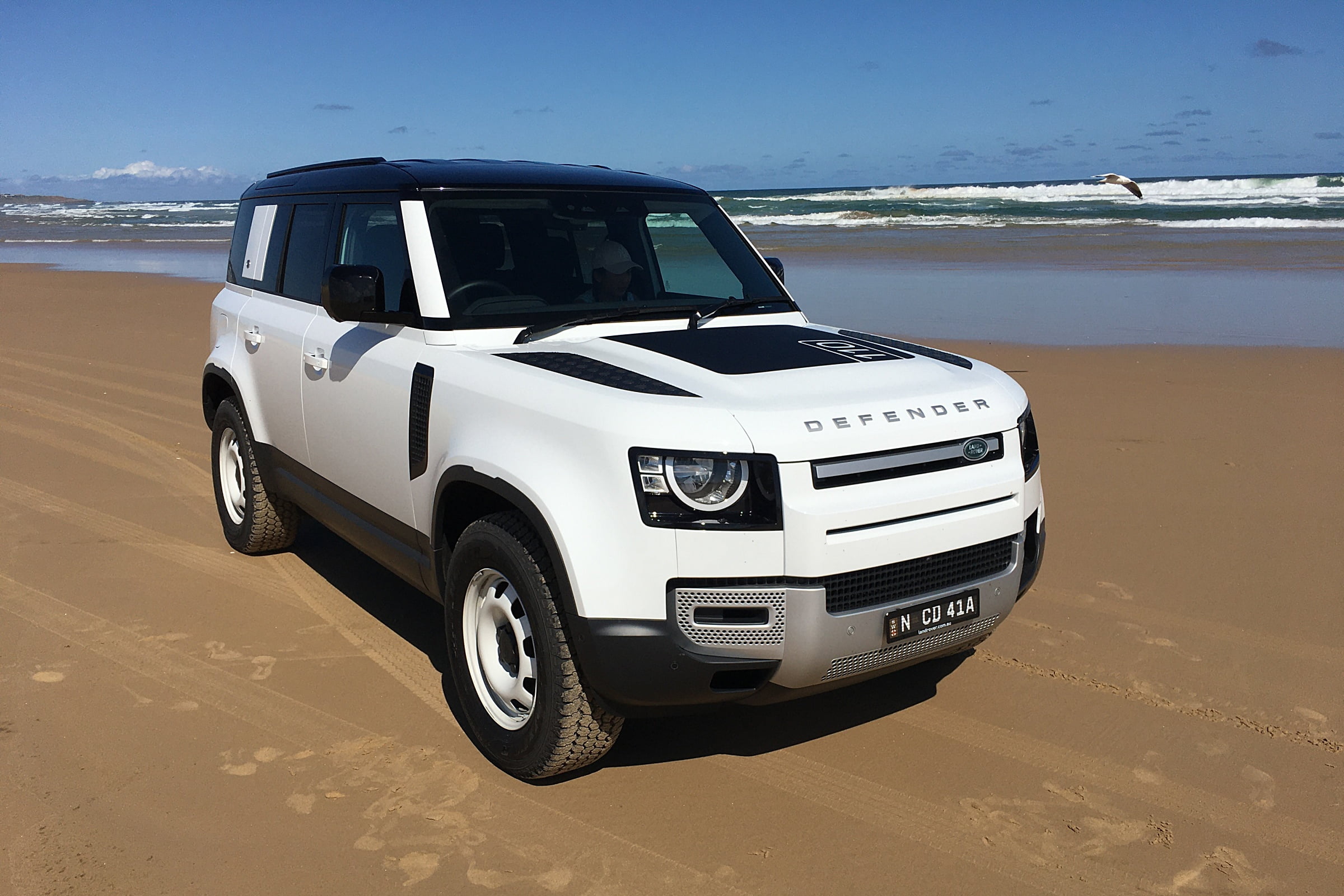 Land Rover Defender 110 – Winner
Land Rover Defender has been an icon for decades basically because it was a utilitarian 4WD that went almost everywhere and had a myriad of fans, even the Queen of England has been famously seen driving one around her farm.
But let's be honest, the old model was an ergonomic nightmare. Enter the new model that was launched in Australia in August 2020 and the world of large 4WDs changed.
Land Rover Defender 110 Model Range
Defender currently comes in two body styles the short wheelbase three door 90 series and the longer four door 110 series.
It's the 110 series that has won the award and the one we will focus on.
The range is large and a little confusing but stick with me.
The best way is to simply list some of them and the prices and go from there.
Defender P300 $81,890 MLP*
Defender P400 S $97,450 MLP*
Defender D300 SE $101,950 MLP*
Defender D 300 X Dynamic HSE $120,310 MLP*
Defender P400 X $149,580 MLP*
Defender D300 X $147,440 MLP*
Defender P525 V8 $220,530 MLP*
Add to this a choice of a number of accessory packs for towing or off road, cold climate, comfort, air suspension etc. and then on top of that an almost bewildering list of individual options and you can see that almost no two Defenders would be the same.
To be honest it's a bit of a head spin, but exciting if you were buying one.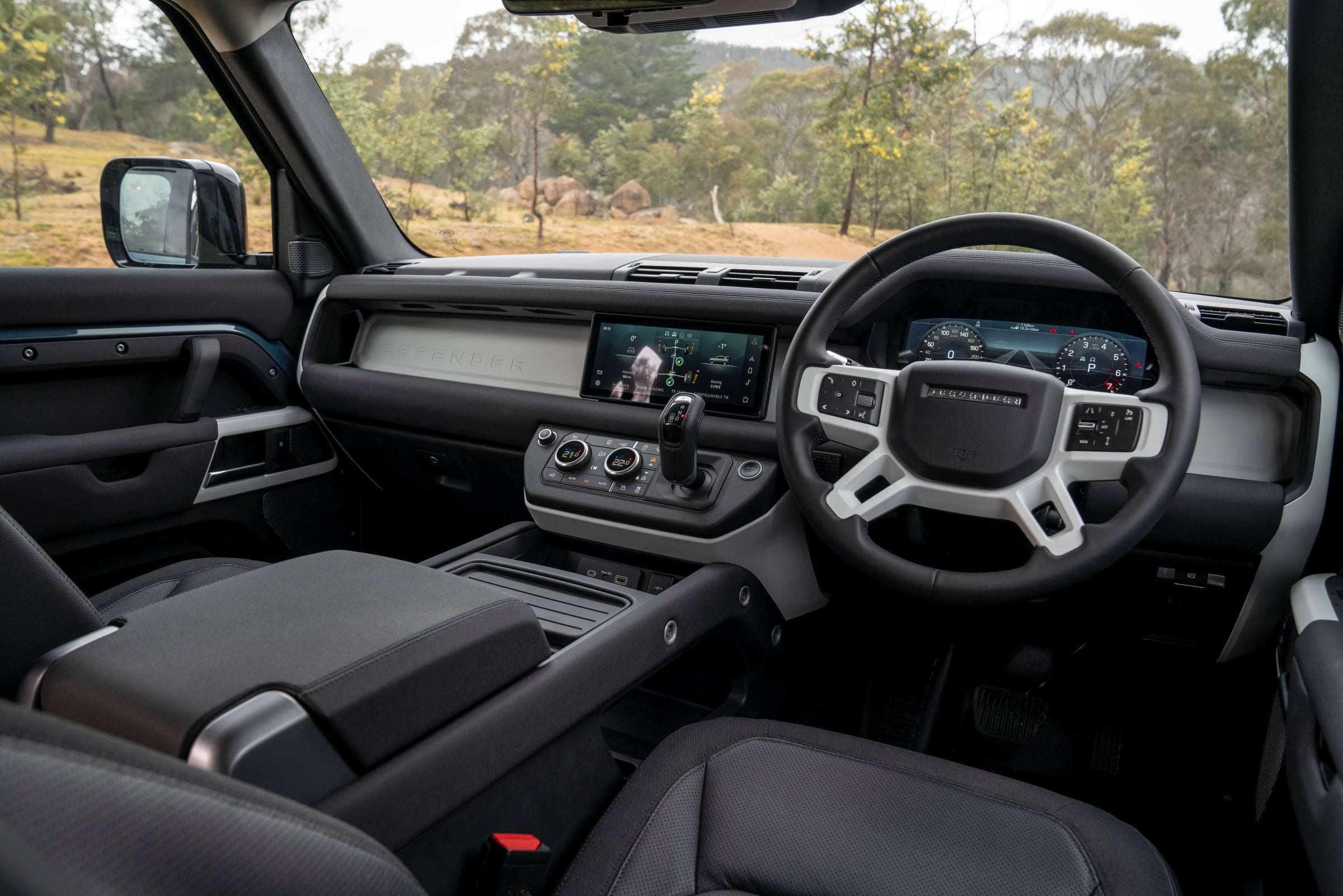 Defender 110 General Thoughts
Chalk and Cheese from old to new.
Defender discovers driver ergonomics at last.
The new Defender is excellent. It looks great with enough homage to the original icon, but with modern design it's a style that will last I believe.
The droopy eye style lights are a feature as well as the almost smiling frontal grill area. It's a happy face.
The designers have managed to have a solid, robust design with softened edges that I found was universally appealing to the many people that stopped me to chat about it.
Inside the first thing I noticed was the excellent driver ergonomics. It's perhaps the most comfortable 4WD I have sat in. It fits me perfectly with enough room for long legs and the height of the centre arm rest and door sill is perfect for resting my elbows. I'm a b bloke and I fit comfortably.
Depending on which model you choose the driver instruments will be half digital and half analogue or fully digital, but it makes little difference to the easy to read nature. The head up display again is excellent as is the ClearSight Rear View technology.
Steering wheel is a four spoke style with the usual controls. One thing is that the controls have a slight delay when pushed, it takes a little getting used to but if you owned it that would become second nature.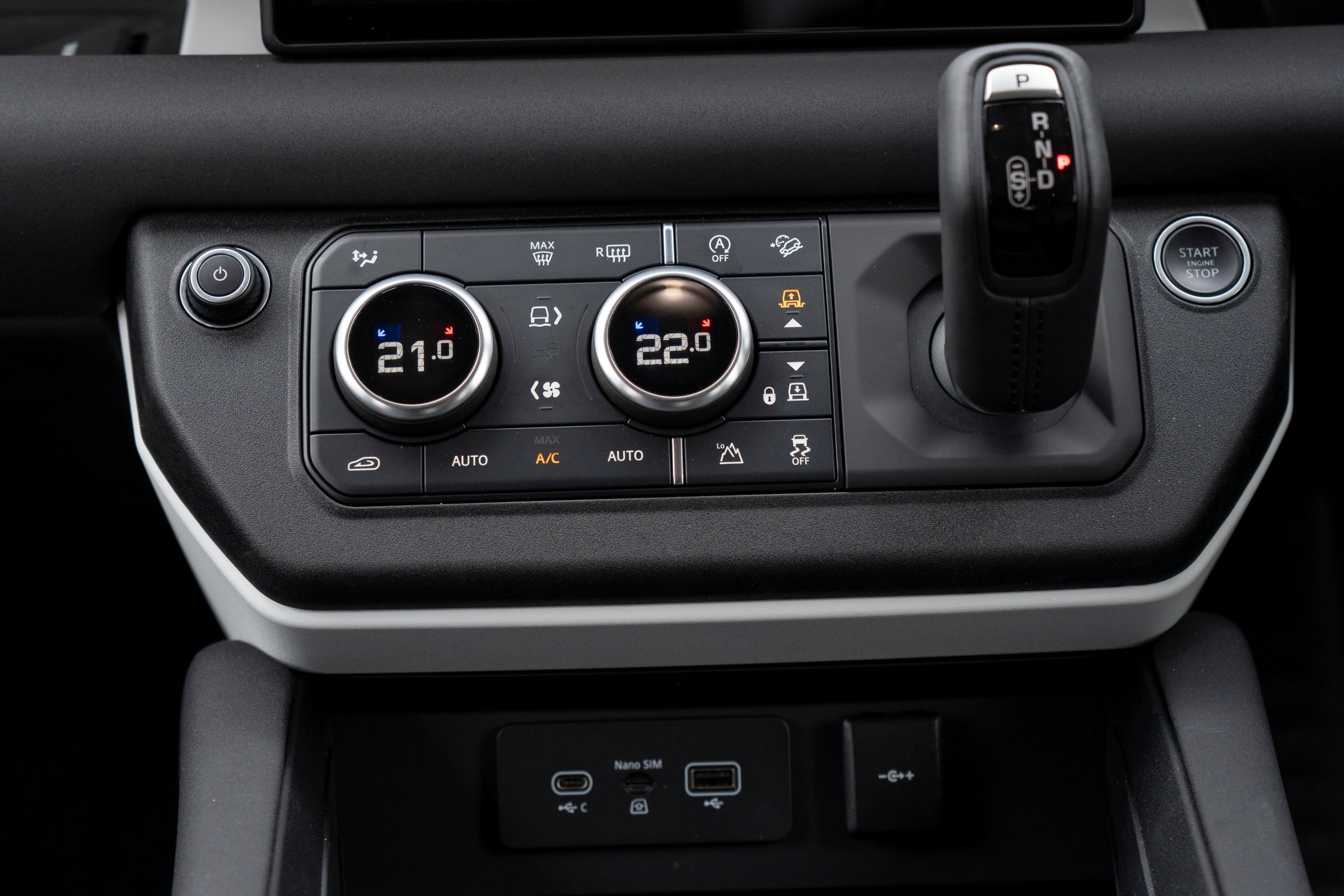 The central screen section is a design revelation.
While I am a fan of the touch screens for Land Rover products, there is something special about the dash mounted transmission lever with all the controls for 4WD, Terrain Response 2, A/C and more surrounding it. I love it. There is of course a 10 inch touch screen above that as well.
Along the dash there are clever and practical trays for storage as well as below the transmission lever. Large twin bottle door pockets and a USB ports complete what is a well laid out interior. I also love the tek screw style on the centre console grab handles and door inserts, again a homage to the old school, rivets.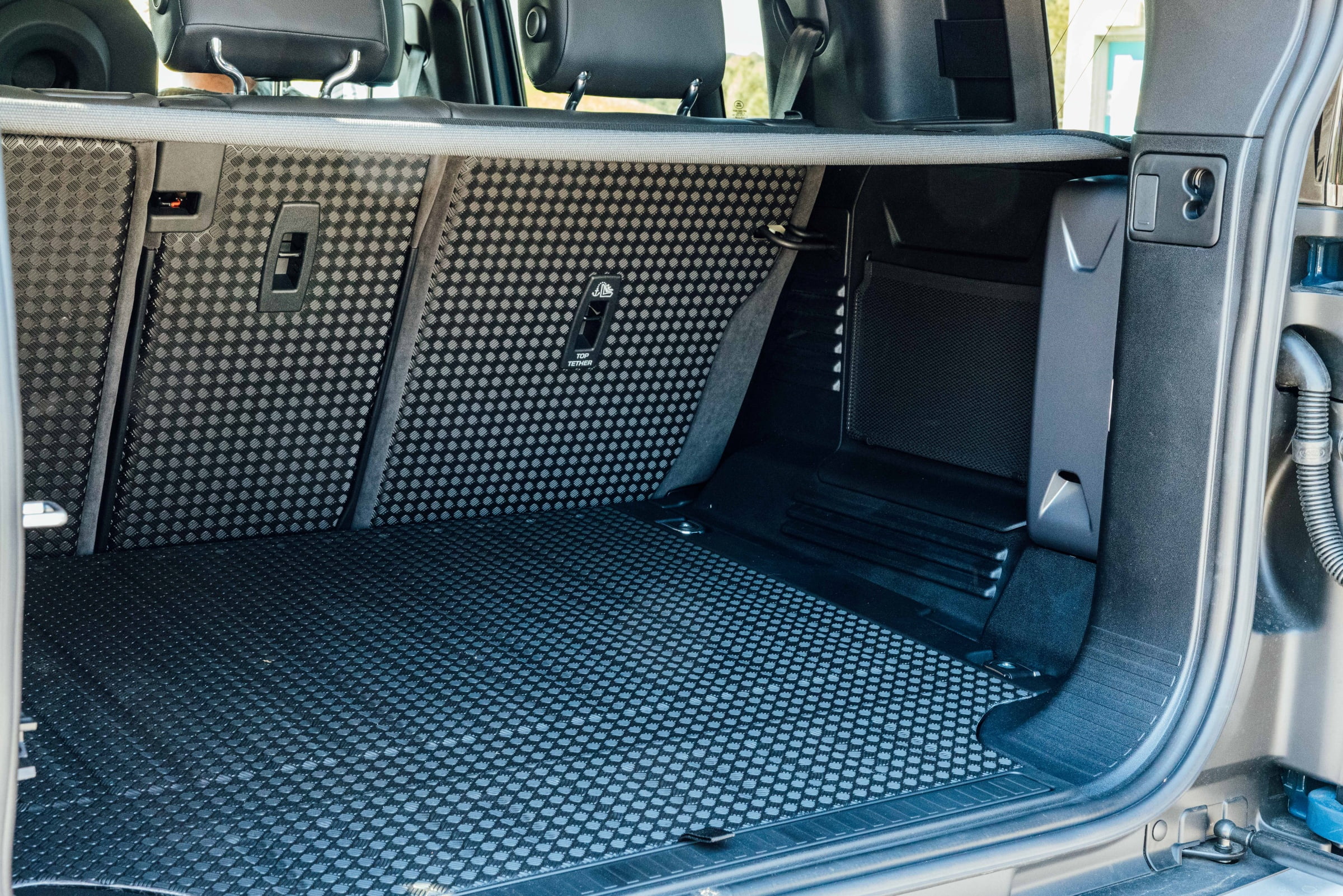 Rear seat passengers get good room and comfortable seats. More focused on the outer two. Seats fold almost flat. There is also air vents, grab handles to help with getting in and USB and 12V ports. Overall visibility is good with large windows and the iconic rear sky glass.
The entry model is well equipped with most safety, comfort features buyers want and the model walk adds comfort and 4WD capability features as well as different engines.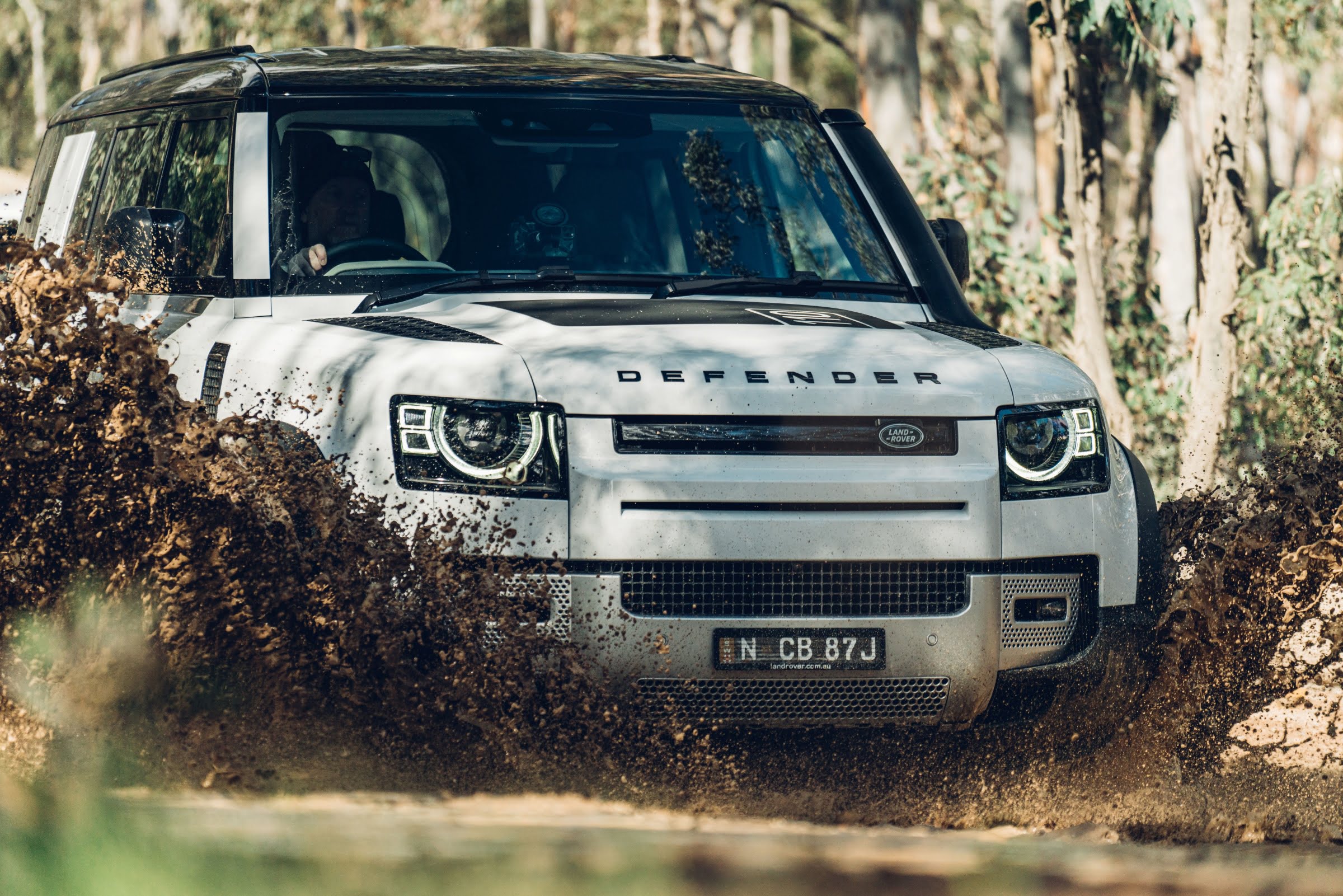 Defender 110 Engine and Drivetrain
There are four engine options depending on which model you choose.
P300 is a 2.0L inline four cylinder turbo petrol engine delivering power of 221kW @ 5500rpm and torque of 400Nm @ 1500-4000rpm.
D300 is a 3.0L inline six cylinder twin turbo diesel engine delivering power of 220kW @ 4000rpm and torque of 650Nm @ 1500-2500rpm.
P400 is a 3.0L inline six cylinder turbo petrol engine delivering power of 294kW @ 6500rpm and torque of 550Nm @ 2000-5000rpm.
P525 is a 5.0L supercharged V8 Petrol engine delivering power of 386kW @ 6500rpm and torque of 625Nm @ 2500-5500rpm.
All models run an eight speed sports automatic transmission and dual range 4WD. There are options such as Terrain Response 2 and air suspension etc.
The New Land Rover Defender is based on the new D7x monocoque architecture. An extreme version of the platform used on Range Rover, Range Rover Sport and Discovery.
The Defender is in a class of its own amongst the true 4WD wagons for on road dynamics. It's a delight to drive.
Head off road and the story gets even better.
Defender combines best in class on road dynamics with prodigious 4WD capability.
The thing that strikes me about the Defender is just how composed it was on some tracks that I've driven over in other 4WDs and they are complaining among the way and the Defender made it seem all too easy.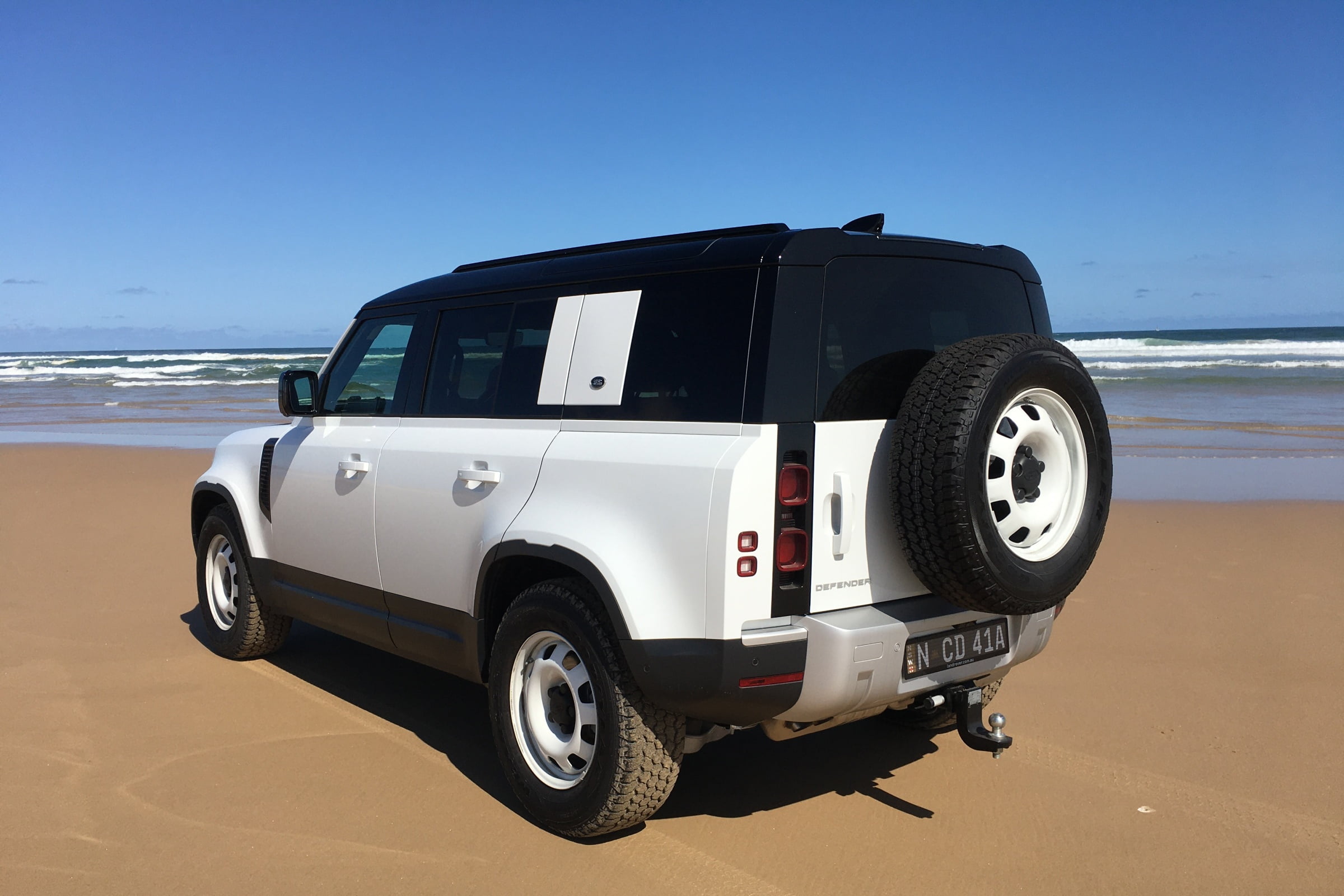 Defender 110 Final Thoughts
It's simply stunning how good the new Defender is both on and off road.
It will definitely pinch sales from other large 4WDs as well as a number of prestige SUVs it's that good.
As good as it is on road its off road where it excels.
Defender has set new benchmarks for a true 4WD
Defender is a well deserving winner of this year's award.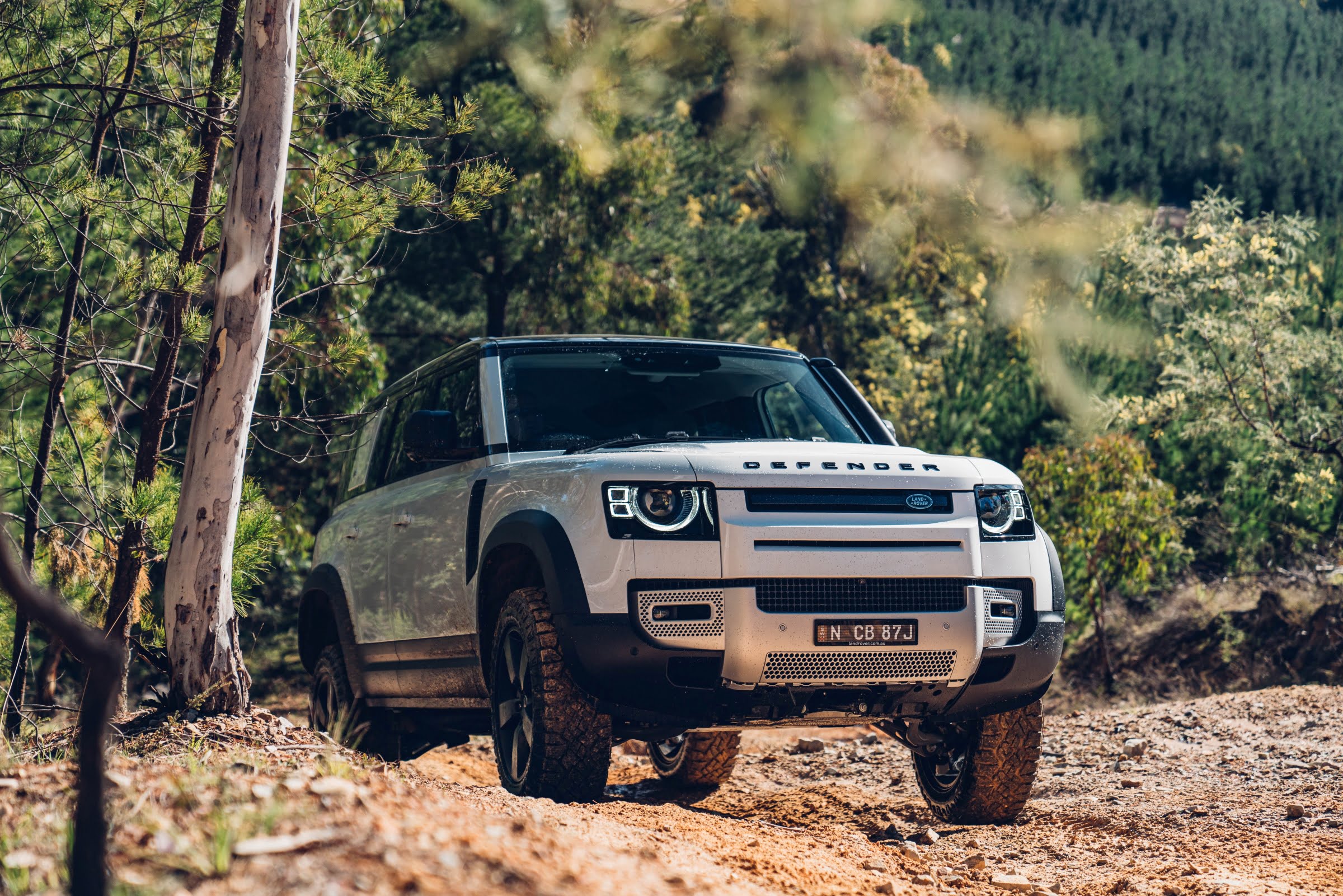 Defender 110 Model Pick
Given that there are so many choices we chose the model we thought brings the best balance between engine, standard features and 4WD capability.
We chose the D300 SE.
What is good?

What is not so good?

Defender is actually very cool
On Road ride and dynamics class leading
4WD and towing capability

Hate to scratch it off road
Long and expensive options list
B pillar can be a touch intrusive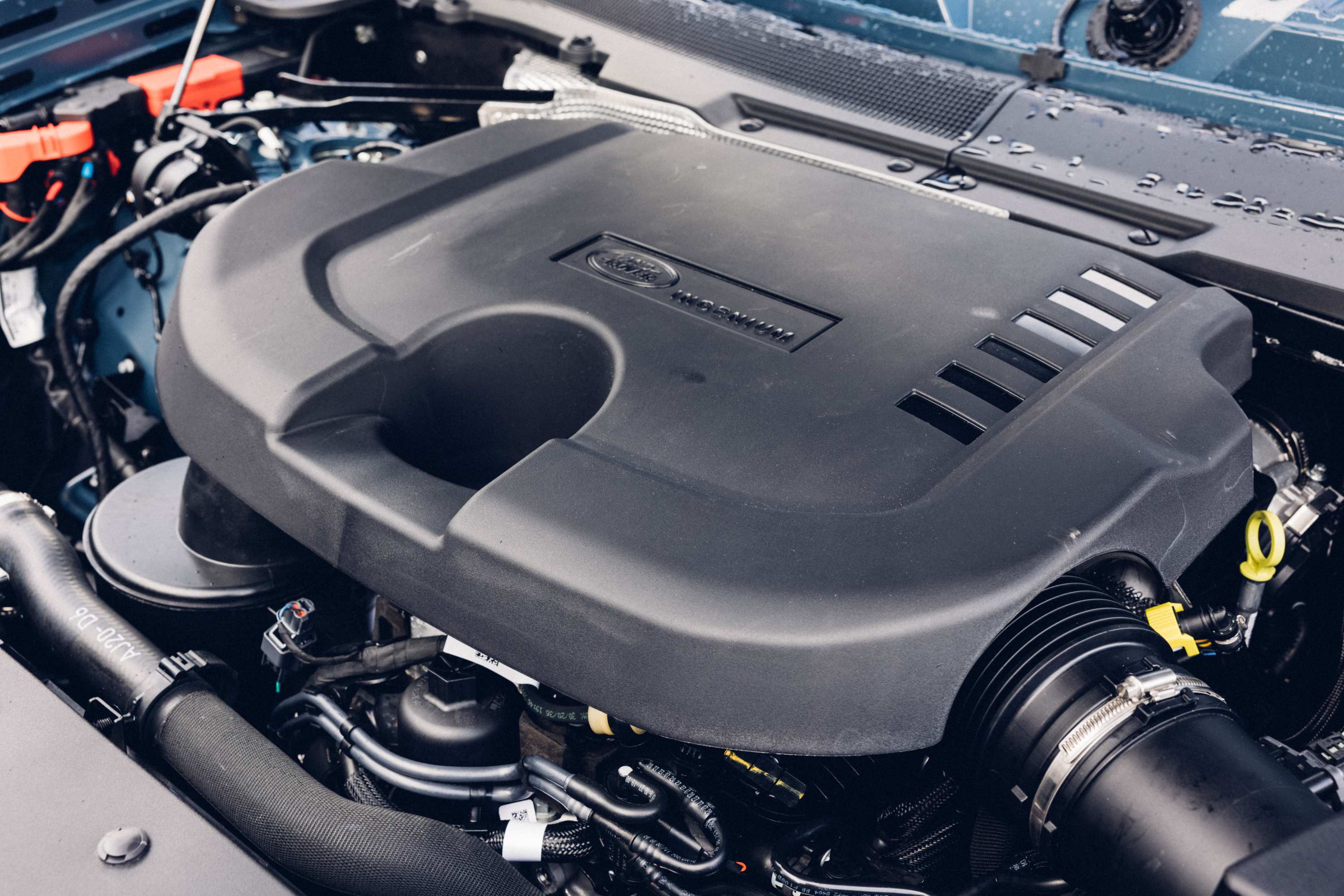 | | |
| --- | --- |
| Model    | Defender D300 SE 4WD   |
| Model Price | $101,950 MLP* |
| Engine | 3.0L Inline twin turbo six cylinder diesel. |
| Drivetrain | 8 Sp AT 4X4 Terrain response 4×4 |
| Power | 220kW @ 4,000rpm |
| Torque | 650 Nm @ 1,500 – 2,500rpm |
| Safety | 5 Star ANCAP (Tested Aug 2020) |
| CO2 Emissions | 207 g/km |
| Economy ADR/ Capacity | 7.9L/100km / 9.5L/100K on test / 89L |
| 0-100kmh/Top Speed | 7.0 secs / 191kmh |
| Servicing | 12 Mths / 12,000km |
| Warranty | 5yr/ Unlimited km with 5 Yr. conditional roadside assist |
*MLP Includes GST and LCT but excluding statutory charges, dealer costs and dealer delivery. See your dealer for RDAP. Does not include price of options. Some features mentioned in the article are options. RDAP means Recommended Drive Away Price (without options but including all other charges)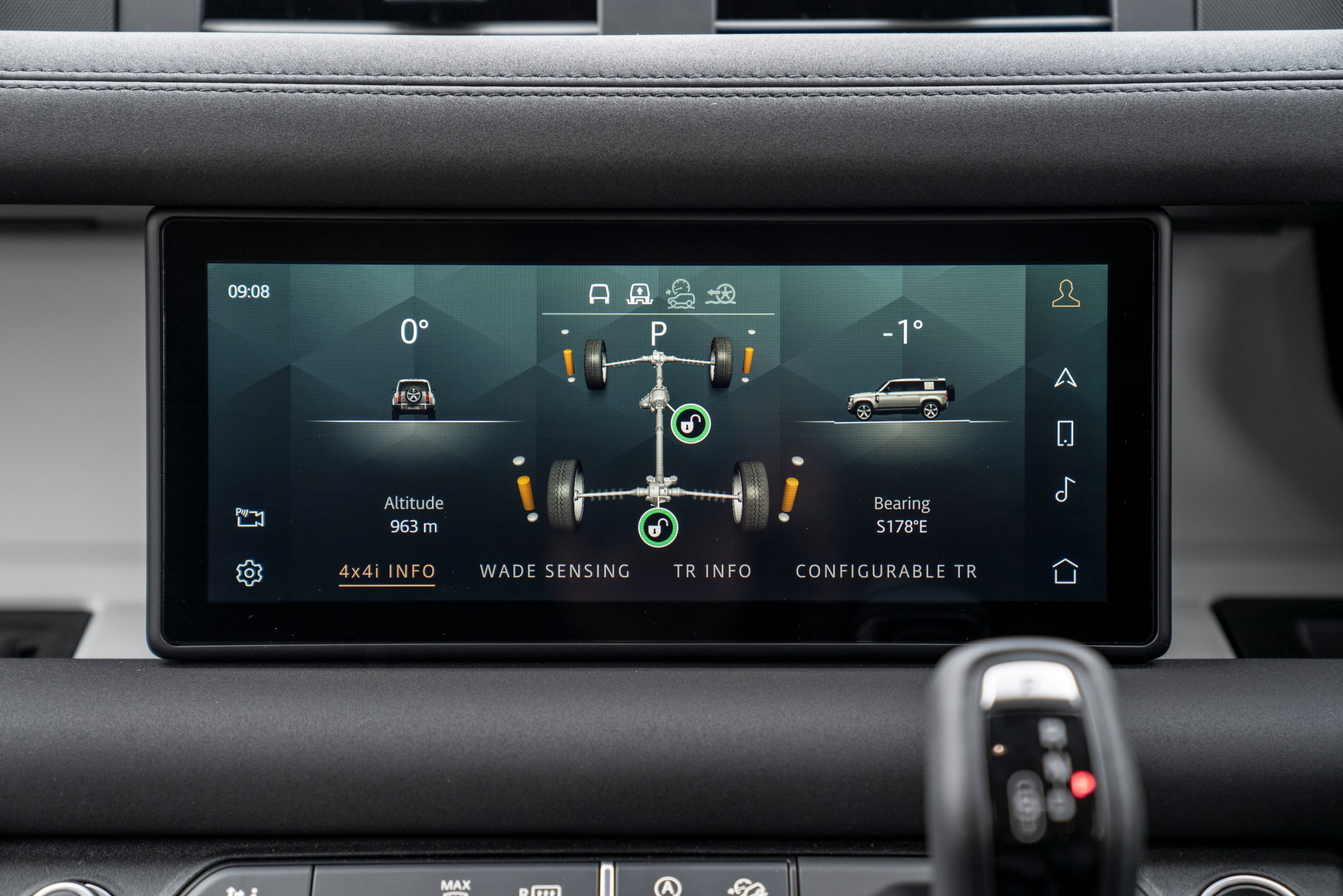 | | |
| --- | --- |
| Overall Rating     | 92/100 |
| Behind the Wheel | 9 |
| Comfort | 9 |
| Equipment | 9 |
| Performance | 9 |
| Ride and Handling | 9 |
| Practicality | 9 |
| Fit for Purpose | 10 |
| Towing / AWD Ability | 10 – Towing 5/5 – AWD 5/5 |
| Technology / Connectivity | 9 |
| Value for Money | 9 |
*Towing and AWD Capability is compared to other similar vehicles in the same class.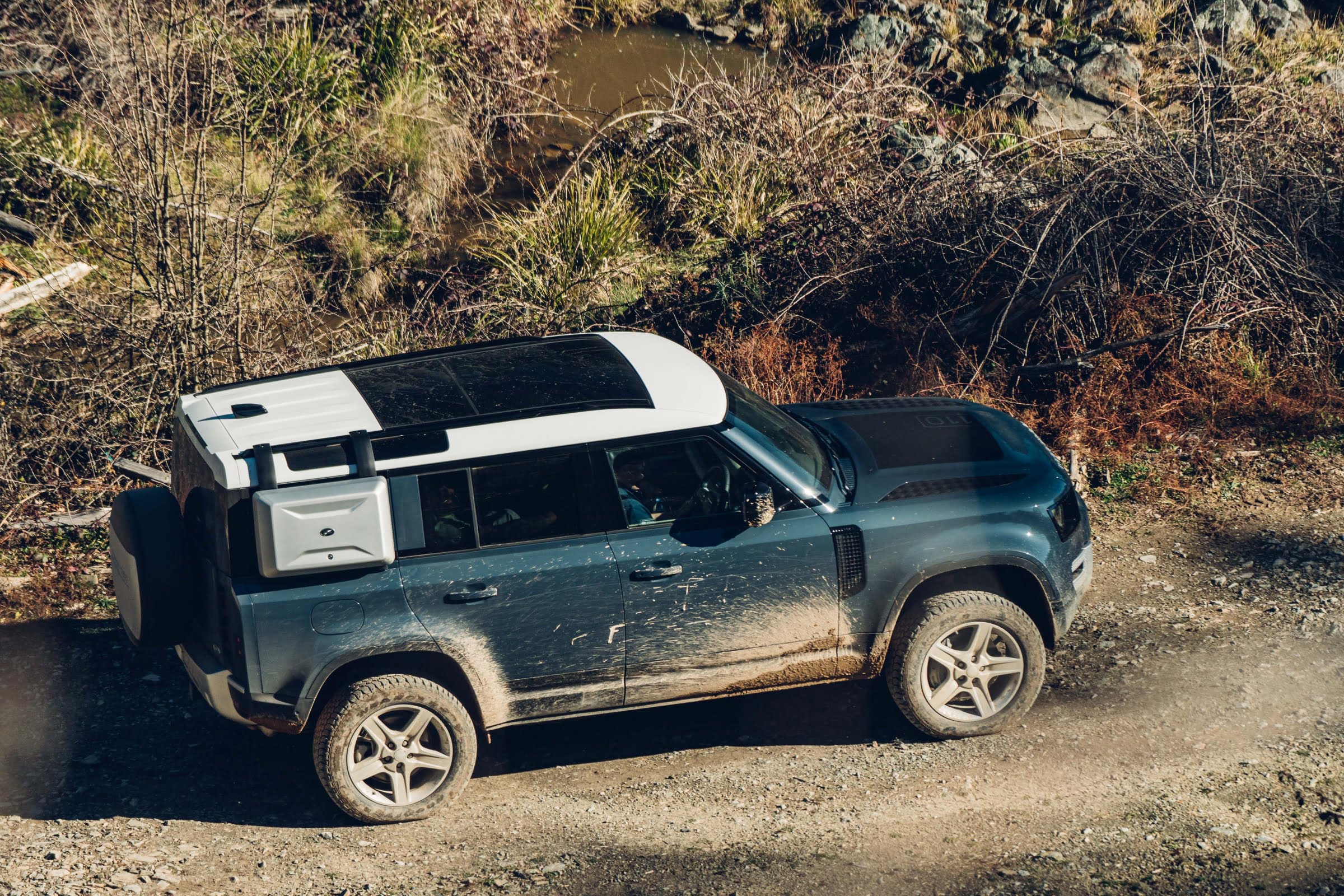 | | |
| --- | --- |
| Dimensions |   |
| Overall Length | 5018mm |
| Wheelbase | 3022mm |
| Width / Height | 2008mm / 1967mm |
| Unladen ground clearance / wading depth | Up to 218mm / 900mm |
| Fuel Tank  / Turning Circle | 89 Litres / 12.84mts KTK |
| Approach / rampover / departure degrees | 30.1 / 22 / 37.7 |
| Kerb Weight /  GVM / GCM / Payload | 2347kg / 3205kg / 6700kg / 953kg |
| Max Roof Load: | 168kg (Dynamic), 300kg (Static) |
| Towing Capacity / Tow Ball rating | 3500kg / 350kg |
Toyota LandCruiser – Finalist
Toyota finally launched the all new LandCruiser 300 series late in 2021. A full launch review can be found HERE.
LandCruiser has been enormously successful over the years and started the 4WD craze in Australia. It has many devotees.
The new LandCruiser is a complete redesign both externally and internally, yet it seems so familiar.
300 Series has six models, with two new models added to the range. The Sahara ZX for buyers wanting even more luxury and the GR Sport. More details on the range can be found HERE
Pricing for the models are (MLP*)
GX: $89,990
GXL: $101,790
VX: $113,990
Sahara: $131,190
GR Sport: $137,790
Sahara ZX: $138,790
The LandCruiser comes with 227kW/700Nm 3.3-litre V6 twin-turbo diesel running through a 10-speed automatic transmission with manual shift mode. There is a Low-range transfer case, Lockable centre differential and Three-mode drive mode select.
On road dynamics have improved from the 200 series, but nowhere near as good as the Defender. Off road the 300 series is better than the 200 series, and that's saying something.
The two new models the Sahara ZX is aimed at the luxury SUV market and the GR Sport aimed at the top end 4WD enthusiast. They have different specification levels to reflect that.
Unfortunately the global Covid issues have meant that there was and still is supply issues with the 300 series. It's improving though.
Is the 300 as good as the 200? I would say its better. New construction techniques have been used on the body and chassis giving weight saving and more rigidity. Redesigned suspension geometry improving handling and articulation. Different materials used in the internals of the motor should give longer life and cope with the extra power and torque produced by the V6 twin turbo.
If I was looking for a good off road ready 300, I would choose the GR Sport hands down. Factory lockers and the extra suspension travel had it in the bag.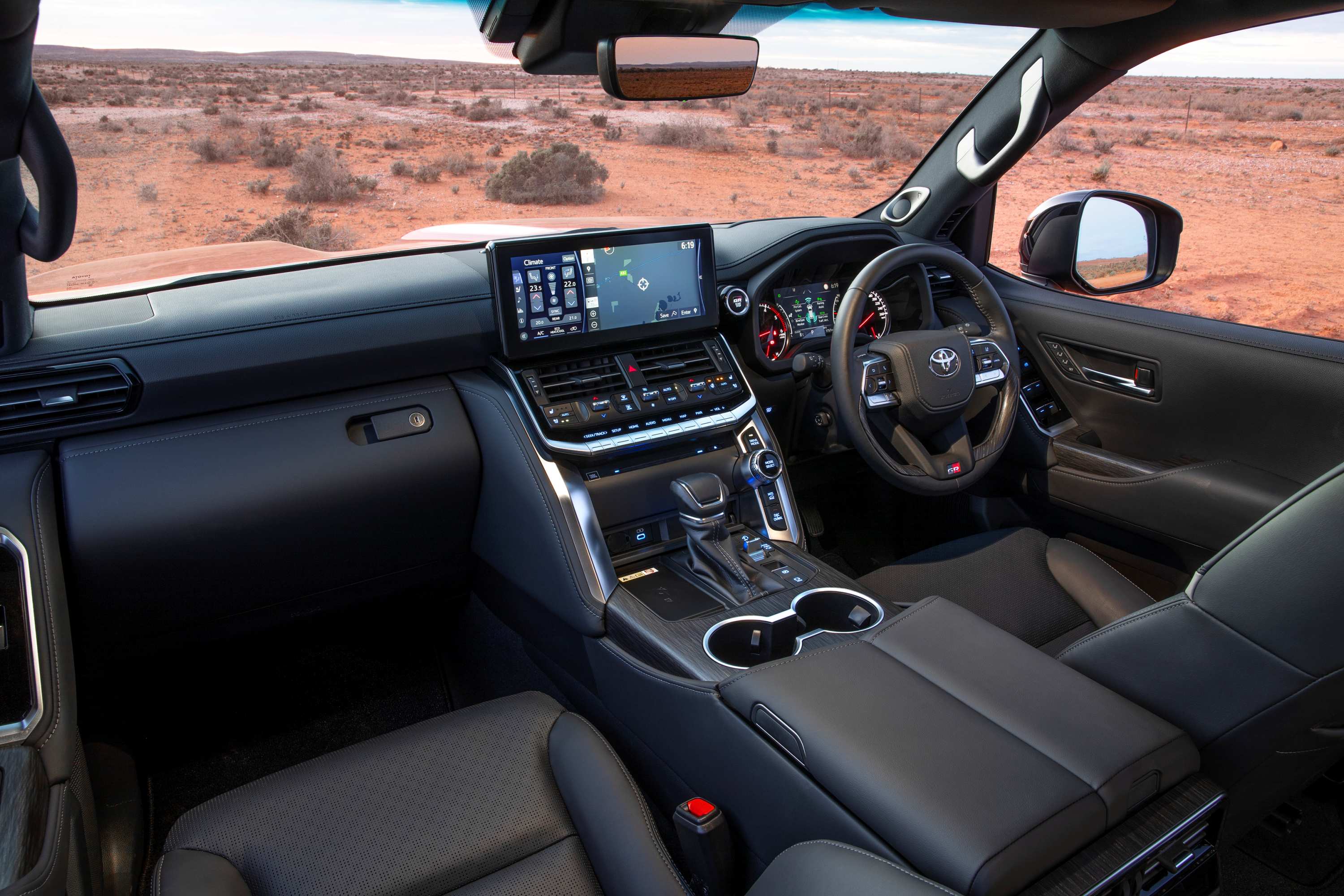 What is good?

What is not so good?

New engine power and torque
4WD Ability, rear diff lock
Improved interior

Full safety not standard across range
Getting expensive
Was expecting a little more
Nissan Patrol – Finalist
Nissan Patrol has a long and excellent history with in 4WD fraternity with many an argument between enthusiasts about the various virtues and abilities of either the Patrol or LandCruiser.
However, while the latest Patrol retains its 4WD ability its sales haven't matched its long term rival.
It now comes in two models the Ti priced from $82,160 MLP* and the well-equipped TI-L priced from $95,115 MLP*
The Patrol is an absolute bargain compared to the Defender, LandCruiser, Discovery etc.
The Patrol is huge. It's nearly 5.2 m long and with a wheel base of 3075 mm it's the same as many Utes. At a kerb weight of 2861 kg it's also a hefty beast that imposes itself on the road wherever it goes. The upright grill with LED lights and fog lights helps that look.
The sheer size means that it's tight in suburban carparks, roads and on tight winding off road tracks.
The flip side is that inside its cavernous. Front occupants have plenty of room, however taller drivers may find seat travel restricted a touch. There is oodles of head room, you won't have to take your hat off.
Rear occupants have plenty of room for three and they are reasonably well accommodated with twin 8 inch seat back screens, USB ports and controls for the tri zone A/C. Third row seats are ok, designed for two, but you won't find me back there.
Inside, even though the design could use a real freshen up, the Patrol TI-L wants for very little. From electrically adjusted steering wheel and air conditioned front seats with additional lumbar support, to rear twin screen for the back seats. Boot space is cavernous.
Although it doesn't have an ANCAP safety rating, the Patrol is packed with the good stuff as far as safety goes.
Even though it's obviously designed for the urban environment it retains it prodigious 4WD capability.
Patrol TI-L is ideal for a family of seven in comfort and luxury. If being able to go off road or tow a horse float or boat for the family holiday is what you're after the Patrol fits the bill perfectly. Just don't look at the price of fuel.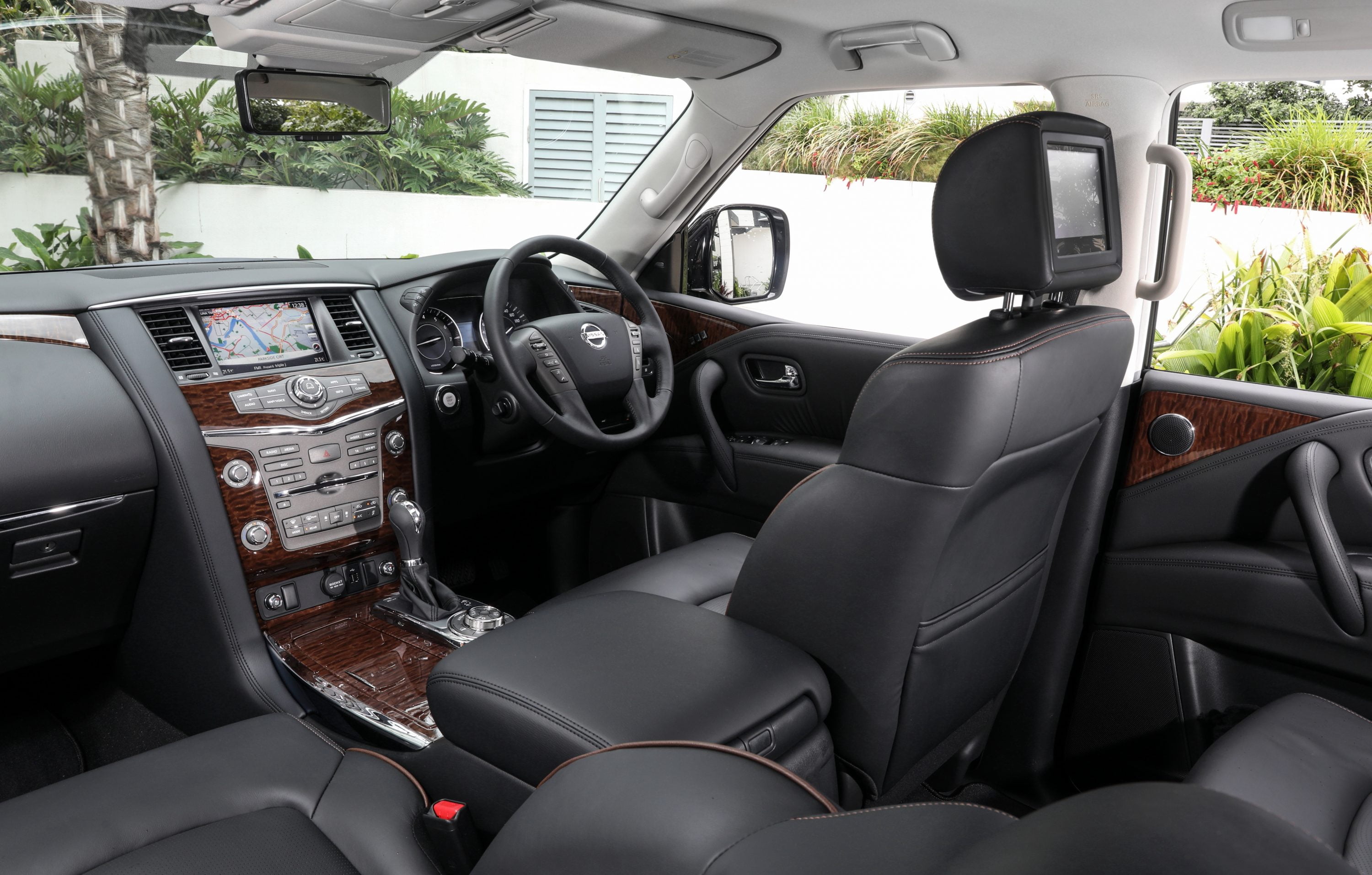 What is good?

What is not so good?

Driving presence
Smooth engine/transmission
4WD and towing ability

Poor fuel economy
Footbrake, really?
Sheer size in urban environment
*MLP Includes GST and LCT but excluding statutory charges, dealer costs and dealer delivery. See your dealer for RDAP. Does not include price of options. Some features mentioned in the article are options. RDAP means Recommended Drive Away Price (without options but including all other charges)