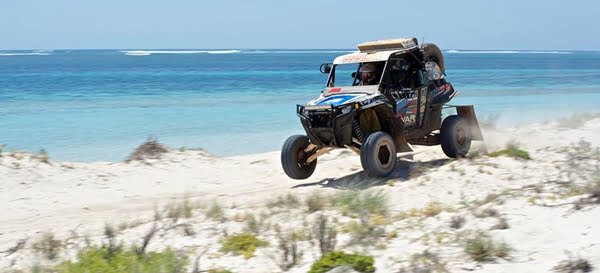 Polaris RZR vehicles have taken the top 5 positions at the 2014 Australasian Safari showing the Australian race community that the Polaris RZR side-by-side vehicles are the ones to beat.
127 competitors entered this year's navigational rally being the final Safari race. Safari first run in 1985 with Polaris driver Jim Cairns being one of three competitors at this year's event who raced 29 years ago. Along with four wheel drives and motorbikes, five Polaris side-by-sides and one Polaris ATV took to the harsh red desert of Western Australia Mid-West and Pilbara, to the sandy dunes and coastal scrub of the Coral Coast covering 3400 kilometres over seven days.
The 2014 route was a true test of endurance and in the side-by-side class T3.2 West Australians Robert Williams and Michael Hawkins of Team Titan won the title of outright side-by-side champions by a comfortable three hours in their Polaris RZR XP 1000. In second place were Dylan Minear and Steve Syson in their RZR XP 900, from War Motorsports. This was Dylan Minear's second attempt at a Rally race, earlier this year Minear gave the Western Australian leg of the Australian Rally Championship a run being the Quit Forest Rally alongside the Polaris Racing Team of Cody Crocker and Greg Foletta and Safari competitor Alan Greir who placed fourth in this year's event.
In fifth place was Jim Cairns, Jim is a passionate racer and off road enthusiast who had an incident many years ago which made him a paraplegic. Not deterred Jim has continued to enter races and this year raced a Polaris RZR XP 1000. Crossing the finish line at the final Safari event was a special moment for Jim who competed at the first Australasian Safari in 1985 as a moto rider.
It is worth noting that five out of the eight side-by-side entrants were Polaris RZR's and all five RZR's placed in the top five spots of the class. This year also saw two Polaris RZR XP 900's enter the non-competitive adventure tour part of the event.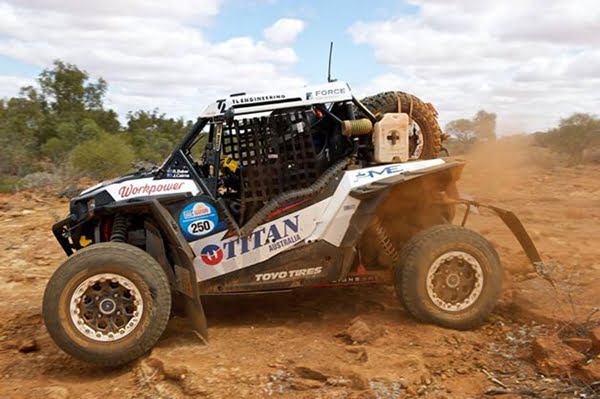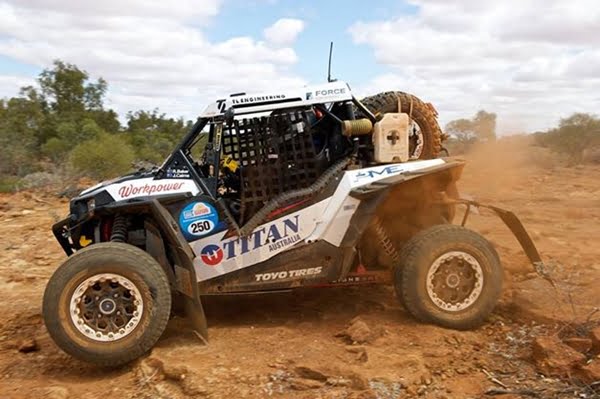 The Polaris RZR XP 1000 vehicle raced by three of the competitors is the latest high performance machine direct from Polaris headquarters in Minnesota USA. The 999cc twin cylinder engine in the RZR 1000 pumps out a class leading 107hp accelerating from 0-80km/h in 5.3 seconds. Combined with a high performance all-wheel drive system, electronic power steering and adjustable dual springs with walker evans needle shocks the RZR XP 1000 is the side-by-side machine all others chase. Competitors add safety items such as CAMS approved roll cages and harnesses but the underpinnings of the RZRs are stock.
The Polaris RZR XP 1000 is the side-by-side vehicle of choice for many racers who compete in distinguished events along with Safari including the Finke Desert Race and the Australian Rally Championship series (ARC). Final Results at Safari this year were:
2014 Australian Safari – side-by-side class T3.2
1st RZR XP1000 Rob Williams
2nd RZR XP900 Dylan Minear
3rd RZR XP900 Simon Clifford
4th RZR XP1000 Alan Grier
5th RZR XP1000 Jim Cairns
2014 Adventure Tour (non-competitive)
Completed RZR XP900 Malcolm Hawke
Completed RZR XP900 Martin Olver
2014 Australian Safari – Quad Class Q1.3
2nd Polaris Scrambler 1000 John Iuliano