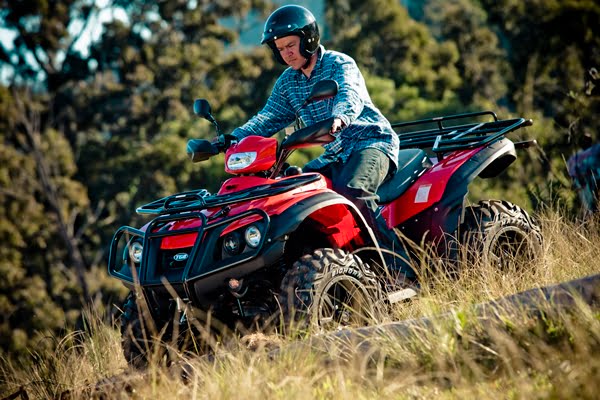 The Paul Feeney Group importers of TGB All Terrain Vehicles for Australia are pleased to announce two new models to the TGB All Terrain Vehicle range.
After an extremely successful 2011 the Paul Feeney Group working in conjunction with the TGB Factory and the local dealer network have decided to add two new models to the range. They are the Blade 425 IRS 4×4 and the Blade 460R 4×4. Their individual characteristics are:
Blade 425 IRS 4×4 is based on the original Blade 425 which includes switchable 4 wheel drive, full racking, towing and lighting package, alloy wheels and 6ply Maxxis big horn tyres and now includes Independent Rear Suspension as standard equipment.
Blade 460R 4×4 is also based the very popular Blade 425 & features all the same standard equipment but has the engine capacity increased to 461c.c. and the inclusion of an engine oil cooler to assist temperature dispersal in tougher conditions. This model has swing arm rear suspension which provides a stable towing platform combined with increased horsepower is ideal for those users looking for a tough workhorse.
Both of these new models carry a "ride away" price of $8,095 and come with the standard factory backed 24 months parts and labour warranty which makes them very competitive against the more established brands.
These new models have been specially introduced based on the Paul Feeney Group seeing a need for more variation in entry level priced ATV's.
The Paul Feeney Group prides itself in listening to the needs of its dealer network and customer base & will continue to work with the TGB factory to fulfill these needs.
Full Range Overview and Pricing
| | | |
| --- | --- | --- |
| Model | MSRP | Ride Away |
| Blade 400 R 4×2 | $5,595 | $5,995 |
| Blade 460 R 4×2 | $6,395 | $6,795 |
| Blade 425 IRS 4×4 | $7,595 | $8,095 |
| Blade 460 R 4×4 | $7,595 | $8,095 |
| Blade 460 IRS 4×4 | $8,495 | $8,995 |
| Blade 550 IRS 4×4 | $8,995 | $9,495 |