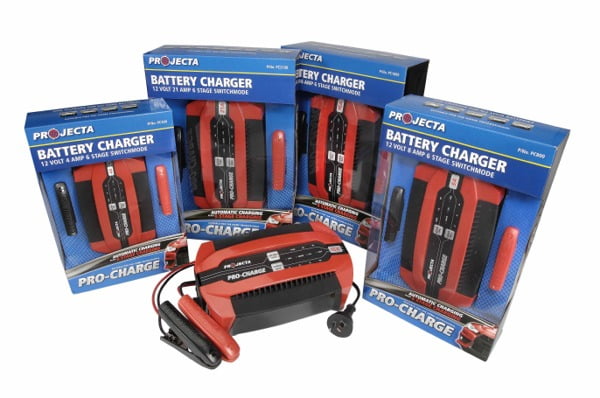 Projecta has released the 'Pro-Charge' range of sophisticated 6 stage battery chargers for the home professional. Projecta Battery Chargers are user friendly.
Named Projecta 'Pro-Charge', four models have been introduced including 12V 4Amp; 8Amp; 16Amp and 21Amp and each is designed to maximise battery life and performance. Fully automatic, spark-free and polarity protected, the new chargers can help restore drained and sulphated batteries and can be left connected to a battery indefinitely without the risk of overcharging.
Six-stage charging is a technique designed for use on a wide range of battery types including automotive and marine as well as deep cycle batteries commonly found in boats, caravans and recreational vehicles.
Sophisticated electronic monitoring ensures a faster, comprehensive and professional charging style resulting in longer battery life and greatly enhanced performance compared with the traditional battery charger.
Each 'Pro-Charge' charger is designed to suit a range of battery sizes and each features an adjustable output that can be set to as low as 2 Amp to deliver optimum and safe charging. The Pro-Charge rejuvenation mode is used to restore tired batteries by breaking down sulphation and revitalising the battery cells. This mode is optional and runs for a full 24 hours and is ideally suited for periodic maintenance.
'Pro-Charge' battery chargers feature user-friendly controls and they remember the last settings even after the power has been turned off. For permanent installation in a boat or vehicle a mounting kit is provided.
Each of the four models is presented in highly attractive, quality and innovative retail packaging to reflect the quality of the charger. There is a see-through window in the pack plus a visual application and vehicle guide on the top to assist the purchaser to see what they are buying and in the selection of the most appropriate model.
The PC400 – 4 Amp model is ideally suited for charging smaller batteries typically found in motorcycles, jet skis, lawn mowers and small passenger vehicles whilst the largest model PC2100 is a powerful charger for extra large batteries found in trucks, tractors, buses or regularly used deep cycle batteries but is also suitable for small to medium batteries.
The new Projecta 'Pro-Charge' Battery Chargers are available from leading automotive, 4WD and transport outlets throughout Australia at prices starting from $119.00.