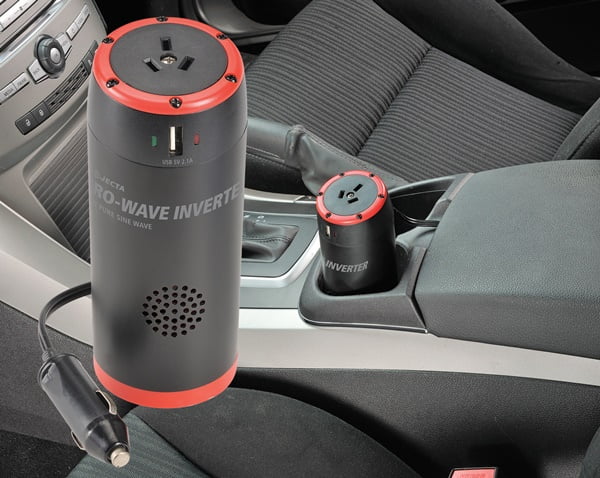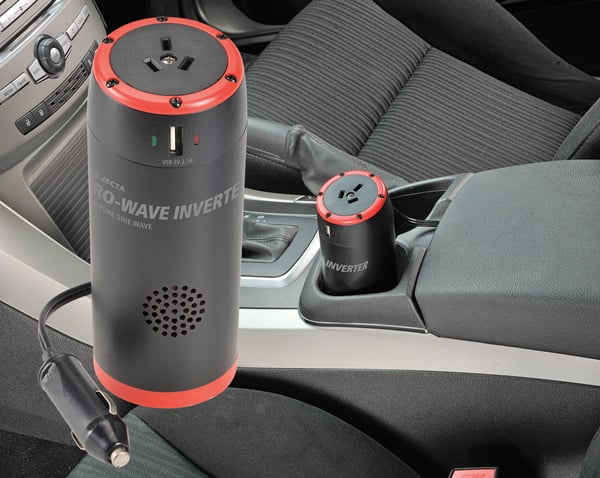 Sometimes square, or  rectangular-shaped equipment just doesn't fit properly in the storage areas of  modern vehicles.
Projecta have acknowledged  this by introducing a clean, cylindrically-shaped Pro-Wave 150W pure sine wave  inverter, which given its shape and compact dimensions, can sit comfortably and  securely in vehicle cup holder compartments.
The PW 150 is conveniently  connected to the vehicle electrical system via the 12V accessory socket and  charging or powering of the appliances is actuated using the unit's powerful  2.1A (5V) USB port or through the conventional power plug outlet – both provide  fast charging.
Being the smallest model  in the Pro-Wave range of pure sine wave inverters and ultra-portable, the PW  150 is ideal for powering and charging small appliances on the go, such as  laptops, tablets, camera, mobile phones, electric shavers and the like.  It can also be easily transferred from one  vehicle to another.
Other features of the unit  include a heat-resistant plug and generous 600mm fuse protected lead providing  additional in-vehicle stowage options.
Unlike modified sine wave  inverters, pure sine wave units such as the PW 150 covert 12VDC power into 240V  mains power without static interruption, making them ideal for powering  sensitive electrical equipment, fluorescent lighting and even medical devices  without fear of damage or static interruption.
Selling with a recommended  retail price of approximately $190.00 Projecta's new PW 150 is backed by a 1 year  warranty and can be purchased at leading transport, automotive and four wheel  drive outlets throughout Australia.