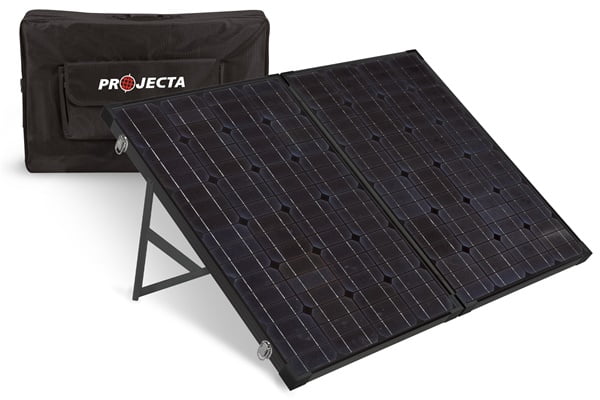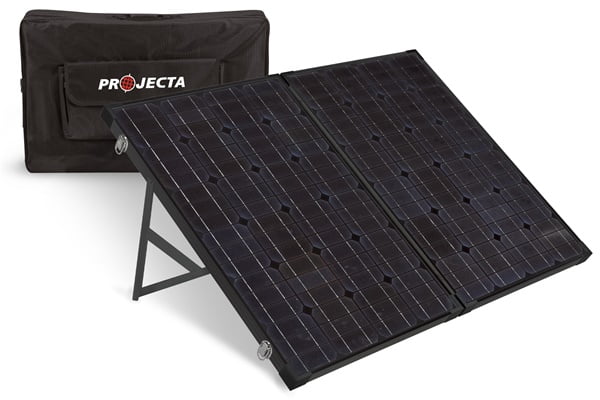 Exciting  enhancements to Projecta's popular SPP120K, 12V 120W bi-folding solar panel kit  are set to deliver a number of benefits for users looking to invest in a high  quality, portable kit.
Formerly using  polycrystalline technology, the new release adopts superior monocrystalline  hardware, resulting in an overall size and weight reduction while maintaining  the same impressive power output of its predecessor.
For added stability and  durability, the SPP120K now features an attractive yet functional all-black  frame, supported by hardwearing steel legs which replace the previous unit's  aluminium legs.
Other benefits include a  new heavy duty metal handle and double latch set-up, which ensures the unit  remains secure when removed from its durable canvass carry bag.
The SPP120K also  introduces an upgraded 3-stage solar control unit, improving charging and  battery maintenance.  The controller  assists in maintaining the battery in peak condition and protects against solar  discharge.
The kit retains its handy  5-metre lead with battery clips, allowing the panels to be set-up in full  sunlight while the vehicle or caravan remains in the shade.
Ready to use straight out  of the bag, the SPP120K is ideal for directly powering small appliances and for  charging batteries required to service larger appliances in caravans,  motorhomes or at any off the grid locations.
The SPP120K solar panel kit is one  of four Projecta bi-folding solar panel kits and is available nation-wide from  leading camping, caravanning and 4×4 accessories outlets.