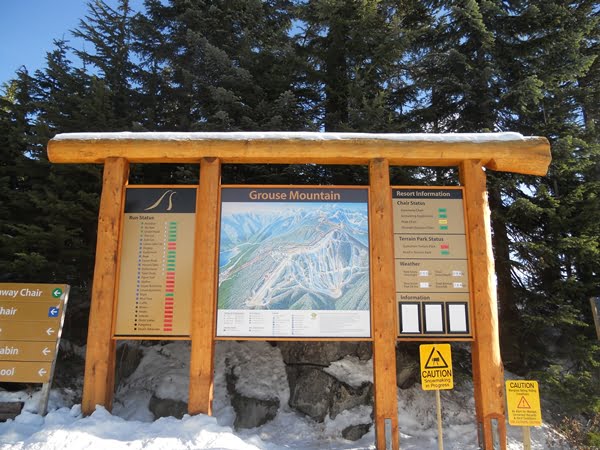 Two of the attractions every one must visit in Vancouver are Stanley Park and Grouse Mountain.

Stanley Park is recognized around the globe as one of the greatest parks of the world! Vancouver's first park and one of the city's main tourist attractions, Stanley Park is an evergreen oasis of 400 hectares (1,000 acres) close to the downtown core. Its natural west coast atmosphere offering a back drop of majestic cedar, hemlock and fir trees embraces visitors and transports them to an environment rich in tranquility.
The park abounds in wildlife and its features appeal to the naturalist, the plant lover or one who would do nothing more than relax in beautiful surroundings. The beauty of Stanley Park is its location, just 5 minutes from the centre of town.
Sights to see are the Seawall, Totem Poles, Aquarium, statues, trees and wildlife.
The 8.8 km Stanley Park seawall is the park's most scenic and popular walking/biking/blading route. The large urban forest in Stanley Park is criss-crossed with trails providing access to second-growth forest, beaches and rocky seashore, and wildlife such as squirrels, raccoons, skunks, coyotes, magestic eagles and herons.
The Park can be enjoyed by all ages. Family attractions in the park include the Miniature Train, Vancouver Aquarium, picnic sites, playgrounds, and aquatic fun at the beaches, the Second Beach Pool, or the water park at Lumbermen's Arch.
Located less than 20 minutes from Vancouver Grouse Mountain is a Four Season resort. We took the aptly named seabus (a ferry to us) to the terminal in North Vancouver and then the 236 bus to Grouse Mountain. The resort was set up for the Christmas festival with sleigh rides, reindeer, Satna's workshop, ice skating rink and the closest Terrain park and ski slopes to a major city almost anywhere in the world.
Summer or winter, Grouse Mountain is an activity paradise. I decided to take a ride on the snow limo as I don't ski and it was awesome. For the first time I experienced the thrill of skiing down the slopes, the views and the snow bound beauty. The snow limo is designed for those who either won't or can't ski to enjoy what others do. The designer has had his 70 year old mother in there and she loved it.
Back in Vancouver we had difficulty in finding good eating untill we discovered the Wings restuarant attached to the Howard Johnson motel. Great tasting food, huge serves and reasonable prices. All together our few days in Vancouver were a great introduction to our touring holiday.