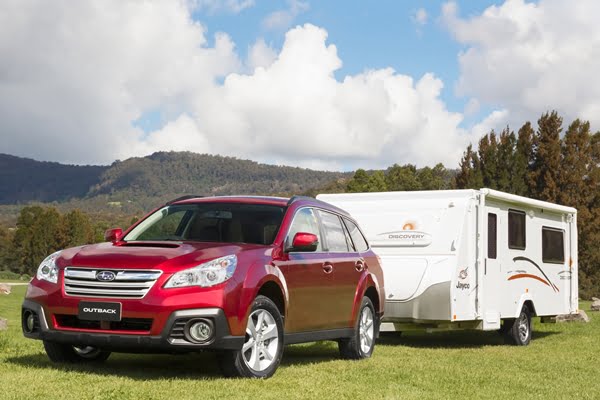 Subaru is adding flagship automatic diesel variants to its Outback All-Wheel Drive (AWD) crossover line-up, offering outstanding range, fun driving and efficiency.
For the first time, Subaru has mated a Lineartronic Continuously Variable Transmission (CVT) to its turbocharged horizontally-opposed Boxer diesel engine, resulting in an incredibly capable AWD package.
Among the highlight is Adaptive Transmission Control, delivering highly responsive driving, in tune with engine speed changes.
There is also a seven-speed Manual Mode, achieving faster, smoother gear changes compared to conventional automatic transmissions.
Outback 2.0D CVT is priced from $42,490 Manufacturer's List Price* (MLP), $2500 more than the manual version.
The Outback 2.0D Premium with CVT is priced from $45,490 MLP.
The entry-level Outback 2.0D CVT includes factory-fitted satellite navigation, while the 2.0D Premium with CVT adds a variety of features including:
•Electric sunroof
•Leather trim
•Eight-way power driver's seat with memory function
•Electroluminescent gauges with colour information display.
The automatic diesels share a wide range of other changes to the Outback Model Year 2013 line-up, including a revised grille, front bumper, foglight surrounds and wheel patterns.
All Outback 2.0D CVT variants are powered by a turbocharged 2.0-litre four-cylinder horizontally-opposed Boxer diesel engine, producing 110 Kilowatts of power at 3600 rpm and 350 Newtonmetres of torque between 1800-2400 rpm.
In the combined cycle, fuel consumption is an impressive 6.5 litres per 100 km and carbondioxide emissions 172 grams/km.
The Outback 2.0D CVT variants offer high levels of noise suppression, great take-off acceleration and linear steering, with minimum body roll, for stable driving.
Nick Senior, Managing Director, Subaru Australia, said: "The CVT diesels introduce the choice of both Adaptive Control and stepped Variable Control from the one incredibly flexible transmission.
"They are distinguished by fast acceleration and quick speed recovery after deceleration, producing an agile, fun and safe driving experience."
Mr Senior said the significant success of manual Outback diesel promised even greater inroads for the CVT version.
"The Outback diesel CVT plugs a gap in our model line-up. A significant proportion of large SUV sales are automatic diesels and we have not played in this space.
"This Outback will also offer broad appeal – it has the benefits of an SUV, such as versatility, visibility and a higher seating position, but there is no compromise with driving dynamics. This is an SUV with real road manners.
"We expect it to sell in both city and rural environs, to private buyers and company fleets alike.
"In rural areas, real estate, stock and station agents, indeed anyone spending a lot of time in their vehicles, should be looking at Outback diesel CVT.
"In some months, the manual diesel has accounted for up to 20 per cent of Outback sales, so pent-up demand for the auto is likely to see our diesel success story soar even higher."
TRANSMISSION
The Outback 2.0D automatic uses a high-torque version of Subaru's popular Lineartronicâ"¢ Continuously Variable Transmission (CVT), offering smooth driving, optimum control and direct acceleration.
It is strengthened to suit the high torque output of the turbo diesel engine.
The new transmission control system switches seamlessly from variable mode to stepped gears, in response to accelerator use, while maintaining engine speed.
It is designed to compensate for the typically narrow usable power band of diesel engines that would otherwise require drivers to constantly change gears.
The system selects the ideal gear from countless ratios available from the variable transmission.
Driving normally in "D" reverts to smooth, variable shifting – but pressing firmly on the accelerator will switch to fixed, stepped gear ratios, offering acceleration similar to that of a traditional "cog" automatic.
Downshift control during deceleration ensures a lower gear ratio is used for the road ahead, producing swift acceleration the moment the accelerator is pressed again.
In addition to the seven-speed Manual Mode, there is a Second Gear Takeoff Mode, allowing secure take-off on roads with low friction, such as snow and mud. This mode is activated by pressing "+" on the steering column paddle shift, when the car is stopped in Manual Mode.
Adaptive Control means the driver can select the optimum gear ratio for their own style or road conditions.
Among the Adaptive Control characteristics:
•Stepped gear changes – pressing the accelerator hard automatically switches from variable transmission to stepped gear changes. This gives drivers the choice of smooth drivability from the CVT or the characteristics of a traditional geared transmission.
•Uphill control – the transmission shifts down a gear automatically when driving uphill, suiting the gradient and vehicle speed, preventing unnecessary increase in accelerator use.
•Downhill control – the transmission shifts down a gear automatically when driving downhill, suiting the gradient and vehicle speed, ensuring the appropriate amount of engine braking.
•Braking and corner gear hold – the system determines if the car is being driven in a sporty fashion, with the brakes heavily used, and switches to Stepped Gear Change Mode. To ensure the car accelerates again to the driver's intended speed, the system shifts down a gear during deceleration and maintains the same gear when cornering.
•Torque coordination when upshifting – Torque coordinate control activates when upshifting with the accelerator fully open, when using stepped gear changes in "D" and Temporary Manual Mode, producing quick, smooth gear changes.
The transmission offers improved environmental performance, with decreased spin loss and a greater ratio coverage.
Among the transmission enhancements:
•Larger torque converter with twin dampers – in line with higher torque output
•Increased case thickness – better strength and reduced vibration
•Changed primary reduction ratio – final gear: 4.111
•Oil pump – added control plate, for reduced vibration. Mechanical noise is reduced too
The reinforced transmission case suits the diesel engine's high torque output.
The new torque converter features a larger facing diameter, with a higher friction coefficient, for greater capacity. A new lockup damper is designed so the inner and outer spring both function in series, ensuring high reliability, covering vibration and noises at both low and high engine speed.
The transmission's short pitch chain increases ratio coverage, reducing engine speed at high vehicle speeds, improving efficiency and noise suppression.
The shorter pitch chain and additional rocker pins also reduce the contact surface area of each pin, reducing vibration and chain noise.
A special type of CVT fluid has been developed to suit the engine's high torque ability.
In the oil pump, a vibration damping plate is added to the mounting parts around the case, lessening noise. Precision of the hydraulic line pressure sensor is increased too, reducing operating loss and aiding fuel efficiency.
Low viscosity oil has been developed for the front differential, reducing agitation resistance, for better efficiency.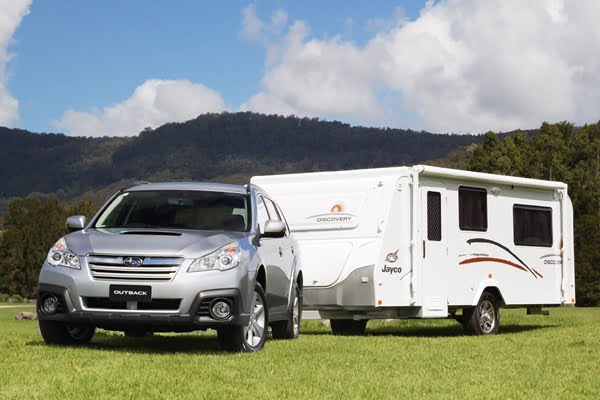 NEW GENERATION ACTIVE TORQUE SPLIT ALL-WHEEL DRIVE CONTROL
Modified input torque and differential correction are achieved across all four wheel speeds.
Precision of torque distribution is also enhanced thanks to steering wheel angle, yaw rate and lateral acceleration signal information from the Vehicle Dynamics Control system.
This improves initial steering response when entering a corner, plus precise control, limiting noise when turning and tight corner braking.
The system also controls rear wheel spin on take-off on slippery surfaces, such as snow, improving stability.
ENGINE
The turbocharged four-cylinder 2.0 litre horizontally-opposed Boxer engine includes several refinements from the superseded Model Year 2012 version.
These include:
•Elimination of piston pin bushes
•Changed valve springs
•Changed oil seals – reducing friction and ensuring smooth revving to help improve fuel efficiency
•Changed sound absorbing material on the engine collector cover – improves noise suppression
•Changed starter motor – to suit the CVT
•Changed alternator – to meet increased electrical load
•Changed Engine Control Unit (ECU) – to match the CVT
•Addition of air-cooled oil cooler – improves cooling efficiency
•Turbo cover – added to prevent fire risk if the CVT sprays out oil in a heavy collision
CHASSIS AND BODY
Parts of the Outback 2.0D CVT suspension system have been changed to cater for increased weight over the front axle, associated with the high-torque CVT. The changes avoid any front-heavy sensation and ensure great turning.
Strut damping force and the front strut mount characteristics are changed to provide appropriate levels of roll, response and stability.
Steering is fine-tuned too, ensuring linear delivery.
The electronic power steering gearbox assembly cannon mount bush uses harder rubber than manual Outback diesel, for added response.
In the drivetrain, propeller shaft centre mounting bushes are used, benefiting driving characteristics.
In the body, reinforcement has been added to the bulkhead floor, ensuring strength in collisions.
Increased soundproofing is applied to the front under cover, reducing cabin noise when idling or accelerating.
Other areas to have greater soundproofing applied include the upper front guards and the toe board.