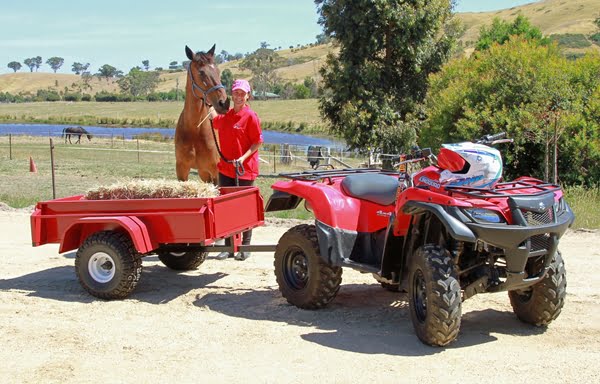 A horsepower injection from Suzuki is giving new hope to equines previously facing an uncertain future.
Raising the Standards manager Nicole Tassone recently took delivery of a Suzuki KingQuad 500 ATV at her property located north of Melbourne.
Raising the Standards is a unique program that offers a second chance at life to retired and unsuccessful harness racing horses.
Named after the Standardbreed horses it works with, the program is officially recognised and endorsed by Harness Racing Australia, Harness Racing Victoria and the State Government of Victoria.
To date, Raising the Standards has successfully re-homed over 120 horses since the program's inception and has a goal to raise the number even higher in 2013 (and beyond).
"With the help of sponsors like Suzuki, the program is becoming more efficient and detailed in horse care and training abilities," said Mrs Tassone, who founded the program in 2009.
"This generous show of support by Suzuki will decrease the workload enormously. Previously we were relying on a wheelbarrow to move feed, etc around the property."
Mrs Tassone said the new Suzuki ATV would allow her to donate more time to providing even higher levels of care to each and every one of our program horses, as well as unparalleled education to our students (both equine and human).
Raising the Standards has trained horses for many types of equestrian pursuits, including dressage, show jumping, eventing, riding and pony club, showing, trail, stockwork, endurance and Riding for the Disabled.
"We are heavily involved in equine welfare, as well as being (very) vocal advocates for Standardbred horses."
Suzuki Australia Motorcycles General Manager Perry Morison said the high levels of professionalism and energy displayed by the program made it a natural fit for Suzuki.
"It's truly amazing to witness the work output of everyone in the program, in helping to retrain previously unwanted horses and finding good homes for them.
"We can only wonder at how much more Nicole and the team can achieve with the help of a Suzuki KingQuad," he said.
People looking for more information should go to the website www.raisingthestandards.com.au and join the program's social media space at facebook.com/rtstandards