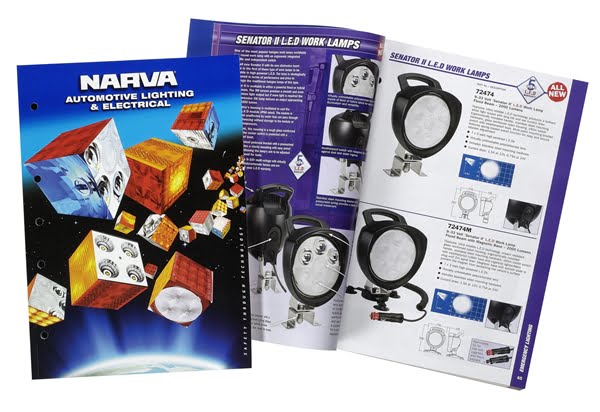 With the addition of more than 1,000 new part numbers the 2013-2014 Narva catalogue, containing in excess of 500 pages in full colour, sets a new benchmark for the most comprehensive automotive lighting and electrical catalogue ever released in the Australasian market.
Highly evident in this edition is Narva's continual advancement in product development taking full advantage of the major advances in technology in every category within this extensive range of exciting products. Not surprisingly L.E.D technology is the biggest contributor, moving from the 'Be Seen' applications like truck and trailer lighting to 'See With' products such as driving lamps, headlamps, work lamps and interior lamps.
Technology advancements are however not confined to L.E.D with H.I.D now even brighter with 50 watt ballasts and more competitive pricing. Performance globes are more powerful and provide a whiter light without crossing the legal boundaries of ADR or 'E' approval.
Some of the catalogue highlights include L.E.D Headlamps, Driving Lamps and Free Form Headlamp Inserts. Intense white light is projected from the energy efficient Compac 70 L.E.D auxiliary lamps and the 90mm L.E.D Headlamp assemblies. There is also Australia's most comprehensive program of Free Form Headlamp inserts in the popular round and rectangular sizes.
The Emergency Lighting segment shows the biggest expansion of new products with lamps such as the world's most popular style Work Lamp with integrated handle, waterproof switch, virtually unbreakable polycarbonate lens and spring loaded pedestal mounting bracket, now available with high powered L.E.D's and ultra-low current draw. The toughest heavy duty inspection lamp ever built by Narva is retained with a new and even tougher lamp currently in production using SMD L.E.D's. 'Legion' L.E.D Light Bars with stylish low profile styling are introduced with their amazing light output and range of selectable light patterns. Versatile mining / utility vehicle bars have also been introduced with unique features such as ease of access to wiring and connections to add or service lamps.
Long Life and Performance Globe options are set out in an easy to read layout with all variants available for selection on the same page. Narva's updated and easy reference globe vehicle application chart is also contained within this colour coded section making it a very valuable sales tool for the trade and resellers.
The Switches and Power Accessories segment includes a host of new products for recreational vehicles, 4WD and heavy transport applications with a special emphasis on power accessories designed for high current draw capabilities and DC power options. An all new section contains vast array of sealed rocker switches, switch panels and descriptive symbol stickers.
Stylish slimline L.E.D interior lamps, L.E.D tape and interconnecting strip lamps are just some of the dramatically expanded range providing something for all interior RV and transport applications.
For Narva new developments and stylish modern designs in world class truck, bus, and trailer lighting never stops. The Truck and Trailer section reflects this with modern new slimline lamps and a vast array of L.E.D options available to meet every transport need and legal requirement.
The new 2013-2014 Narva catalogue in arguably one of the greatest sales tools ever released into the market. It is a great read and it's now available from leading Narva distributors or from Narva sales offices.