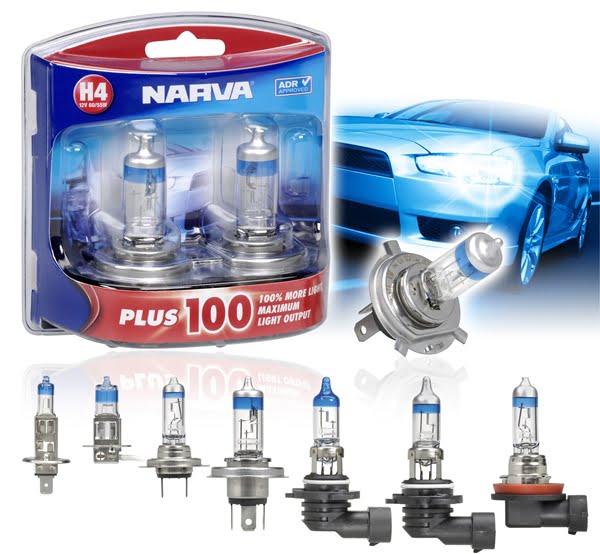 Australia's leading automotive lighting specialist Narva has announced the release of the first Plus 100 Halogen Globe, further complementing Narva's comprehensive range with an outstanding selection of high performance globes at an even higher level.
The sensational new globes developed by a world leading globe manufacturer in Europe, are heralded as an engineering breakthrough. Advanced manufacturing techniques have maximised the Xenon filler gas to put 100% more light on the road than a conventional halogen globe adding a further 35 metres of brilliant white light without any increase in power consumption or heat build up.
Suitable for use in headlamps with polycarbonate lenses, Australia's most comprehensive range of the new Plus 100 globes are 'E' marked – street legal and available in H1, H3, H4, H7, HB3, HB4, and HB11 versions.
The increase in light on the road is evident on low beam with a broad even spread of white light with a hint of blue toning but on high beam the light output is nothing short of dramatic, increasing visibility and road safety with its pure power. Objects can be seen more clearly at a distance of 75 metres and the greater illumination provides better reflections from road markings and signs. No additional wiring or switches are required with the use of the globes which increase night time visibility and reduce eye strain.
The packaging of the new Plus 100 Globes is also nothing short of sensational in class leading eye-catching blister packs with brilliant red coloured backing cards and clear graphics illustrating the globe's performance in road conditions.
To assist retailers and consumers selecting a new globe to suit their driving style Plus 100 globes form part of a larger merchandising concept including an integrated globe demonstrator and attractive explanatory point of sale material.
The first globe to be able to claim and deliver 100% more light output than a standard halogen globe without increasing heat or current draw, Narva Plus 100's are now available from leading automotive outlets throughout Australia and New Zealand