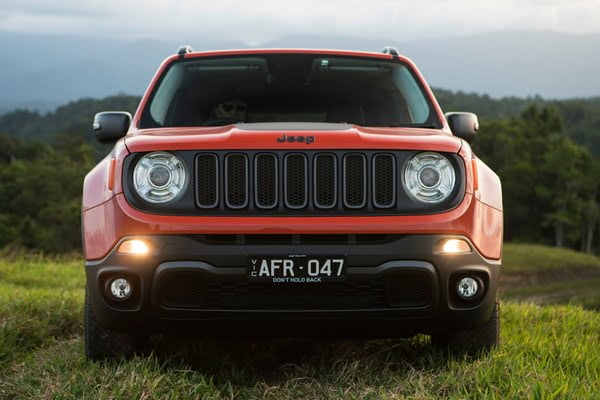 There is a distinct lack of smaller 4WD vehicles on the market. Unlike the Jeep Renegade Trailhawk, there are a few that pretend to have 4WD credentials but few that have actual ability.
Enter the Jeep Renegade Trailhawk that we are testing. Launched in October 2015 the all new Renegade has combined fresh and innovative design with true off road ability.
This is an urban sized robust looking small 4WD that is equally at home around inner-city streets as it is on the Birdsville track.
It does have the look of a stylish box on wheels with little overhang front and rear, high roof line, 17 inch wheel tyre combinations, unusual X rear lights, an open feel with the My Sky open-air roof system and Jeep Active Drive Low 4×4 system and the traditional 7 slot Jeep grill.
It looks quite the trendy little urban warrior on the outside but step inside the range topping Trailhawk and you are in for a surprise. The high design lends itself to an open airy feel with plenty of head room.
Again unusually on recent vehicles the 'A 'pillars are reasonably thin and at the angle they are don't restrict visibility much. All around the visibility is excellent with no real blind spots, and the rear view camera and blind spot alerts on the large external mirrors assist greatly.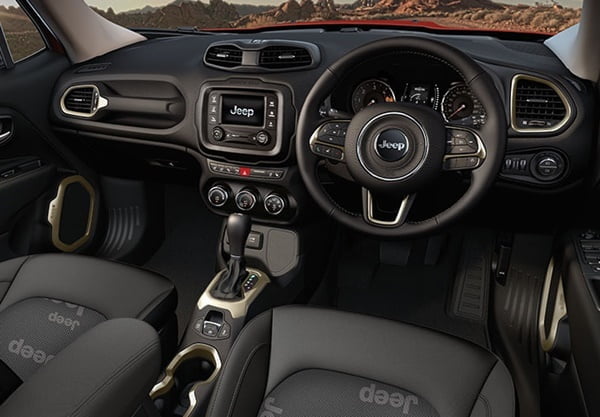 The front leather seats are very comfortable with multiple electronic adjustments and for extra comfort are heated as well. I found myself having more than enough room and with the height and reach adjustable steering wheel found the perfect 'for me' driving position.
This was a bonus in a car this size. The designers have really placed the front occupants comfort as a high priority.
The interior of the Renegade has a distinctive form language which Jeep designers have titled "Tek-Tonic." This new design theme is defined by the intersections of soft and tactile forms with rugged and functional details. It seems very X Games like.
TO READ THIS REVIEW AND 298 PAGES WITH 66 OTHER COTY REVIEWS