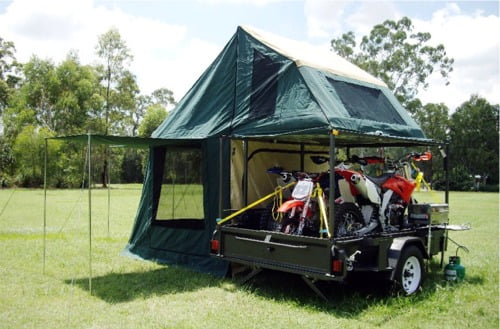 The 3 in 1 Motorbike Camper Trailer caters for those that want to take their motobikes camping and have roome for more gear.
Motorcycle enthusiasts are always looking for ways to be able to take their bikes, quads, ATV's etc and all their camping gear with them in their pursuit of those awesome trails. It is a constant problem which has had many attempts at fixing over the years.
At the recent spate of caravan and camping shows we came across a new product from Market Direct Campers which has been custom designed with the biking enthusiast in mind.
They have called it the 3 in 1 Motorcycle Camper. It combines a motorbike trailer, box trailer and roof top tent all in one package. The trailer is based on a box trailer and can hold up to 3 full sized motorbikes. Alternatively it will hold quads, ATV's or buggies. Attached to the top of the trailer is a roof top tent that sleeps up to 5 people. The base of the roof top camper has a large mattress and is mounted on a thick aluminium base.
The canvas folds over like a normal roof top tent with a sealed room on the base for the other accommodation. The whole tent is mounted on gas struts for easy lifting and storage of the bikes into the trailer. There is a range of options, including toolbox, deep cycle battery, water tank and spare wheel.
A robust off road trailer set up like this is an ideal way for those adventurous riders to take everything with them in search of the prefect trail. It may not be for everyone but the 3 in 1 Motorcycle Camper Trailer is worth a look if you are into bike riding and camping. Check out their web site at www.marketdirectcampers.com.au