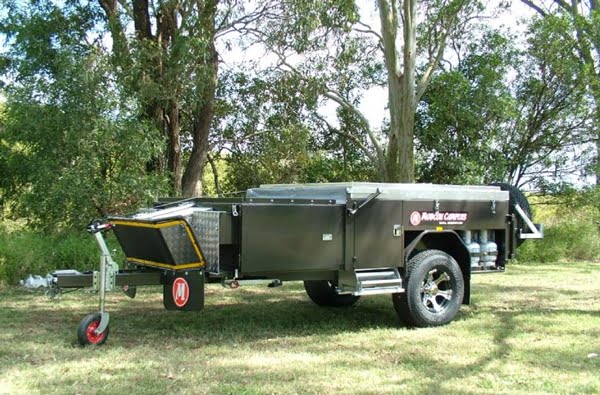 While there are a lot of camper trailer manufacturers on the market, there are a few that are pioneers and design something slightly different.
Modcon campers from up Capalaba Queensland way have been around for a long time and build a quality product. Designer Kerry has an engineering background and his attention to detail is meticulous. This is obvious in the Imperial HFD off road camper trailer we are reviewing here today.
Straight away when you look at the Imperial HFD you see that it is an impressive camper in dark grey body and lighter top, with dual rear spare wheels. The overall length is about 5.4m. width about 1.9m and sits fairly low at 1.4m high.
The camper sits on 16 x 8 alloy rims using 265/70 R 16 tyres and matching wheels and tyres to the tow vehicle is offered as an option. The chassis is made from pre-stressed 75mm x 50mm x 3mm Algal steel with 100mm x 50mm x 3mm Drawbar. Overall tare weight is 1260kg with a tow ball weight (unladen) of 100kg.
Suspension on the Imperial HFD is the excellent vehicle components Cruisemaster Coil Trailing arm independent suspension specifically designed for rugged off-road use. The suspension is designed to carry up to 1600kg load. It utilizes variable coils, 50mm axles with 1600kg SLM (parallel) bearings and electric brakes.
Up front is a Hyland off road coupling which is really all you need for off road travel. These are excellent, utilize a standard 50mm coupling and very easy to use. Behind the coupling is a heavy duty jockey wheel, a winding mechanism for the trailer lid, a fold down stone guard and then quite large storage bins that old the jerry cans, fridge, poles and other odds and sods. There are wind down stabilizer legs both front and back.
At the rear is a swing away dual spare wheel carrier and an optional accessory carrier based on a standard tow ball. 2 x 4kg gas bottles are tucked neatly in a specific niche on the side.
Cooking is catered for by a swing away stainless steel kitchen at the rear that folds flat against the body of the trailer. It includes a three burner stove, stainless steel sink, with a sliding drawer and a stainless steel shelf. It's a pretty good set up, especially with the open canvas wall that allows inside outside entertaining etc.
One thing that irks me is kitchens that are designed that have the cooks back to other campers and therefore excluded from the conversation. Access when folded is easy as well for cuppa's on the road. The 110L Evakool fridge is on a slide in the front storage bin along with a large pantry box.
When set up there is a large 8 foot touring awning that provides plenty of cover for cooking as well as sitting around for that all important evening drink.
One feature that is appreciated is the hot water supplied courtesy of a Webasto diesel heater, that also heats the inside of the camper, great for cold weather camping. There is a shower mixer and an ensuite and 120L of water for use.
Power and lighting is supplied from 232 amp hr batteries, 20amp Xantrex smart charger, 240 inlet with 2 x double outlets, 4 Accessory plug sockets. Anderson plug vehicle charge to batteries, 12V water pump and faucet Solar outlet plug.
Now to the clever design. When you come to open u the camper the top folds forward over the drawbar with the assistance of a hand winch. This is a very smart design as it not only allows an overnight set up without poles, pegs etc but also allows seating in the body of the trailer for internal lazing. The internal dimensions of the ' living 'area is 1800mm by 2200mm.
It's actually exceptionally well designed and gives a feeling of space and comfort that few campers can match. To sit up off the ground with the side wall open to the under awning area has a great feel.
The queen-size bed is a heavy density foam with an innerspring option. If you can afford it take the innerspring mattress, it's always better in the long run. There are under bed drawers for storage and a seat in the 'living room' with storage underneath as well that converts to a double bed for the kids. The heavy duty zinc anneal floor is covered with marine carpet and with a high tropical roof line, LED lights, plenty of windows, awnings on the windows and a fold down side there is heaps of ventilation and light.
Overall the Modcon Imperial HFD Camper Trailer is a beauty. It tows like a dream, is capable of heavy duty off road action, is engineered and built to a high specification. They build everything at their factory and source quality Australian canvas and use the best quality YKK or Pascal zips. Here is a proud Australian manufacturer with a 2 year warranty.
At a starting point of $44,990 the Imperial HFD isn't cheap but it is excellent value. It comes packed with features that make camping easy and comfortable. Most importantly it has an indefinable comfortable 'feel' to it that is hard to match. Top all that off with the fact that owners Kerry and Phylis are great people that really care about their clients and you have a great package.