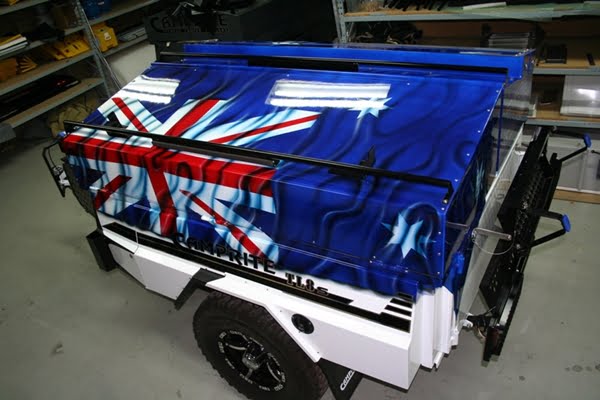 Amongst the plethora of camper trailers on the market it's always pleasing to review something that is a little different from the mainstream. The Camprite TL8S is just such a camper trailer.
Built by Reg and Matt all the way over in Western Australia the Camprite camper trailer is unique in the market and shows the engineering background and attention to detail that is necessary to build a successful camper.
I first came across these campers in 2003 in the McDonald Ranges Caravan Park in Alice Springs when early one afternoon Matt pulled up next to my campsite and started to set up. It intrigued me how the sides simply folded out and the canvas just popped up and he was set up in no time.
Well, being the curious 'neighbour' I asked him to do it again and it was just a quick to put down as it was up again. As you do, we ended up seeing Matt a couple of more times on our travels and again saw the trailer in Broome where a small crowd had gathered to see him set up.
The TL8S design is both simple and clever. Here is a camper trailer that can accommodate up to 6 people up off the ground, can be set up anywhere you can park the trailer, has plenty of room inside to sit and is totally self contained.
The real beauty of the TL8S is that you can set up for an overnight stay with no ropes, poles or pegs. That's brilliant.
The trailer sits on 16 inch off road tyres, a fully galvanised chassis, independent trailing arm suspension , twin springs and a shock absorber on each arm, parallel bearings and 12 inch electric brakes. This means the Camprite rides beautifully behind the tow vehicle and absorbs corrugations with ease.
Up front there is a lockable storage area, room for gas bottles and jerry can, a soft removable stone guard and an offroad hitch. At the rear are wind down stabilizer legs and importantly two recovery points. Often we have had to drag a trailer out backwards and these make an enormous difference.
The body is made from fully welded one piece construction with aluminium checker plate pads on top. The top is unique in that the two sides fold out to the side, with gas strut assistance, This provides a double and two single beds with medium density foam. There is under bed storage and as mentioned plenty of room inside.
Canvas is Australian made with 8oz on the walls and 11oz on the roof. The floor is heavy duty vinyl. Because the roof is very high and lots of windows there is more than adequate ventilation. Lighting comes from a 12 volt system with a 100AH battery and two fluoro lights.
One thing you will notice is the abundance of bright colours that the trailer can come in because it is painted in tough two pack paint.
There is a fold out stainless steel kitchen which includes a stove, sink, electric and hand pump, storage areas etc. Water is supplied from a 95 litre tank. The kitchen sits under the rear awning but is easily accessed on the move as well.
Other extras can include a full 240v system, fridge, double bunks, solar panel, radio, hand rail for the rear steps etc.
Overall the Camprite TL8S is an ideal camper trailer for a family that appreciates quality and ease of use. It is unique amongst the market segment, extremely well made and thought out and is one of the most practical set up solutions available.
The TL8S is reasonably priced from $38,600 and includes a heap of features as standard. It is robust, different and suited to harsh Australian conditions.
What was good
1. Set up
2. Suspension and handling
3. Access to kitchen
What was not so good
1. Spare tyre underneath
2. Removable stone guard
3. Double bed