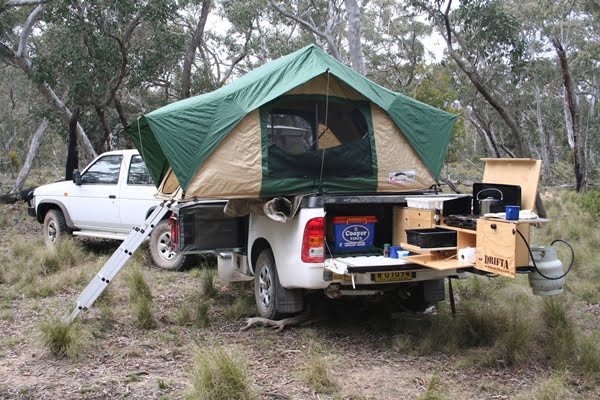 The camper trailer market in Australia is saturated. At last count there were over 140 manufacturers. How then does a manufacturer differentiate themselves from the rest of the segment.
Well in the case of GT Campers it was simple. The owner Glenn Torrens has done what so many have thought about doing but never do because it is way harder than it looks.
GT Campers have cleverly designed a camper that sits atop a ute back and uses the ute wells from popular makes as the base. There are three versions. The GT Campers Hilux Expedition that sits on back of a well back Hilux and the GT Touring On Road Camper Trailer and GT Off Road Camper Trailer which we are reviewing here.
Glenn has had many years experience travelling Australia and reviewing camper tailers and thought he could design something from scratch that was different and meet the needs of the outback tourer without all the expensive bells and whistles that seem to adorn many camper trailers today. Simplicity and functional design were the parameters he worked from.
The GT Off Road Camper Trailer starts life as a ute back from a Toyota Hilux and sits atop a heavy duty off road chassis. The suspension is a seven leaf 1000kg spring suspension with 50mm 'bush-tough' solid axle,1500kg bearings and polyurethane suspension bushes with greaseable shackles. The chassis sits high to align with the higher tow ball from off road tow vehicles. Brakes are cable operated override drums with integral handbrake.
While the suspension is certainly robust I personally prefer to have shock absorbers. Driving for extended periods and for kilometres on end on some rough corrugations would shake the living daylights out of the contents of the trailer not to mention the car.
The hot dipped galvanised chassis is made from 100X50x2mm Australian steel, and is Glenn's own design. Again the concept of functional simplicity drove the design. Up front to hook up the trailer is a Hyland high articulation off-road tow hitch to suit a standard 50mm tow ball. These are great, extremely easy to use and maintain and in reality give you all the articulation you will ever need. I always say if you need 360 degrees rotation you are in deep trouble.
The whole trailer sits atop 16×7-inch off-road white spoked steel wheels and All Terrain tyres.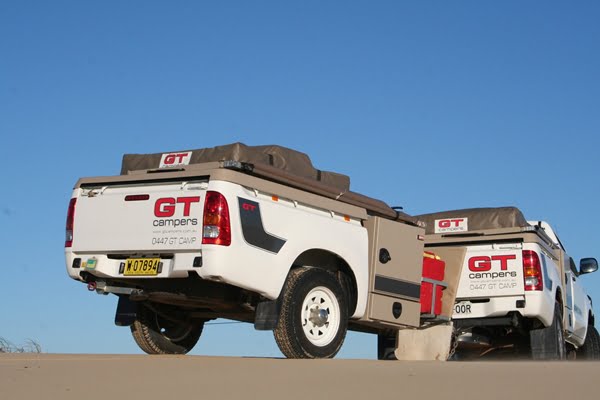 In front of the ute tray sits a functional alloy lockable storage box that is enormous and can swallow a heap of gear and has multiple compartments and a fridge slide. In front of the storage box is room for jerry cans and gas bottle behind the stone guard. It's little things like a looser fitting stone guard that show Glenn's attention to detail. Strung too tight the stone guard becomes a catapult for rocks right into the back of your tow vehicle.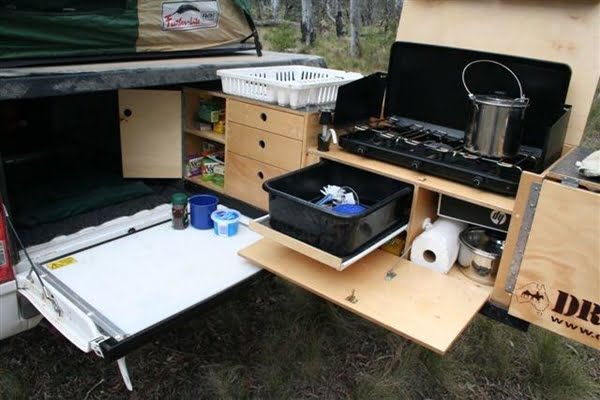 The Kitchen is a removable stand-alone Drifta kitchen with wash tub and hand-pump tap. The all important water is supplied through a 80 litre underslung roto-moulded water tank with lockable filler cap. There is a plastic food preparation board on the drop-down tailgate.
The body of the trailer is covered with a Gas-assisted lift-up GT Hard Deck with 250kg load capacity. This again is Glenn's own design and while it looks simple the work that went into it to make this simple and useable included many late nights and lots of development dollars.
Inside the body there is a marine grade carpeted storage area under the hard deck wit tie-down rings, automotive quality dust sealing rubbers and a lockable tailgate. Sitting on the GT Hard Deck is a Low-profile lightweight flip-over two-person/double tent providing the accommodation.
To shed some light and keep everything legal the electrical system includes a 12V 20A power supply cable from tow vehicle (Anderson style plug) , battery tray and safety circuit breaker (70A),12V power socket in kitchen, LED kitchen light under Hard Deck, dual 12V sockets in fridge cabinet (one with twist-lock feature) and a protected wiring harness installation to keep everything up and safe off road.
We took the GT Off Road Camper Trailer away for an extended weekend into the Blue Mountains and beyond. The thing that impressed me most is that it just works. It's simple in design and construction. The tent up off the ground is simple to use. The kitchen is totally functional and when you sit and think about it you really don't need a slide out stainless steel kitchen with running hot and cold water. The Drifter worked perfectly.
We did have the GT Bikini Awning option on the trailer and while it's a clever design it's also a little fussy to use and becomes a sail with any wind force. If we were buying one I would probably not opt for one.
The dust sealing was great, there was more than enough room for all our gear with a 320kg payload, the trailer was light and easy to tow at only 680kg and a tow ball weight of 40kg (unladen). There is heavy duty jockey wheel and quick set support legs for overnight stays.
One comment that was made to us when we had the trailer, by a number of people, was that they had always thought of building a camper trailer on a ute back. Well it is a great idea, but do yourself a huge favour and save a lot of time, heartache and money and just buy a GT Camper Trailer.
The off road version starts at a very low $19,990 and represents excellent value. GT Campers have done all the work for you and besides chances are that if you ever get around to actually building your own, wouldn't you rather be travelling Australia than stuck in a shed night after night building a trailer?
What was good
1. Light weight
2. Robust construction
3. Simple design
What was not so good
1. Prefer electric brakes for heavy duty off road
2. Needs shock absorbers for heavy duty off road
3. GT Bikini Awning fussy to use