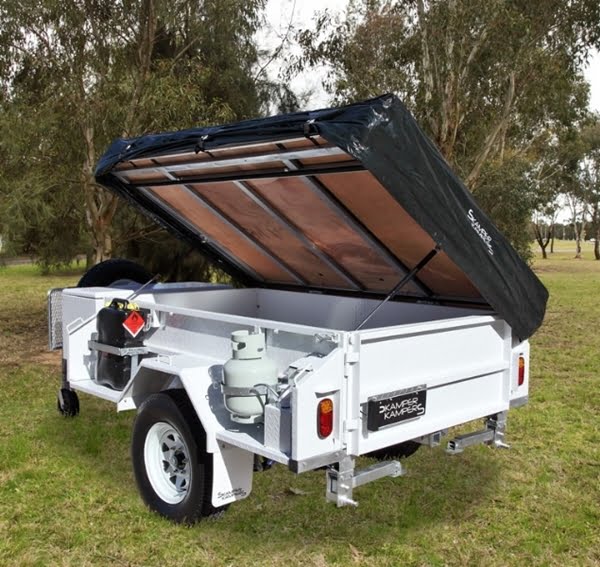 Off Road Camper Trailers come in many different shapes, sizes and prices. Sitting in the affordable price bracket of about $6,750 to just under $8,000 is the Ranger heavy duty off road camper trailer from Skamper Kampers at Penrith in NSW. It is a soft floor camper that is the classic trailer with a tent on top.
The Skamper Kamper Ranger off road camper trailer comes in a powder coated white or you have the option of a fully galvanised body, which isn't a bad idea as they don't show scratches etc
The body of the Trailer is 7ft x 4ft (2180mm x 1300mm) with relatively high side walls of 500mm. The Trailer Height is 1100mm and is made of. 2.5mm checker plate sides. Underpinning the box section is a fully galvanised chassis made from 100 x 50 section steel that continuous fully welded.
The extended drawbar houses a 360degree off road Polyblock coupling, the handbrake and a galvanised fold up jockey wheel. Behind the coupling is a removable stone guard, spare wheel and useful steel storage box of 1200 x 500 x 500.
Helping keep the trailer firmly planted to the road is the suspension system consisting of a 45mm solid axle with new 15″ wheels, 6 stud pattern 235 / 75 Off Road style tyres and 10inch electric brakes. The springs are 7 Leaf rebound eye to eye off road with doubly reinforced spring hangers and importantly with shock absorbers. This is a solid , robust and well used suspension system that wont shake the daylights out of the tailer contents.
Underneath the chassis is a 70L stainless steel water tank that has a hand pump both at the sink and on the outside of the trailer which is handy while travelling.
The Ranger heavy duty off road camper comes with 3 x 20Lt Jerry Can Holders and 1 x 4.5Kg Gas Ring included and housed neatly in cavities along the side of the box section. There are also two wind down stabiliser legs at the rear.
On top of the large box section of the camper sits the 15oz 18ft x 8ft Main tent + 18ft x 8ft Annex complete with walls and floor or a 15′ x 7′ 6″ Kwik tent depending on your choice for tje evening. Windows and fly screens on windows are included.
The 15oz canvas is a 65% poly 35% cotton ratio as Australian canvas and is first class quality. The roof seams are all sewn with core spun thread imported from Germany.
When erected the tent is light and airy with heaps of screens and ample height for the tent section. Each window has an internal flap for protection from the weather. Fully erected you could fit a large family for weeks at a time, such is the size and layout of the tent.
The floor of the main tent section is made from 600gsm PVC as is the cover for the trailer when folded up. That is particularly important because many manufacturers skimp on that and it shows in wear and tear quickly.
The bed is a high density foam with a removable cover, sitting on a lift up bed base. My choice is always to go for an innerspring mattress if you are doing a lot of camping as it will pay for itself in no time with comfortable sleeping.
For those important meals there is a swing away stainless steel kitchen at the rear with plenty of bench space and sink with a very handy slide out drawer underneath.
Other features and options include a tow hitch receiver at the rear for holding bike carriers, and extremely useful for recovery operations, boat racks and mudflaps.
Overall the Skamper Kamper Ranger heavy duty off road camper trailer is a good looking quality built camper that presents itself as great value in these days of cheap trailers. You get what you pay for and the Skamper Kamper is worth the asking price.