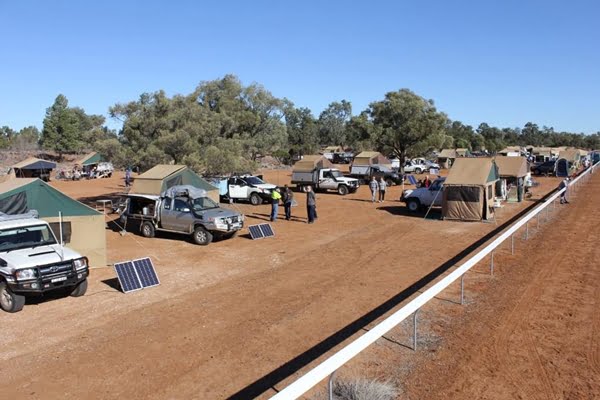 In an industry such as the slide on camper and camper trailer manufacturing where there is a large annual turnaround of manufacturers coming and going its refreshing and unusual to have a manufacturer last for over 20 years. To do so they must have a quality product and have great relationships with their clients.
Candy Canvas is such a business. They make an assortment of canvas products and the very practical Carry Me Camper (which we will be reviewing shortly).Based in the small town of Tintinara in SA, Candy Canvas has an annual corroboree for owners of the Carry me Camper.
I remember being at Hahn River Roadhouse in Cape York in 2003 and there was a number of similar looking campers staying for the night. As you do I went over and chatted to some of the travelers and found out that they were all travelling together and were all owners of Carry Me Campers.
Well the tradition continues with the 2013 Corroboree being held in South West Queensland recently with the group meeting at Noorama Sportsground which is 95ks south east of Cunnamulla Qld where 113 people were catered for by the Noorama committee on July 12th with people travelling from far as Kalgoorlie in WA and Tasmania.
As often happens with these sort of gatherings many of the attendees travelled with other Carry Me Camper owners that they had met on previous Corroborees with many calling in to the Sheepyard Inn for two nights with a bus tour of the Grawin Opal Fields. (this is where the 2005 Corroboree was held).
Over the weekend $1100 was raised for the Royal Flying Doctor and Ronald McDonald House as both organisations do a tremendous amount of charity work for remote people!
This is the 11th time that Candy Canvas has held a Corroboree for owners and in that time over 1100 people have attended. The owners of Candy Canvas Phil and Sandy believe that such gatherings are invaluable in getting feedback from owners for product improvement.
The proof is in the popularity of these events. You certainly can't sustain such for over 11 years if you have problems with your product or after sales service. They have pride and confidence in their product.
Of course the other benefit is that attendees often make lifetime friendships and find travelling companions with like minded people. There were all ages attending.
Phil says the 2014 Corroboree notification will be on their site soon if you are interested. Check the site at www.candycanvas.com.au