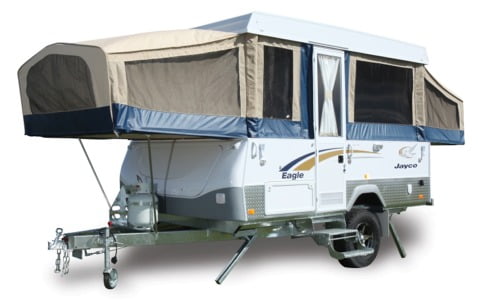 Jayco has updated the 2010 Camper Trailer model to include a range of new features. Simple yet comfortable take a look at the Camper Trailers from Jayco.
Jayco have improved there 2010 camper tariler models by providing additional storage space, functionality and comfort for those who love adventure and want a holiday on a budget.
The Camper Trailer was the first recreational vehicle produced by Jayco when it opened its factory doors in 1975, and remains one of the company's most popular products to date.
Jayco Marketing Director Andrew Ryan said that the new 2010 Camper trailer has been a favourite with active Australian families for 35 years.
"Jayco's latest Camper Trailer has 35 years of design and innovation behind it, but the philosophy will always remain the same – it's small to tow, big to live in."
"For people looking for family friendly features at an affordable price, you can't look past Jayco's latest range of Camper Trailers," Mr Ryan said.
Camper Trailer owners now have the option of fitted bike racks and a luggage pod to conveniently store all the family's bits and pieces, while creating additional living space.
For those who don't like to economise on comfort, a roof mounted air-conditioner will help to provide cool contentment. In friendlier weather, use the new-style annexe and optional slide out barbeque to entertain family and friends.
The interior has been given an impressive facelift too, with fresh upholstery and a choice of two new laminex benchtop finishes and easy-to-clean vinyl flooring.
Standard features of the latest Jayco Camper trailer range include a four burner gas griller/oven, eurostyle table and child safety rails on rear beds.
"With a variety of floorplans designed to sleep between two and seven people, the 2010 Camper Trailer is an easy choice for families, small or large," Mr Ryan said.
The 2010 Camper trailer is available at all Jayco dealers across Australia and New Zealand