Kia has launched its latest generation Sorento and they have sold out to the SUV revolution. The sell out effectively kills the extremely capable 4wd model which was robust, powerful and unfortunately much underrated by the market.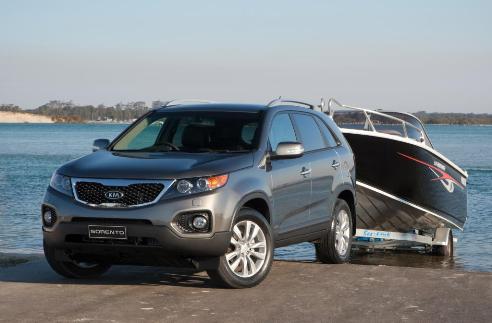 The sell out though has brought us a very stylish, incredibly well appointed AWD SUV which has seven seats, a technologically advanced 2.2L 'R' series diesel with an all new 6 speed automatic transmission and a heap of features all packaged in a really good looking vehicle.
Well done Kia!
During its development, Kia's engineers concentrated on five key development areas – class-leading performance; increased fuel economy and reduced emissions; improved on-road handling and more fun-to-drive responsiveness; greater cabin space and comfort; and enhanced overall crash safety – to match the enhanced technologies and equipment destined for the new model.
The new Sorento has modern longer, lower, sleeker styling from the guiding hand of global design chief Peter Schreyer, class-leading powertrains, greater space, more car-like driving responses and minimises its environmental impact.
What are we Testing
We had the Platinum Sorento R2.2L CRDi 4WD with Kia's new 6 speed automatic transmission. It has a MLP of $48.990. The all new R2.2L produces 145kw and a hefty 436 Nm of torque from just 1800rpm.
What's it's Purpose
Stylish Family transport for those more adventurous types that aren't slaves to 'brand image'
What's it Like
Pretty bloody good actually. Kia has really excelled with the new Sorento.
It looks good, is absolutely jam packed with features, has first rate build quality and is backed by Kia's 5 year unlimited km warranty.
The new Sorento is a car for everyday drivers. Its car-like ride and handling makes this 7-seat SUV a more supple, responsive and fun-to-drive experience, as well as having some off-road ability.
The new Sorento is bigger and more comfortable than its predecessor, delivering greater cabin space and more comfort for everyone with versatile seating for up to seven people, available for the first time in a Kia SUV.
What's Good & Not so Good
What's Good
The new R2.2L CRDi and 6 speed auto
Seven seats
Stylish looks.
What's not so Good
AWD not 4WD
All black interior
No room for luggage with 7 seats in use
Outside
First impressions are that the new Sorento is more modern and crisp in its styling.
Bold frontal styling, which incorporates Kia's new 'signature grille' that blends seamlessly into the new Sorento's four-light, black bezel wrap-around headlamps, creates a simple yet striking character. Although the vehicle's width is unchanged, the overall stance is much stronger because the track has been widened by 38 mm (front) and by 41 mm (rear) – compared with the previous model – pushing the wheels to the outer edges of the wheel arches.
The visual impact generated by the side view is boosted by the fitting of large diameter 18-inch wheels on Platinum models.
"The dynamic design of the next-generation Kia Sorento adopts simple, linear lines to create a powerful, yet polished appearance. Both sporty and striking, new Sorento represents a new breed of SUV," comments Peter Schreyer
A two-part glass Panorama Roof is fitted to the Platinum model. The rear section is fixed, while the front section is powered and can be tilted for ventilation or slide fully back to enjoy uninterrupted views. Inside, a multi-position roller blind allows the level of shade within the cabin to be finely adjusted.
New Sorento is 95 mm longer and 15 mm lower than the previous model and features a wheelbase that has been reduced by 10 mm to 2700 mm. A combination of changes – the A-pillars and the dashboard have been moved forwards, the tailgate has been moved rearwards by almost 70 mm, and the first and second row seats are a slimmer design – vastly increases the cabin space, allowing the fitting of the third row of seats to the benefit of up to seven occupants.
Inside
Step inside and you notice that the new Sorento's interior styling has an entirely new ambience. Immediate impressions are of the cabin's generous proportions, sweeping dashboard design, high-quality fit, discreet trim accents, leather and the availability of numerous high-tech features.
Sitting in the driver's seat you can find a very comfortable driving position with multi-adjustable seat and more seat travel which has been increased by 25 mm to better accommodate the taller drivers. Powered front seats have electric adjustment of the cushion height (front and rear independently) and lumbar support, plus the regular fore/aft and backrest angle adjustments.
The thick-rimmed four-spoke steering wheel, which can be adjusted for height and reach, gives a clear view of Kia's 'three-cylinder' instrument cluster. Similar to the cluster fitted to the new Kia Soul, the new Sorento's cluster has clear and precise graphics. All models are equipped with 6-function trip computer.
A 'Super Vision' cluster display gives information about average and instant fuel consumption, range-to-empty, average speed, elapsed journey time, outside air temperature, and door and tailgate 'open' alerts.
Sorento is also fitted with rear parking sensors which, when reverse gear is engaged, display an overhead plan-view graphic in the message centre showing the new Sorento in relation to any pedestrians and obstructions.
As well, reversing is made even safer by the availability of a new Kia Reversing Safety Camera (KRSC) mounted on the tailgate. This camera is fitted with a 130 degree wide-angle lens and transmits images to a 3.5-inch LCD display panel set within the cabin's auto-dimming rear view mirror. The system, which only operates when reverse gear is selected, enables the driver to check the rear view and the blind spot below the rear window simultaneously, in the rear view mirror.
The centre console features a rugged diagonal garnish that extends rearwards, presenting heating, ventilation, audio and auxiliary controls in logical horizontal bands.
Cabin storage space has been boosted with a redesigned and much larger centre console that has a 15.9 litre capacity – a 10.1 litres (174%) increase over the previous Sorento.
The twin cup-holders (one large, one medium), are positioned in tandem alongside the gear selector, to create room for the new console. Additional storage spaces include the large glovebox, an illuminated lower tray in the centre console and four door pockets. The second row seat also features a folding centre armrest with twin cup-holders.
Entertainment is well catered for with a standard six audio system, with MP3, USB and iPod connectivity, plus a built-in amplifier. The six-speaker audio system features a 6.5-inch speaker in each door and a 1-inch tweeter at each end of the dashboard.
This standard audio also features Kia's innovative 'PowerBass' technology, first seen on the Soul. The system employs psychoacoustic audio technology to overcome the inherent challenges of an in-car sound system – small speakers, harsh environment and obstacles within the interior – and deliver concert hall quality sound with lively reproduction of bass tones. Remote controls for the audio system are mounted on the steering wheel.
The Platinum model features a premium audio system incorporating a 6-CD changer and a total of 8-speakers, adding an external amplifier, centre speaker mounted in the dash top and a single woofer in the cargo bay side trim.
The new Sorento's standard dual-zone air-conditioning features air vents in the B-pillars that deliver ventilation directly cool second row occupants and floor-level ventilation ducts for the third row passengers. Independent fan controls for the third row seats are also available.
In addition, all models are fitted with a Cluster Ioniser System (CIS) 'clear air' system which further enhances cabin air quality.
Other high-tech 'comfort and convenience' features available on Platinum models include key-less entry with push button start, a two-piece panoramic glass sunroof and high intensity discharge (HID) headlamps.
The longer bodyshell of the new Sorento ensures that the cabin is much more spacious than the current model, with seating in three rows for up to seven people. Occupants in all rows benefit from greater headroom, legroom or shoulder room – depending on their location.
With its stretched cabin, new Sorento is a genuine seven-seater with much more space for occupants seated in the third row, making it 'best-in-class' for accommodating the sixth and seventh occupants. Headroom is 906 mm and legroom 795 mm.
For maximum versatility when accommodating people and cargo, the new Sorento's second row seat is split 60/40 and the third row seat is split 50/50. These seats' backrests fold almost flat to extend available luggage capacity. The second row folds down to 9 degrees and the third row to 2.5 degrees.
Luggage space in the new Sorento is among the 'best-in-class' as cargo capacity is increased by 15%, thanks to moving the tailgate back by 70 mm. When using the vehicle as a five-seater, with the third row seats folded down (where fitted), total capacity is now 531 litres (VDA method) – 96 litres more than the previous model. Cargo capacity with all seats upright in the 7-seater is 111 litres, but a massive 1525 litres when both the third and second row seats are folded down.

Safety
The new Sorento is the third Kia to be awarded a 5-Star Euro NCAP safety rating, following in the footsteps of the Kia cee'd and Kia Soul. From December 2009, production enhancements will see the Next-generation Sorento also earn a 5-star ANCAP rating.
Inside, the new Sorento is equipped with six airbags as standard. Dual front airbags, dual front side airbags and full-length side curtain airbags (linked to rollover sensors as well as impact sensors) maximise head protection for all occupants.
Front seats in all models are equipped with 'active' head restraints. These move forward during a rear impact to minimise movement of the occupants' heads and protect them against whiplash injuries.
Active safety technologies available as standard on the new Sorento include ESP, HAC, DBC, EBD, rear parking sensors, plus several systems to boost braking performance during extreme conditions.
Good visibility is an important aspect of safe motoring and the next-generation Sorento features automatic self-levelling high intensity discharge (HID) headlamps standard on the Platinum model.
As well as improving refinement and NVH, the new Sorento's robust bodyshell structure delivers real passive safety benefits with increased impact resistance
Engine, Transmission, Suspension etc
The all-new 'R' family of turbo-diesel (CRDi) engines ultimately will include several different capacities, but the first unit to reach the Australian marketplace is the 2.2-litre, 145 kW engine featured in the new Sorento.
Technologically advanced some outstanding features of the R2.2 engine include all-aluminium construction, an electronic variable geometry turbocharger (VGT), an advanced ECU (engine control unit) with a 32-bit microprocessor, a new high-efficiency exhaust gas recirculation system (EGR) with cooler and bypass valve, a chain-driven DOHC 16-valve intake/exhaust system with hydraulic lash adjusters, and a balancer shaft.
The new diesel also features numerous weight-saving plastic components such as the intake manifold with swirl control valves, cylinder head cover and cartridge-type oil filter housing. The R2.2 generates a maximum of 145 kW and 436 Nm of torque from just 1,800 rpm. For use with the manual transmission, the engine is re-tuned to produce 422 Nm. In Auto format this will power the Sorento from 0-10kmh in 10 seconds.
The next-generation Sorento introduces Kia's all-new, innovative six-speed automatic transmission with sport Tiptronic. It features a unique layout which enables it to be smaller, more compact and lighter than any other six-speed automatic on the market today. Like the six-speed manual, the new automatic transmission is a 'filled for life' maintenance-free unit requiring no servicing during its lifetime. The down side of this is that if something goes wrong it is a throwaway.
The 4WD is a single ratio (high range) 4WD system, with a default status that delivers 100% of engine torque to the front wheels during all routine city and highway driving. While in this two-wheel drive mode, fuel efficiency is enhanced compared to 4WD motoring. Whenever a front wheel loses grip a percentage of torque is automatically transferred to the rear wheels to maintain forward motion.
For improved traction and greater safety while driving in slippery conditions – such as rain, snow, mud, unpaved roads and off-road – the driver can manually select 'Lock Mode'. This mode splits the torque 50/50 between the front and rear axles for better stability and maintains that split up to a speed of 30 kmh.
The monocoque construction method helped the new Sorento to achieve a weight loss of up to 215 kg depending on model, compared with the previous Sorento, even though the new model incorporates numerous additional technical, safety and comfort features.
The front MacPherson strut suspension is mounted on a lightweight hydro-formed subframe. The subframe mountings and the rubber bushes throughout the suspension have been firmed up to deliver a more sporty ride and better steering 'feel', without affecting ride smoothness and without transmitting vibrations into the cabin.
The rear suspension is an all-new fully independent multi-link suspension, also mounted on a subframe. The coil springs are realigned to reduce side-loads and friction, and automatic self-levelling is available on all diesel models to compensate for varying people and cargo loads.
Determined to give the new Sorento a sophisticated ride/handling balance to rival the best vehicles in its SUV class, Kia chassis engineers worked hard to ensure that this new Kia also gives precise and rewarding responses to driver inputs
The combination of powerful diesel motor, 6 speed automatic transmission, new suspension and speed-sensitive hydraulically power-assisted rack-and-pinion steering gives the Sorento impressive handling.
Towing capacity for the automatic is 2,000kgs. Now biased towards on-road motoring, the new Sorento has joined the ranks of AWD SUV's that are good for dirt roads, beach driving and simple off road driving.

Summary
We were big fans of the previous model Sorento. It was an honest, robust 4WD that deserved more market acceptance than it had. It will be missed.
However given the move to an AWD SUV Kia have produced a gem. It looks good, is jam packed full of features for the price, has a fantastic diesel motor with 6 speed automatic transmission, seven seats and lots of clever ideas all for a MLP of $48,990. Top this with Kia's 5 year unlimited km warranty and you have a winner.
We are looking forward to a long term test vehicle so we can give it a work out under daily conditions.