Lexus NX 300h F Sport Overview
With many of the latest technology features appearing in lower priced cars is it worth buying a luxury SUV? Are hybrids what they purport to be?
These questions were on my mind when we tested the Lexus NX 300h F Sport.
As soon as we started to drive the Lexus NX 300h there was an extra feeling, an ambience that you had to respect. In the scheme of things, pricing is certainly not outrageous.  Lexus prides itself in giving prestige driving without going over the top in price.
The NX is the bestselling model for Lexus even though it was launched onto our market only three years ago.  However, Lexus has not been able to get the same market share as the German luxury brands so you can see how they are striving to stand out amongst the crowd with their design.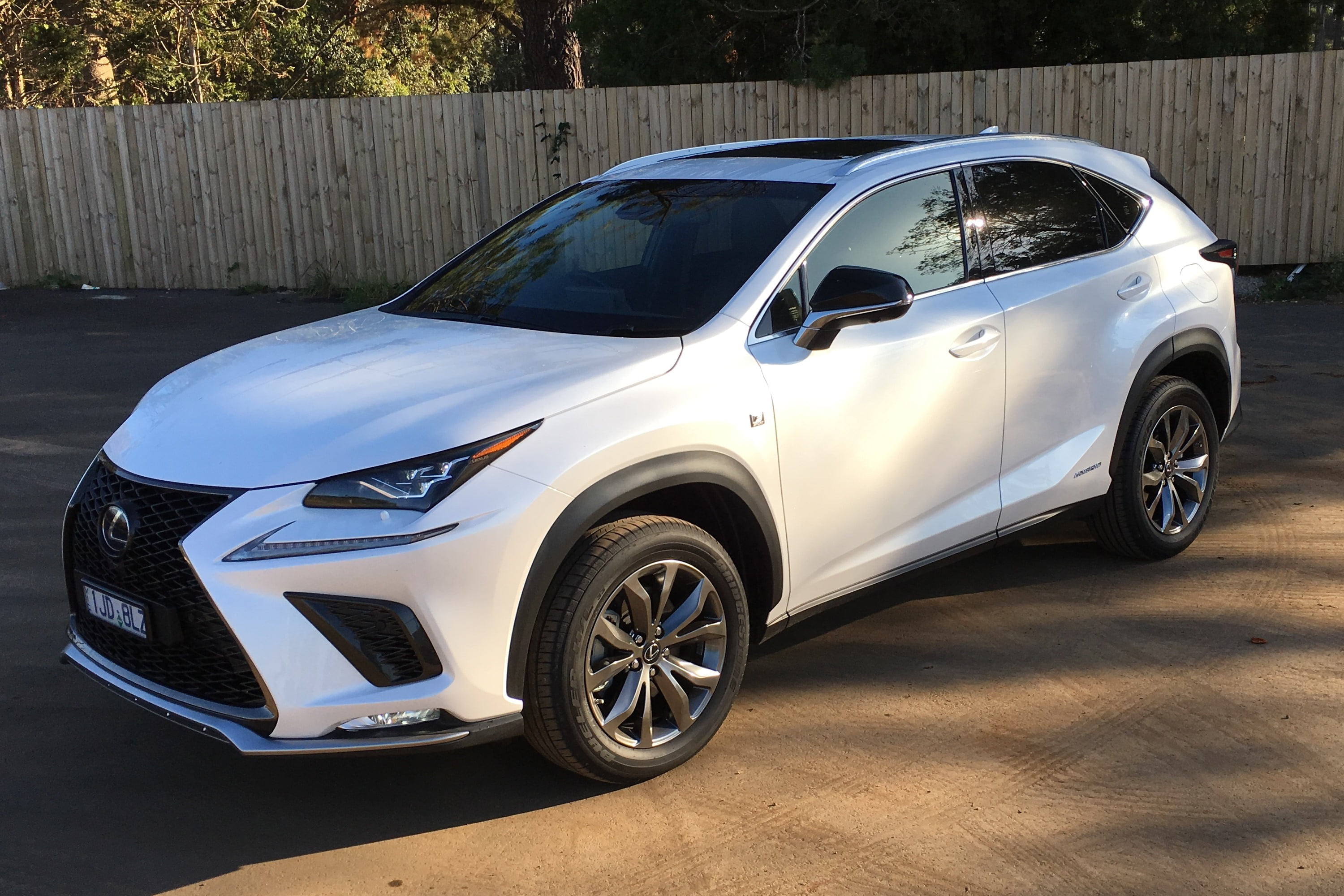 Lexus NX 300h F Sport External
From the front, the NX 300 has that now familiar Lexus look, with a very strong grille, especially below the bumper line.  There are the side lights in the shape of the Lexus 'L'. Lexus calls the overall effect "Striking, aggressive and exceptional".
The different mesh patterns on the grille is the way to differentiate between equipment levels. With black guard panels over the wheels, 18-inch rims and a waist line crease down the side that has a slight, flowing wave pattern they have clearly given an effort to detail.  The distinctive sloping rear window, more Nike style rear lights and a faint crease line below the roof, adds to the fastback look.
From the side it is far more sports wagon rather than a plain but functional SUV station wagon.  The boldness extends, to some extent, with the nine exterior colour options.
Australians seem very conservative when it comes to car colour.  The paints have a Self-Restoring Coat Technology that helps improve scratch resistance.

Lexus NX 300h F Sport Interior
The interior is of a graphic style but with an overall mature look. The centre dash has controls in several layers that are designed like an up-market apartment block, where each subsequent level is set back from the one below it.
A large 10.3 inch screen protrudes from the top of the centre dash and with a hint of refinement, there is an analogue clock.  The large screen is much wider than it is tall but can still present detailed information, such the sat/nav, map and the directions clearly shown at the same time.  The system has SUNA Live Traffic Alerts as well.
There's plenty of accented leather trim and all models have heated seats.  Dash/dials are fairly easy to read although the centre 4.2″ Colour Multi Information Display is a bit cluttered.
The Head Up Display can show various information including vehicle speed, lane keep assist tachometer, navigation instructions, audio and cruise control and tachometer. I liked it. Driving with manual control, via the paddles or gear lever, I like to have the tachometer in as easy to read position as possible. The seats hold your behind firmly and a 10-speaker audio system is standard across the NX range. A Mark Levinson surround sound system is an optional upgrade.

The F-Sport has extra features such as ventilated front seats, wireless phone charger and driver's seat memory. A Panoramic View Monitor displays birds-eye images from cameras mounted on the front, sides and rear of the vehicle. While the second row of seats do fold down with a 60/40 split, they do not fold quite flat.

An electronic automatic opening tailgate is standard across the range with 500 litre cargo storage with the rear seats up and 1,545 litres with the seats down.  Lexus says the boot can hold "four 9.5-inch golf bags, or two suitcases (77cm x 2)".  Apart from mixing the measurement units, I presume the 9.5-inch golf bag refers to the diameter otherwise its only good for a kids set.

Lexus NX 300h F Sport Engine and Drivetrain
The hybrid drivetrain for the NX 300h is a 2.5-litre four-cylinder petrol engine combined with two (AWD) electric motors, offering total output of 147 kW and using just 5.7 litres/100km.  A sophisticated Dynamic Torque Control AWD further enhances vehicle handling stability and optimises fuel economy.
It uses an electronically controlled coupling on the rear differential housing to control front/rear torque split from 100:0 to 50:50.The system controls the torque split according to driver intention, vehicle condition and available traction, using information on vehicle speed, engine revolutions, throttle opening angle, shift position, steering angle and brake application, from two G sensors and a yaw-rate sensor.
As befitting a luxury SUV, the NX also features reduced noise, vibration and harshness, thanks to a combination of suspension tuning and the addition of strategically placed sound deadening.The AWD models have a Dynamic Torque Control system automatically adjusting the front/rear differential torque split to suit the prevailing conditions.

Lexus NX 300h F Sport Driving Experience
I find Lexus vehicles are particularly suited for touring. The NX F-Sport fits this description.  It held the road, coped with bumps and enjoyed the sweeping bends with enough power for overtaking on rural roads.
You can select eco, standard and performance-oriented drive modes which can now be programmed to remember drive mode, chassis and air-conditioning settings.
The engine note sounds pretty good.  One reviewer didn't think it was quite exciting enough but I don't have the need to be a boy racer and neither do, I suspect, potential buyers.
Suspension has been improved with the F Sport having Adaptive Variable Suspension to provide greater continuous damping adjustment over varying surfaces.
Don't think of this as an SUV or an off-roader. It is a sports wagon made for the bitumen. I would take the car on graded dirt roads or to the snow but not much rougher.

Lexus NX 300h F Sport Safety
It is pleasing to see that all the safety features offered in the Lexus Safety System+ are standard across the range.  The package includes: a pre-collision warning system detecting pedestrians in addition to vehicles; autonomous emergency braking; all-speed radar cruise control; active lane keeping assist, blind-spot monitoring; rear cross traffic alert; trailer sway control and a selectable wider field of view for the reversing camera.
Lexus NX 300h F Sport Summary
The NX 300 has been improved significantly. It has a stand out design and a comfortable, competent driving experience. With more standard features including safety technology, it is a credible car in the prestige category.
I find the Hybrid excellent round town, where the nature of stop start driving is particularly suited to the dual engine configuration. On the freeway there was little difference, cruising at a constant rate doesn't allow the hybrid to shine as much.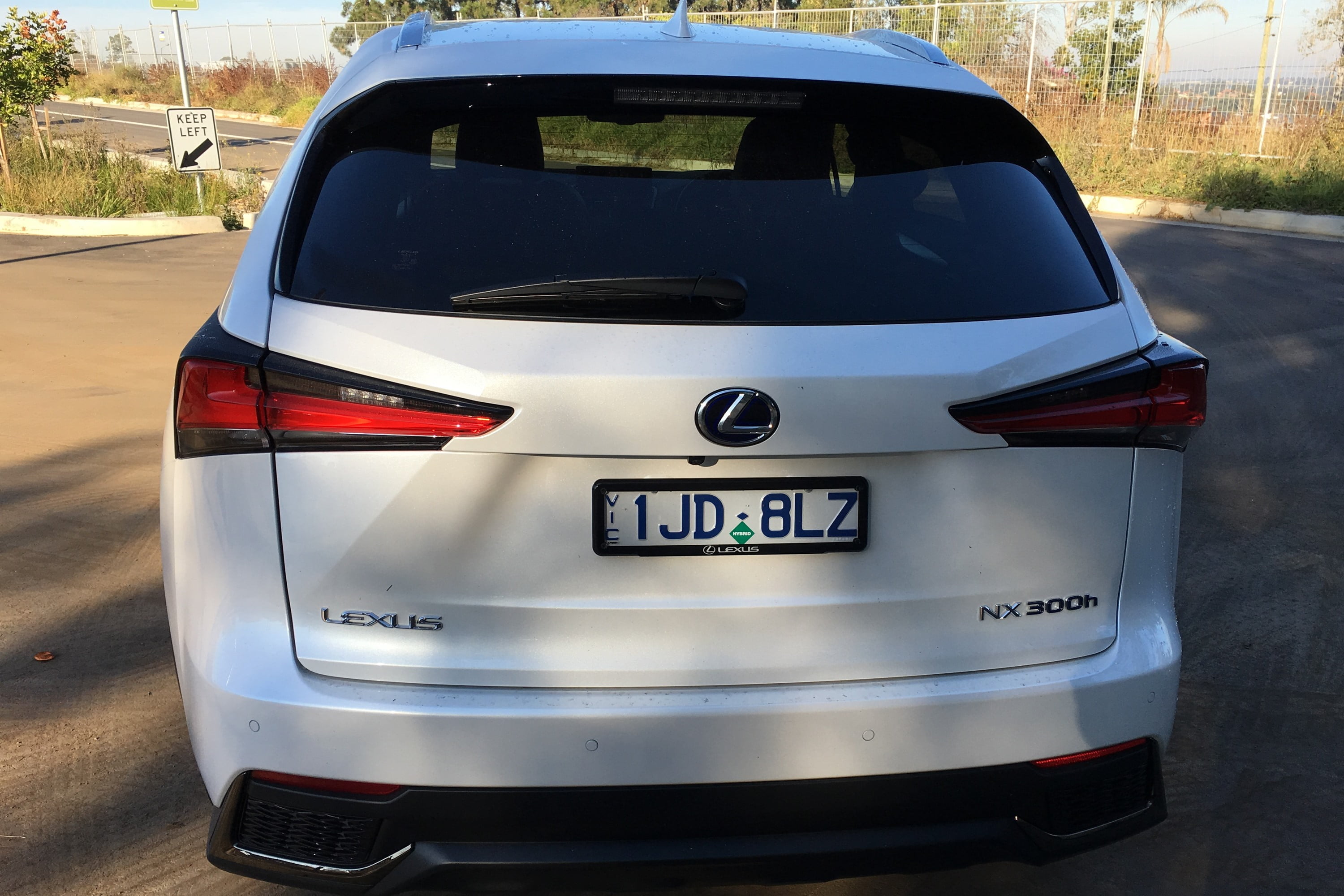 What's Good:
Slick styling – Urban Chic
Urban economy
Build quality
What's Not:
Sloping roof limits practicality
Lexus mouse control
No Apple Car Play or Android
Also Look At
Model Lexus NX 300 H F Sport
Model Price $67,800 MLP*
Engine         5 L  Hybrid
Drivetrain 6 Sp CVT AWD
Power         114 kW @ 5700 rpm
Torque         210 Nm @ 4200 rpm
Safety         5 Star ANCAP
CO2         135 g/km
Economy ADR 7 L/100 km
Servicing Service plan
Tow Rating 1000 kg
Tow Ball Rating 100 kg
Warranty 4 Yrs / 100,000 km  4 Yrs Roadside Assist
*MLP – Manufacturers List Price includes GST and LCT but excluding statutory charges, dealer costs and dealer delivery. See your dealer for RDAP. Does not include price of any options.
Overall Rating: 78/100
Behind the Wheel 9
Comfort 9
Equipment 9
Performance 9
Ride & Handling 9
Practicality 8
Fit for Purpose 8
Towing Ability 4
Off Road Ability 4
Value for Money 9
Lexus NX 300h F Sport
Summary
The Lexus NX 300h F Sport has been improved significantly. It has a stand out design and a comfortable, competent driving experience. With more standard features including safety technology, it is a credible car in the prestige category.