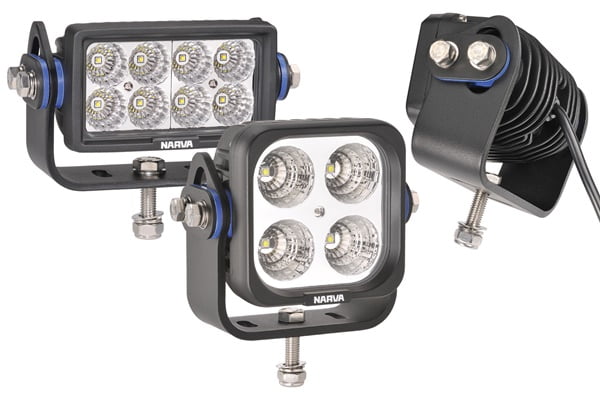 A  selection of Narva's 9-32V L.E.D work lamps have now been enhanced, introducing  several new features to make them even better for extreme applications  including mining, construction and forestry work.
As well as upgrading  three flood beam and spot beam models, Narva has also introduced an additional  two work lamps, which also benefit from these new features.
Among the upgrades – and  available on the five work lamp models – is a robust, industrial strength  mounting bracket.  This bracket is 5mm  thick steel and powder coated, providing the ultimate in shock and vibration  resistance, yet retaining the versatility of a multi-position bracket.
The Korean manufactured range  is visually identifiable by the use of blue-coloured heavy duty rubber spacers,  further isolating the lamps and providing increased dampening and impact  absorption – all five lamps are tested to withstand vibration up to an  astounding 8.6G, ensuring superior performance and durability on the worksite.
Further strengthening  the work lamps' credentials for demanding applications is the fact that  they've been engineered and manufactured to  ensure they meet or exceed the requirements of the Australian Communications  and Media Authority (ACMA) for electromagnetic compatibility.
The entire range are  sealed to IP68 and fitted with Deutsch connectors for uninterrupted  performance, making these lamps as tough as they come. And such is Narva's  confidence in its heavy-duty / industrial strength L.E.D work lamp range that  all five models are also covered by a market-leading, 7-year L.E.D warranty –  that's over 50,000 hours of operational life.
With lamps ranging from  1800 to 8100 lumens of light output, there is a Narva heavy-duty / industrial  strength L.E.D work lamp to suit all applications.
The new range of work  lamps can be purchased at all leading transport, automotive and four wheel  drive outlets throughout Australia.