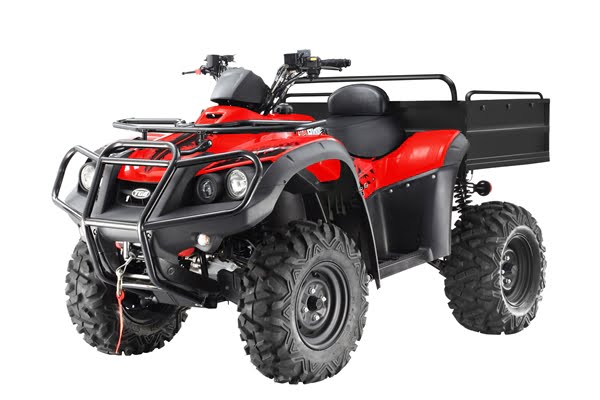 The Paul Feeney Group, Australian distributor for TGB ATV's , is pleased to announce the arrival of the new Blade 550 AR [Agro Carrier] IRS 4×4, as the Australia's first 'Crossover' ATV in the market.
This exciting new model in the line-up of TGB ATV's is based on the Blade 550 IRS 4×4 featuring the same high quality components.
The drive has been taken care of by a modern liquid cooled 4-stroke single cylinder engine with 503cc displacement. In combination with the full automatic C.V.T. with High/Low Range, Neutral, Reverse& Engine Braking the engine delivers high performance with low fuel consumption.
Assisting the drive train is the locking differential fitted standard to the Blade 550 ensuring forward momentum is maintained even in the most challenging of terrain and traction conditions. The easy access, on demand, electronic differential lock and 2WD/4WD mode selector switch provides the rider full steering control throughout the mode selection process.
The 550 AR features IRS, a fully independent multi link rear suspension with spring preload adjustment offering the rider increased levels of comfort and stability. The spring preload feature also provides adjustment to cater for variations in cargo requirements.
Protection of the ATV are taken care by a long list of standard features including a full coverage front brush bar link mounted to the standard heavy duty front rack for enhanced impact resistance, drive train protection guards including, constant velocity joint protection for extreme conditions and heavy duty 6 ply tyres.
These features are complemented by a tow bar with a towing capacity of 500 kg# and a 3000 lb winch with handle bar control fitted standard.
The point what makes the new 550 AR even more outstanding in the Australian ATV market, is the huge tray back. With a size for 1200 x 900 x 280 mm (L x W x H) and a 200 kg carrying capacity including gas assisted lift, it has the industry leading unmatched cargo bed for an ATV.
A very competitive MSRP (Manufacturer's Suggested Retail Price) point of $9,395.00* should see this eagerly anticipated model experience high demand given the list of specifications on offer.
The new Blade 550 AR IRS 4×4
The best of both worlds – maneuverability of an ATV and carrying capability of a UTV.
Model Range Overview and Pricing
| | | |
| --- | --- | --- |
| Model | MSRP* | Ride Away*1 |
| Blade 400 R 4×2 | $5,595.00 | $5,995.00 |
| Blade 460 R 4×2 | $6,095.00 | $6,495.00 |
| Blade 425 IRS 4×4 | $7,395.00 | $7,895.00 |
| Blade 460 R 4×4 | $7,395.00 | $7,895.00 |
| Blade 460 IRS 4×4 | $8,095.00 | $8,595.00 |
| Blade 550 IRS 4×4 | $8,495.00 | $8,895.00 |
| Blade 550 AR IRS 4×4 | $9,395.00 | $9,995.00 |
* Manufacturer's Suggested Retail Prices and Ride Away Prices shown include GST
1 At participating TGB ATV dealers
# Towing capacity is measured on flat ground