State-of-the-art driver assist technology on new Toyota LandCruiser Prado will extend the vehicle's off-road capabilities, when it is released in Australia next month.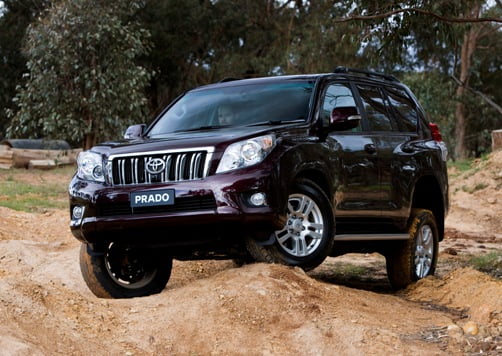 New Prado features a high level of on-board guidance and technical support to help even accomplished off-road drivers feel more confident in rough terrain.
The combination of performance and driver assist technology make Prado a vehicle perfectly suited to both on-road driving and off-roading through the often harsh Australian bush.
Toyota has upgraded Prado's four-litre petrol engine with dual VVT-i to increase power and torque, and has improved all 'round performance.
A new electronic Kinetic Dynamic Suspension System (KDSS) adjusts the front and rear anti-roll bars for optimised roll rigidity.
KDSS provides excellent vehicle stability during on-road driving and allows a large suspension stroke for outstanding off-road performance on rough surfaces.
The front independent double wishbones and five-link lateral rear suspension set-up gives extra comfort and steering feel.
CRAWL control, or 'off-road cruise control' allows Prado to automatically apply braking to maintain a very low speed, allowing the driver to concentrate fully on steering through tricky terrain.
The system minimises wheel spin and wheel lock when traversing rocks and sand, and when ascending steep inclines, providing outstanding drivability and vehicle stability.
It is also effective at extricating the vehicle from mud and sand.
Multi-Terrain Select is a new feature launched by Toyota in new-generation Prado, which can be set when approaching various terrains.
Incorporating Multi-Terrain ABS, the system offers a wide range of slip control, providing maximum traction for situations involving mud and sand, loose rocks, moguls and rocks.
While using Multi-Terrain Select (MTS), drivers can also gain a firm idea of the terrain surrounding the vehicle via the Multi-Terrain Monitor (MTM).
The Multi-Terrain Monitor displays images from onboard cameras located on four sides of the vehicle, so the driver can see ground conditions in six areas around the vehicle: to the front, rear, and the front and rear left and right sides.
In addition, the monitoring of the area in front is linked to the steering operation to display the distance from the front of the vehicle to a point along the projected tyre path, providing additional support to the driver.
Downhill Assist Control maintains vehicle speed to ensure vehicle stability when descending slopes, while Hill-start Assist Control (HAC) minimises vehicle roll-back when the vehicle starts to ascend a steep incline or slippery surface.
Toyota's Adaptive Variable Suspension system with Roll Posture Control lets the driver tune the ride characteristics with a choice of three damper settings.
An electronically controlled rear air suspension system provides an auto-leveling function and switchable height control.
A new Steering Angle Display in the instrument panel indicates the angle of the front wheels and their predicted path, further helping the driver plot a safe route.