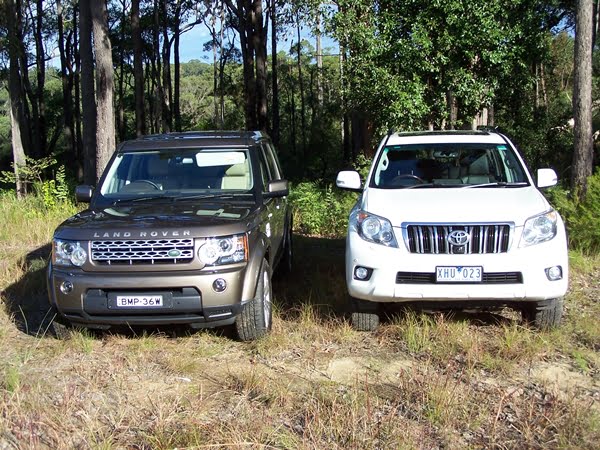 Toyota Prado Kakadu 3.0L TDi vs. Landrover Discovery 4 TDV6 HSE. Two of the favourite family 4WD 7 seat wagons go head to head in the Luxury 4WD market.
What are we Testing?
We had 2 leading contenders in the Luxury 4WD market as a comparison test. The vehicles were a 4th generation Landcruiser Prado Kakadu 3.0-litre turbo-diesel motor with a five-speed automatic with sequential-style shifting transmission and a Landrover Discovery 4 3.0 TDV6 HSE with a ZF HP28 6-speed automatic transmission
These vehicles are closer than you think in size, technology and pricing. The Prado Kakadu has a MLP of $88,990 and the Discovery 4 TDV6 HSE has a MLP of $94,990. Options will add to both those prices.
What is their Purpose
7 seat family wagons with true off road 4WD capability
What are they Like
This comparison would have to be one of the most frustrating we have done. Here we are with two supremely capable 4WD vehicles and keen to video our review over very testing conditions only to be thwarted by torrential rain for days on end. So the video was killed and the intended trail became suicidal to attempt. We did manage to test them though finally.
What we are talking about here is two $90,000 + 4WD vehicles with sophisticated electronics, leather everywhere, heaps of luxury features and seating for 7 people with economical diesel motors.
As we go through the review these cars have so much technology that it is impossible to cover it all here. So I suggest that readers visit the respective websites for full information of just what these cars have. It actually makes my head spin.
They are both bloody fantastic. There are differences between them, sometimes reasonably major, and each takes the honours in various sections of the comparison, but if I was buying one there is a clear choice for me, not by much though. All will be revealed later on.
What's Good & Not so Good
What's Good?
Land Rover Discovery 4 TDV6 HSE
Engine Transmission combination is superb , Sophisticated Terrain Technology, Towing capacity, Rear seat room
Toyota Prado Kakadu 3.0L TDi
Drivers comfort, Sophisticated Terrain Technology, Value for money / features, Fold flat rear seats
What is not so Good?
Land Rover Discovery 4 TDV6 HSE 
Driver's seat needs more travel, Spare wheel location, Price
Toyota Prado Kakadu 3.0L TDi 
Engine underpowered, Leg room for 3rd row seats, Price
Drive Notes
Outside
Both vehicles have undergone facelifts late in 2009. The Discovery is more of an evolution and improvement to the Discovery 3 however the 4th generation Prado is a new vehicle, bigger and better than the vehicle it replaces.
The new Prado is slightly larger – 80mm longer, 10mm wider and 15mm lower – giving new Prado a wide, planted stance and has distinct family DNA with its bigger sibling through looks and its body-on-frame construction method.
The lower overall height contributes to improved aerodynamics, with the drag coefficient cut from 0.37 to 0.35. Aerodynamic aids include front and rear spoilers, front spats, under-body covers and deflectors.
Overall the 4th generation Prado actually looks pretty good with a new three-dimensional grill, cylindrical headlights, a higher waistline and revised rear light assembly. It also has automatic HID headlamps with Toyota's steering-linked Adaptive Front-lighting System (AFS)
The Prado has an overall length of 4930mm, wheelbase of 2790mm, width of 1885mm and height of 1890mm. The ground clearance is 220mm; approach angle 32 degrees, departure angle 21 degrees and a ramp over angle of 22 degrees. Wading depth is 700mm, Tare mass is 2435kg and the vehicle sits on 18″ x 7.5″ Alloy wheels with 265/60R18 H Tyres
The iconic exterior design of the Discovery 4 has been updated, most obviously with smoother and simpler surfaces at the front, including a new, more aerodynamic bumper. The sportier new lights help give the vehicle new character, and include LED technology front and rear. The sophisticated new front headlights include available High Beam Assist, automatically switching the high beam on or off, as conditions require.
The upgrade has taken a stylish vehicle and improved it and while it may be considered slab sided it exudes style.
The Discovery 4 has an overall length of 4838mm, wheelbase of 2885mm, width of 2176mm and height of 1887mm. The ground clearance is up to 310mm; approach angle 37.2 degrees, departure angle 29.6 degrees and a ramp over angle of 27.9 degrees. Wading depth is 700mm, Tare mass is 2583kg and the vehicle sits on 19-inch 7- Split Spoke Alloy Wheel with 255/55 AT/V Rated Tyres.
Inside, Comfort & Features
It is inside the new Prado that you feel the most change. For a start there is noticeably more room and the internal design has gone a bit upmarket.
Sitting in the driver's seat you also notice a marked improvement. You actually sit straight on now. Previous models were slightly at an angle to the pedals.
The revised dash in the Kakadu has a multi-information display in the centre of the instrument cluster, controlled by switches on the steering wheel and you can tailor functions at the touch of a button.
Kakadu has a premium electronic height and reach adjustable four-spoke steering wheel with wood-look accents, audio and telephone controls and multi-information and camera controls. Combined with the multi adjustable heated leather driver's seat you can get very comfortable. More so than in the Discovery4.
The overall layout of instruments, centre display and controls seem easier to use on the Prado than the Discovery. They are more intuitive and less fussy. Toyota typically has done a great job in that part of the new design. You can even enjoy a cold drink from the centre chill box.
Entertainment is provided by a 14-speaker premium Pioneer audio system with seven-inch LED backlit touch screen, DVD-based satellite navigation and CD/DVD changer and linked to the rear-seat entertainment system.
This system has a backlit nine-inch LED monitor featuring open/close, auto close, , map display function and a DVD player, with 5.1-channel surround sound using the audio head unit to play DVDs, with three wireless headphones, two headphone jacks and AV input.
The Multi-Terrain Monitor (MTM) which houses the touch-screen satellite navigation utilises a breakthrough four-camera system for checking blind spots and for revealing terrain hazards and apexes that are normally hidden from the driver's view.
The ability to see over a sharp crest, confirm the vehicle's positioning and clearance and determine steering angle thus wheel placement is superb.
Rear passengers are well catered for with their own air conditioning controls, rear seat entertainment system, more head, leg and shoulder room and reasonably comfortable seats.
The Kakadu now has a sliding second-row seat and finally an electrically powered fold-flat third-row seat providing more useable space and flexibility. The two rear rows of seats have a 40:20:40 split second-row seat and 50:50 split third-row seat.
The leg room in the third row seats is still cramped and nowhere as comfortable as the Discovery 4.
The new interior for Discovery 4 combines smooth, flowing surfaces with significant reduction in the complexity and number of controls but still in keeping with the signature Discovery Landrover theme.
Sitting in the electronically multi adjustable heated leather driver's seat with the electronically height and reach adjustable 4 spoke steering wheel with revised switch layout for driver information, remote audio controls, cruise control and heated steering wheel with audio, multi function display controls etc I found myself comfortable but wishing for another 2-3 inches of seat travel. After a period the upright seating position became uncomfortable and I started to ache in the right knee and ankle. However I am taller than the average bear.
The new console is now inclined towards the driver, improving visibility and access to the controls. It looks more akin to that in the Range Rover Sport than the outgoing Discovery 3. The Terrain ResponseTM control is easier to use than the Prado and now more prominently located at the front of the centre console, making way for the cup-holder in a more accessible position, mid-way along the console.
Natural-finish woods, along with stitched and wrapped facia, door casings and centre console, add to the crafted bespoke feel. There are also two new interior contrast colours, a mid-tone Nutmeg and a darker Arabica, complementing the existing Almond light interior colourway. Interior ambience was more subdued and luxurious than the Prado Kakadu.
Entertainment is provided by Harman/Kardon (USB) Audio System – 9 Speakers including Subwoofer, Radio, Single Slot CD Player, Portable Audio Interface, Touch Screen, Audio Amplifier (240 Watts) .
The new Portable Audio Interface allows connectivity to an array of personal audio storage devices, USB sticks and MP3 players, enabling the various devices' functions to be accessed and controlled via the facia-mounted touch-screen system, which also houses the Premium Navigation System (Hard Disc Drive) with voice control and off-road mapping
One of the connectivity ports is a dedicated Apple i-PodTM point made exclusively by Land Rover, for continued functionality in extreme driving conditions, by helping to prevent the device coming loose from the socket.
A new 5-inch Thin Film Tranistor (TFT) driver information screen is also introduced with Discovery 4. Sitting within the re-designed instrument cluster, the message centre display ensures key information is communicated in a clean, simple manner.
New seating is introduced for rows one and two, with a new, extended front seat cushion profile to improve support and seating comfort and, for the first time, the front seats feature height-adjustable head restraints in place of the traditional seat mounted grab handles. The Discovery 4 was also fitted with the Premium Leather pack which also feature electrically adjustable side seat bolsters, allowing front occupants to tailor their seating's support.
A really cool feature (no pun) is the Remote Park Heat. To help engine warm-up in colder conditions, the TDV6 3.0 litre can be pre-heated, either by using a one-day timer, programmable via the infotainment screen, or activated using the remote control key fob. Once the engine is up to temperature, any residual heat is channelled into the cabin for enhanced occupant comfort on entry into the vehicle.
Rear seat passengers are well catered for with their own air conditioning controls, plenty of head, shoulder and leg room and the third row of seats fold flat electronically and provide adequate room for my 6'3" frame to sit comfortably.
There are way more features than I have even started to mention here. Both these cars are into the luxury end of the segment and come complete with more gadgets than you could imagine.
So the Prado Kakadu get big ticks for its driver comfort, easy to use and clear functions, rear entertainment system. The Discovery 4 gets big ticks for its more subtle style, revised dash and third row seat comfort.
Safety
As you would expect for such vehicles they are packed full of every conceivable safety feature.
The Prado Kakadu has active safety features including torque-sensing full-time four-wheel drive, All-Terrain ABS, Electronic Brakeforce Distribution (EBD), Brake Assist (BA), Vehicle Stability Control (VSC) and Active Traction Control (A-TRC) as standard equipment. In addition all Prado automatic models have Hill-start Assist Control (HAC) to prevent the vehicle rolling downhill when taking off on an incline (off-road or on-road), and Downhill Assist Control (DAC) to maintain vehicle speed on steep off-road descents.
Toyota has added electronic KDSS, Adaptive Variable Suspension and rear air suspension.
Passive Safety includes seven airbags – two-stage driver's airbag, driver's knee airbag, front-passenger front airbag, front-seat side airbags and side curtain-shield airbags, which are matched to seating configuration, active front-seat head restraints and increased crashworthiness of the body in a bid to control body deformation in a collision
To help avoid and prepare for crashes the Kakadu features Toyota's radar-based Pre-Crash safety System (PCS), which is paired with Adaptive Cruise Control, using information from the Vehicle Dynamic Integrated Management (VDIM) system sensors (that monitor vehicle speed, steering angle and yaw-rate) and the brake system to determine if an emergency situation is developing.
The front of the vehicle has a package of pedestrian safety features designed to reduce the chance of injury to pedestrians in a collision.
The Landrover Discovery 4 TDV6 HSE features active safety features including Electronic Parking Brake (EPB), Slip Control System includes: Electronic Brake-force Distribution (EBD), All-terrain Anti-Lock Braking System (ABS), Electronic Traction control (ETC), Dynamic Stability Control (DSC), Electronic differential control, Emergency Brake Assist (EBA), Enhanced Understeer Control (EUC), Hydraulic rear brake boost, Roll Stability Control (RSC), Trailer stability assist and Hill Descent Control (HDC) with Gradient Release Control (GRC)
Passive safety includes up to 8 Airbags – full size driver & front passenger, driver & front passenger side and head, rear outboard passenger head airbags, Third row head curtain airbags, active front head restraints, upgraded body protection and
Performance. Engine, Transmission & Suspension etc
Toyota Prado's 3.0-litre high-pressure, direct-injection turbocharged and intercooled diesel engine has new injectors and a front-mounted intercooler for improved drivability and fuel economy and is mated to a five-speed automatic transmission with sequential-style shifting.
It produces 127Kw @ 3400rpm and 410Nm @ 1600 rpm. Now this is a mixed bag, on one hand the Prado is seriously underpowered and now lags the market. Our long-term test Hyundai Sante Fe has more power and torque from a smaller engine.
However the fact that maximum torque comes in at 1600 rpm means that the Prado is easy to drive when on the move. Occasionally when taking off or going around a corner you feel a flat spot and when towing or under load the motor does struggle a bit. This was more noticeable because we were jumping from car to car with the Discovery 4, which has a superb motor, and makes the Toyota look ordinary by comparison.
The front suspension is Independent, double wishbones with coil springs, adaptive variable rate shock absorbers with four ride comfort levels and ball-joint mounted anti-roll bar. Rear suspension is Rigid live axle, five-link type trailing arms and Panhard rod, adaptive rear pneumatic cylinders with three selectable suspension heights, four ride comfort levels, self-levelling and ball-joint mounted anti-roll bar.
The Kakadu has the added benefits of Toyota's Kinetic Dynamic Suspension System (KDSS) with electronic control, which improves wheel articulation and on road performance which seems contradictory.
Toyota's Adaptive Variable Suspension (AVS) and height-adjustable rear air suspension (Automatic Height Control). The AHC provides variable ride height, automatic vehicle levelling and increased ride comfort – especially on rough surfaces. The AVS allows the driver to select one of three suspension settings (Sport, Normal and Comfort) for improved suspension performance during different surface and driving conditions.
The Prado is a good handling 4WD on road and has enviable wheel articulation off road. On dirt roads and corrugations the Prado was reasonably composed with the Traction Control only kicking in occasionally on a high speed run on the road into Newnes. The self-levelling suspension helps with towing and carrying loads. Overall it all works a treat.
Landrover has significantly upped the power stakes with the Discovery 4 and its new twin turbocharger LR-TDV6 3.0 boasts substantial increases in both power – up 29 percent to 180kW @ 4000rpm – and torque, up 36 percent to 600Nm @ 2000rpm. A key feature of the new LR-TDV6 3.0 is the unique, parallel sequential turbocharger system, the first of its type to be fitted to a V-engine anywhere in the world.
The fact that 500Nm of torque is available virtually in an instant means that driving the Discovery 4 is a breeze. It feels so smooth and the twin-turbochargers work sequentially to provide unrivalled response. Mate this to the ZF HP28 6-speed automatic transmission and you have instantaneous power for both on and off road conditions.
The Discovery has Electronic cross linked air suspension with automatic load levelling and multiple modes, access, normal, off-road, extended height etc. No one in the 4wd market sorts their suspension like Landrover and the ride over corrugated dirt roads really has to be experienced. On road it handles exceptionally for a large tall 4wd and off road wheel articulation is unparalleled, matched by only the Range Rover.
The new suspension knuckles, designed to reduce the separation between the suspension roll centre and the vehicle's centre of gravity (reduction of 42mm at the front and 62mm at the rear) dramatically reduces the vehicle's natural body movements when cornering. These roll rates are further controlled by a stiffer and larger anti-roll bar. In addition, new bushes and new front and rear dampers enhance ride quality.
Off Road & Towing
Oh wow where do I start? The level of electronically enhanced off road capabilities is mind blowing.
The Prado Kakadu has a comprehensive package of Driver Assist Technology (DAT) that includes Active Traction Control (A-TRC) and Vehicle Stability Control (VSC), Hill-start Assist Control (HAC) and Downhill Assist Control (DAC).
DAT features include constant four-wheel drive, a Torsen limited-slip centre differential with locking function and ABS anti-skid brakes with Electronic Brakeforce Distribution (EBD) and Brake Assist (BA). The Kakadu also has electronic KDSS, and electronically controlled rear air suspension and Toyota's Adaptive Variable Suspension (AVS).
Kakadu has the added features of electric rear differential lock, CRAWL Control and Multi-Terrain Select (MTS) and Multi-Terrain Monitor (MTM). One feature i particularly liked is the wheel direction on the monitor. One of the key difficulties in heavy off road conditions is wheel placement. The MTM clearly allows the driver to see where they are. Technology at its best.
The Discovery 4 has its award-winning Terrain ResponseTM system which gains new features and refinements, further extending the vehicle's all-terrain capability. Terrain ResponseTM optimises the vehicle set-up for virtually all on-road or off-road driving situations, with five different settings to suit different terrains: General driving, Grass/gravel/snow, Sand, Mud and ruts and Rock crawl. It has been refined over a number of years now and is possibly the best electronic 4wd system on the market.
Add to this Electronic Brake-force Distribution (EBD), All-terrain Anti-Lock Braking System (ABS), Electronic Traction control (ETC), Dynamic Stability Control (DSC), Electronic differential control, Emergency Brake Assist (EBA), Enhanced Understeer Control (EUC), Hydraulic rear brake boost, Roll Stability Control (RSC), Trailer stability assist and Hill Descent Control (HDC) with Gradient Release Control (GRC), Electronic cross linked air suspension with automatic load levelling.
All this means that both the Prado Kakadu and Discovery 4 will pretty much go wherever you point them. In reality these make 4wdriving easy and if they can't take you where you want to go then you really shouldn't be going.
The Prado Kakadu is miles ahead of the model it replaces with the KDSS and other electronic aids. Its improved wheel articulation, multi terrain monitor and rock crawling gears are significant improvements.
The difference between the Discovery 4 and the Prado Kakadu is that where the Kakadu will crawl over the rocks, or up the slippery slope the Discovery will follow with less fuss and complaints. Where the Kakadu lets you know it's working hard the Discovery barely complains. Both are awesome off road, the Discovery is a little more composed.
No less than five digital cameras make up the new surround camera system, relaying to the touch-screen a near 360-degree view. The cameras function immediately the vehicle is started, and can be used at speeds up to 18km/h, with options for selecting and zooming in to assist with close quarter parking and with towing.
The Prado will tow 2500Kg while the Discovery will tow 3500Kg obviously both with electric brakes. Both have self-levelling rear suspension with towing aids, cameras to assist with hitching etc. The difference is that the Discovery 4 feels that it tows the 3500Kg easier than the Prado tows the 2500Kg. It doesn't even raise a sweat doing it. That is the difference the motor transmission combinations make.
Summary
Let me say right up front that I would pick either of these vehicles to transport the kids around and take off for some heavy duty 4wd off road experiences. They are both exceptionally capable. In fact the level of electronics in these vehicles makes 4wdriving really easy.
The problem with that is that the driver still needs a high level of skill to make sound decisions about where to go etc. These cars may provide a false sense of security to those foolish enough to explore all their capabilities without the necessary training.
They are both more than capable for a trip to the Cape York or Kimberly region etc. If you want to experience the absolute beauty that Australia has to offer go and buy one of these NOW and get going.
However while they both suit their purpose with absolute ease, if I had to choose one to buy it would be the Landrover TDV6 HSE. You may well ask why considering I would have to do something about the driver's seat travel though.
Well I am glad you asked that question. The Prado Kakadu is fantastic and absolutely full of features. It is the first time I would actually consider buying a Prado and that has everything to do with the larger internal space and the driver's relationship to the pedals and steering wheel and the fact that Toyota has finally got rid of those ridiculous fold up third row seats.
The Landrover however squeezes out the Kakadu in a couple of key areas and while it costs more it's not that much in reality and the benefits are more than the price difference.
The reasons are:
1. More powerful engine and a better engine – transmission combination, you can't ignore the smoothness of 180Kw and 600Nm combined with the ZF HP28 6-speed automatic transmission and you can't ignore the power.
2. Both vehicles performed fantastically off road and went wherever we pointed them, the Discovery 4 just did it that little bit easier without as much fuss.
3. It will tow 3500Kg without blinking or raising a sweat.
4. The third row of seats are second only to the Mercedes GL in comfort and space
So there you have it two pretty pricey but amazingly capable 4WD 7 seat wagons that if you bought either you would be happy. I know I would. I really encourage you to check out the respective websites as the level of inclusions and features for both these vehicles is way beyond what I could possibly discuss here. In short they are both bloody good.
The key thing is that unfortunately many of these vehicles rarely see anything like the amount of off road driving they should. So if this article in any way encourages a single reader to 'live the dream' then I am a happy little vegemite.