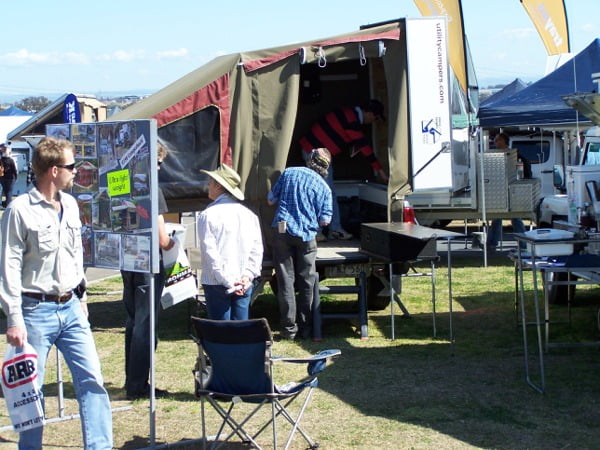 Utility Campers displayed their new Brolga 'Camperback' unit at the 4WD Adventure Show for Dual Cab Utes. Utility Campers as the name says specialises in Ute back campers.
Pamela and Stewart Pinney run Utility Campers and have been producing their 'C190 Camperback' for a number of years now. It is often said but they have built an enviable reputation for quality products. They have a loyal following and the Camperback owners are like family to Pamela and Stewart.
With the new Brolga 'Camperback' unit they continue to lead the market in ultra lightweight campers for tray back vehicles. Their new Brolga 'Camperback' has been designed for a twin or dual cab tub style utility.
Cleverly utilising the hard floor of the tub as the base, it doubles as a storage area whilst travelling and then the hard floor when set up. They continue to use composite construction techniques to keep the weight down, to ensure vehicle payloads are not exceeded. It is a simple quick opening canvas tent unit, which includes vehicle mount, sleeping base, mattress and tent.
This allows each person to utilise the inside space to suit themselves.
Optional items such as kitchen facility units (ie cupboard, stove, dish etc), extra canvas annex additions to suit buyer, inbuilt lighting, a storage seat and any other storage boxes can be supplied. They can also provide secure retaining points for a fridge to ensure safety during travel.
It is marketed as a standard base unit at $8600 ex GST.
The Brolga can be mounted in to a tub and converted to a "stand alone trailer" if desired, at an extra cost.
Once this model is perfected they will adapt this design to fit a flat tray Ute as well, regardless of tray size.
A flat pack version for "Do It Yourself" builders will be available mid 2011. If you are in the market for a lightweight quality Ute back camper have a chat to Pamela or Stewart, you wont be disappointed.