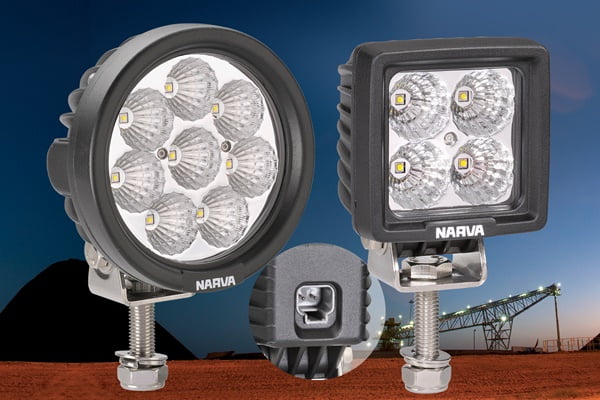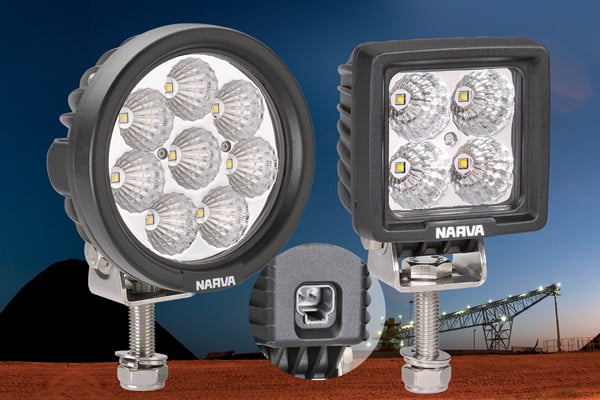 Narva has proven that good things can  come in small packages with the release of its latest heavy duty, high-powered  work lamps, which combine a high light output with compact dimensions.
The latest additions to  the Narva L.E.D work lamp range further expands the brand's impressive model  offering in this product segment, ensuring that there's a Narva work lamp to  suit just about every application.
The first of the new lamps  is square-shaped and features 4 x 5W 'Cree' L.E.Ds producing 1800 lumens of  bright white light while only drawing 1A of current at 9-32V.  The second addition to the range is a compact  round lamp, powered by 8 x 3W 'Cree' L.E.Ds shining 2000 lumens with only 1.2A current  draw at 9-32V.
Both lamps have flood beam  light patterns producing a wide spread of useable light, whilst their low  current draw enables the use of multiple lamps simultaneously without burdening  vehicle batteries and electrical systems.
The new lamps feature a  tough, powder coated, die-cast aluminium housing with virtually unbreakable  polycarbonate lens, while mounting hardware is manufactured using high quality  stainless steel for reliability and longevity on the work site.
For ease of installation  and reliability, the lamps are equipped with in-built Deutsch connectors which  also provide fully sealed, uninterrupted operation.
And for added peace of  mind, the new heavy duty, high-powered work lamps are backed by Narva's 5-year  L.E.D warranty and are also 'RFI-safe', so they will not interfere with radio  or communication equipment.
Available  from leading transport, automotive and four wheel drive outlets throughout  Australia the work lamps are ideal for demanding applications where mounting  space is limited.