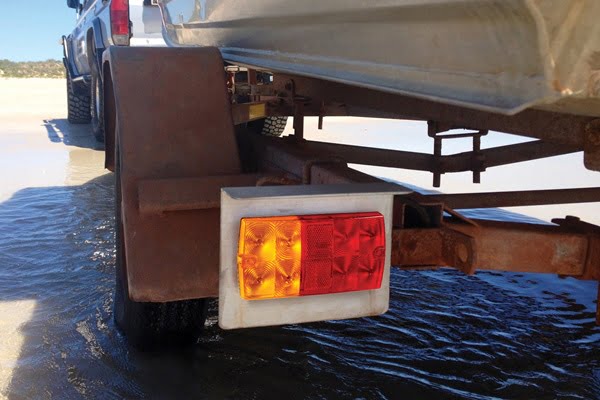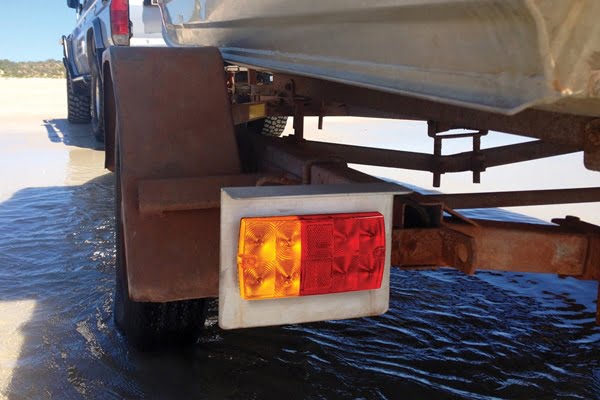 Narva's  popular model 36 submersible trailer lamp is now available in a slimline kit,  ready for fitment to boat and jet ski trailers or motorbike and camping  trailers likely to see plenty water or mud.
Each kit  contains 2x 12V L.E.D slimline rear stop/tail, directional indicator lamps with  in-built retro reflectors, with one of the lamps also equipped with an in-built  L.E.D licence plate lamp.
The lamps are  tested after the sealing process and cables are also sealed at the entry point  of the lamp to ensure optimal underwater performance.
Despite this  superior engineering, during the installation process Narva recommend avoiding  cable joins near the lamp or in any other position where they are likely to  come in water.
To help  facilitate this, the model 36 lamps are hardwired with 9 metres of fully  insulated, 4 core cable per lamp – this allows the cable connections to be at  the trailer plug, an area less likely to be submerged.
The lamps'  slimline design allows for close mounting on the trailer with minimum  protrusion, minimising the likelihood of damage, yet the L.E.D technology  provides the visibility and light output of bulkier trailer lamps.
Narva's new  Model 36 submersible Slimline L.E.D trailer lamp kits are supported by a 5-year  L.E.D warranty and can be purchased from leading automotive, camping and marine  stores Australia-wide under Part No.93642TP. The New Narva Slimline Trailer  Lamp Kit has a recommended retails price of approximately $119.00.